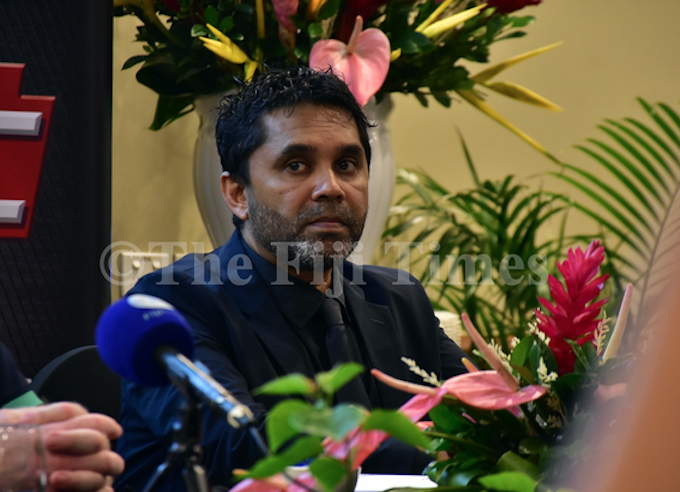 By Wata Shaw in Suva
Former Fijian Broadcasting Corporation chief executive Riyaz Sayed-Khaiyum was paid $224,792 in bonuses during his term at FBC which began in 2008, the new board chair has claimed.
He was due for a $30,000 bonus this year.
FBC chair Ajai Bhai Amrit also revealed Sayed-Khaiyum, brother of former attorney-general Aiyaz Sayed-Khaiyum, received a salary of F$304,453 (NZ$218,000) and was paid a bonus of $25,671 during the covid-19 pandemic.
Amrit revealed this while speaking to the media.
Amrit said FBC would have incurred a loss of more than $63 million if the company had not received annual grants from government.
He clarified questions regarding the purchase of a vehicle by the sacked CEO.
"The final price of the vehicle was $207,470 and the vehicle is at Customs," Amrit said.
"The vehicle will be tendered, I haven't seen it yet."
He said no staff would lose their jobs and the board was now dealing with the company's annual reports and continuing investigations into its operations.
Wata Shaw is a Fiji Times reporter. Republished with permission.
Riyaz Sayed-Khaiyum denies chair's claims
FijiVillage News reports that Riyaz Sayed-Khaiyum said in a statement today that Amrit's comments that he was being paid $32,000 a month in salary was "absolutely false".
Sayed-Khaiyum said that under his most recent 3 year contract, which was approved by the previous board in late December, he was paid "nowhere near" what has been falsely reported.
He said that for all his contracts over the last 15 years of his tenure as CEO, FBC had been strictly sanctioned and approved by several boards with a clearly defined job description.
The former FBC chief executive said the board had always approved his salary, bonus and other entitlements based on performance and job evaluation reports.
He said the board also sanctioned every major development at the FBC over the past 15 years.
Riyaz Sayed-Khaiyum said Amrit's allegation that Sayed-Khaiyum had received more than $304,000 in salary during the covid19 pandemic was also incorrect.
He said that during this time the FBC staff went through a 10 percent salary reduction for about half a year in order to mitigate the effects of the pandemic on their revenue, and he took a 12 percent salary reduction on his own volition.
Wata Shaw is a Fiji Times reporter. Republished with permission.