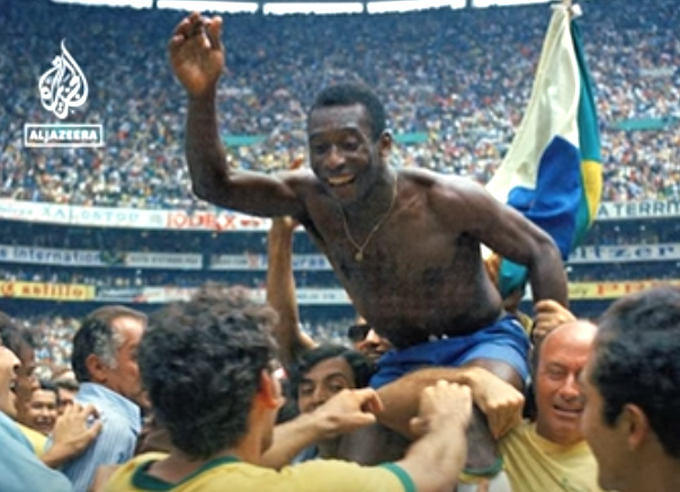 ANALYSIS: By Tony Fala
Edson Arantes do Nascimento passed away at the age of 82 after a brave battle with colon cancer in Brazil on 20 December 2022. Known as "O Rei", "The Black Pearl", and "Pelé", he was an ambassador, businessperson, community worker to the world, cultural force, leader, soccer player, and politician.
In this article, I write about why I admired Pelé as a child.
Writing as an adult and activist, I also pay tribute to Pelé and articulate why "O Rei" remains an important teacher of decoloniality and decolonisation in contemporary Oceania.
Pelé in my childhood in the 1970s
I caught brief glimpses of Pelé's soccer genius in sports highlights on Aotearoa television news as a child in the 1970s.
I did not grasp the tactical, technical, or strategic intricacies of professional soccer when watching Pelé play for the New York Cosmos as a child. But I did see Pelé's genius with a soccer ball on television. I remember seeing him play with creativity, joy, and imagination.
Pelé brought joy into my difficult childhood.
Like other Pacific Islanders of his generation, my father was a born-again rugby supporter who did not rate football as a sport. But even he would marvel at O Rei's exploits on Aotearoa television when Pelé appeared.
Pacific people recognised Pelé's genius — just as they recognised the extraordinary gifts of Muhammad Ali in the boxing ring.
Years before the formation of the English Premier League, I grew to love watching the great British players representing the mighty first division English clubs. Aotearoa television would play a weekly English first division match, and we always received televised, free- to-air coverage of FA Cup Finals in the 1970s and 1980s.
I came to love Division One English club football in the 1970s and 1980s.

An Al Jazeera tribute to Pelé.
Historically, Aotearoa has always had a strong affinity with British football. Despite loving the English game, I saw that Pelé played soccer in a radically unique way.
In later years, I would understand that Pelé played an Afro-Brazilian style of football known as "jogo bonito", or, the beautiful game — characterised by creativity and improvisation by individual players; off the ball movement; one touch passing; samba like team rhythm and tempo, and superlative dribbling, passing, and attacking movements on the ground and in the air by the entire team.
I watched documentaries about Pelé as a child and a teen when they appeared on Aotearoa television. But I was too young to see the televised, in-colour spectacle of "jogo bonito" performed by Alberto, Gerson, Jairzinho, Pele, or Rivellino at Mexico City when Brazil beat Italy 4-1 to win the 1970 World Cup. I would only watch these mighty players in the 1970 World Cup after Sky TV played classic matches.
Pelé, Brazil, and 'jogo bonito' in 1982
But I did witness the "jogo bonito" performed by the 1982 Brazilian side that featured Eder, Falcao, Junior, Socrates, and Zico. Although this side did not win the 1982 World Cup, they remain the greatest sporting team I have ever witnessed — they performed art and played soccer simultaneously.
Aotearoa's mighty All Whites played this Brazilian side in the group stages of the 1982 tournament. The team also got to meet Pelé in person when O Rei visited the Aotearoa team changing room before the match.
I was too young to understand that the 1982 side played a style of Afro-Brazilian soccer that continued the legacy of the beautiful game begun by Didi, Garrincha, Pelé, and Jairzinho long years before. Pelé was one of the innovators of this style of play in Brazil.
Engaging with Pelé as an adult
As an adult, I developed a fuller understanding of Pelé, his life, and his historical context.
Pelé was born only 53 years after the abolition of slavery in Brazil in 1888 into an Afro-Brazilian family who often struggled to put food on the table. (Pelé writes about his childhood and the hardships he endured in his 2007 autobiography.)
The Black Pearl's Afro-Brazilian people occupied the lowest socio-economic positions in Brazilian society.
Even today, Afro-Brazilians face discrimination in employment, the justice system, and day-to-day life in Brazil. The Brazilian police still target Afro-Brazilian male youth for violence even today.
Opposing team's fans made monkey noises — whether Pelé played in Brazil or around the world with his club, Santos. Despite his popularity, Pelé was a target of racism.
Pelé's Brazilian government prevented him from playing soccer in Europe by making him a "national treasure". In consequence, Pelé could not sell his labour to European clubs. Critics have stated that this would never have happened to a white Brazilian.
Brazilians accused Pelé of getting too close to figures in the Brazilian dictatorship of 1964-1985 — such as General Medici.
Pelé's former national teammate, Paulo Cesar Lima, said in the 2021 documentary Pelé that he loved Edson, but Lima also said he felt Pelé functioned as a "submissive Black man" during the height of the dictatorship repressions in 1969. Lima felt a statement by Pelé against the dictatorship in the late 1960s would have "gone a long way".
Brazilian journalist Juca Kfouri stated that Pelé did not have a guarantee that the Brazilian regime would not torture him if he did speak out.
In Africa, ordinary people treated Pelé as a son when O Rei playing there in the late 1960s. Pelé remains a figure of Trans-Atlantic Black unity in Africa, the US, and in other parts of the Black Diaspora.
Apartheid security forces prevented Pelé from leaving an airport when he visited South Africa in the 1960s. Pelé swore he would never return until South Africa was free from Apartheid. He did return in the 1990s — to spend time with Nelson Mandela.
Pelé was a Goodwill Ambassador for the Rio De Janeiro Earth Summit in 1992.
He was a Minister for Sport in Brazil.
He was an ambassador for the UN, UNICEF, and UNESCO during his lifetime — always seeking to forge relationships with children.
He endured business failures.
He refused to recognise a daughter born out of wedlock.
Pelé was a significant cultural force in Brazil — for good and for bad.
He was a football genius. Football journalists such as Tim Vickery have spoken of Pelé's soccer skills — Edson's ability with both feet; acceleration; skills in the air; passing talents; unselfishness; football intelligence, and his psychological strength.
Pelé's passing in the media
Since his untimely passing, television news networks such as Al Jazeera, BBC, CNN, MSNBC, and Television New Zealand have all honoured Pelé's cultural, historical, political, and sporting legacy.
Similarly, print media in Aotearoa, Australia, Brazil, Britain, France, and South Africa have represented Pelé as a "cultural icon", "hero", "innovator", "giant of sport", an "artist", a "genius", and a "fine, humble, and warm human being".
Print media sources in France and the US have also expressed criticism of Pelé for not doing more against the Brazilian dictatorship.
Sources in Brazil have criticised Pelé for not taking more of a public stand against racism in Brazil and the world.
Pelé's aesthetics
Brazilian star Neymar wrote a moving tribute for O Rei after the great man died. In one part of his tribute, Neymar stated that Pelé transformed soccer into art. I agree with Neymar's insight.
If one watches Pelé on film today, one sees a kinetic aesthetics of balance, gesture, grace, intelligence, power, speed, rhythm, and style — whether Pelé was in the air, in space, or in a crowd of players. One observes Pelé performing an aesthetics of creativity, joy, and improvisation. I have no doubt Pelé's parents, coaches, friends, and teammates in Brazil all nurtured his aesthetics.
Simultaneously, I am in no doubt that Pelé's aesthetic genius was a gift given him by his ancestors and by his historical experience of being Afro-Brazilian.
I am not Afro-Brazilian and do not pretend to understand the language of decoloniality and decolonisation Pelé performed in living motion on a soccer field. But I am convinced Pelé performed an aesthetics of Afro-Brazilian being, decolonisation, decoloniality, living, and expressing in his every movement on the soccer field.
Pelé performed the history of his ancestors on the soccer stage.
Pelé's lessons for Oceania
In conclusion, Pelé taught me five things as a Pacific person in Aotearoa.
struggle to embrace joy and freedom in your life,
always extend solidarity to those engaged in the Black struggle,
remember the struggle for justice in Aotearoa, the Moana, Palestine, or West Papua are one with the struggle Black people face around the world,
always look for the talents and potential in your own Moana peoples, and
never be ashamed of your Oceanian ancestors, your genealogy, or your history.
Despite his handful of personal failings, Pelé remains one of my great teachers in decolonial Oceania.
The author, Tony Fala, acknowledges the lives of Brazilian football greats Garrincha, Pelé, and Socrates as the inspiration for this article. He also pays tribute to Pacific peoples across Oceania who believe in soccer as a sport that embraces emancipation, participation, struggle, and unity.