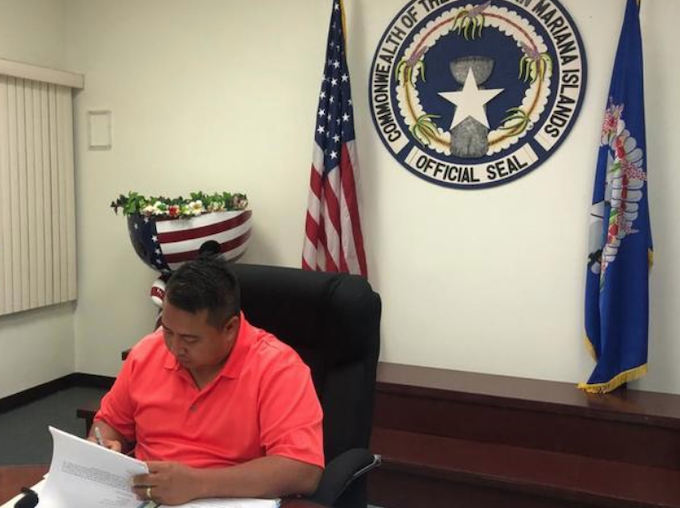 The House of Representatives in the Northern Marianas has voted to impeach Governor Ralph Torres, approving six articles of impeachment against him.
With 15 "yes" votes, four "no" votes, and one abstention, the House passed a resolution impeaching Torres for alleged commission of felonies, corruption, and neglect of duty, in violation of the CNMI Constitution.
Before and during the House session that voted on the impeachment articles, a large crowd made of pro-Torres and pro-impeachment groups gathered around the Legislature to have their voices heard.
Police were monitoring the crowds at the Legislature.
Representative Christina Sablan, who is running for governor against Torres in this year's gubernatorial elections, said the impeachment resolution arises out of more than two years of legislative investigation, especially in the last seven months, through the diligent and meticulous work of the House Judicial and Governmental Operations Committee.
Torres immediately came out of the Legislature with a statement lambasting the Democrat Party-controlled House after being impeached.
"It is unfortunate to witness the hatred and the willful spread of misinformation from the mouths of certain individuals, as evidenced by the calls for impeachment and the demonstration held outside of the Legislature."
Advocating for 'united Commonwealth'
He added that he had been advocating for his administration and the House to work collaboratively as one united Commonwealth. However, politically-motivated members of the House of Representatives had chosen time and time against this.
"Instead, they have chosen to pursue a witch hunt in order to perpetuate this notion that I am a corrupt leader who does not care for the well-being of my home and its people. Those who know me and who have worked with me know that this could not be true."
Now the Senate will decide whether to acquit Torres or convict and remove him from office.
The Republican Party, where Ralph Torres is the titular head, controls the nine-member Senate and Torres has reiterated in the past that he has utmost confidence in the upper chamber's impartiality in the trial.
The Senate will need a two-thirds vote — six votes — to convict and remove Torres.
Governor Torres has become just the second governor in Northern CNMI history to be impeached.
Former governor Benigno Fitial was the first governor to be impeached, when 16 representatives voted for his impeachment in 2013. Fitial resigned before the Senate could start the trial.
This article is republished under a community partnership agreement with RNZ.