By Rebecca Kuku in Port Moresby
Papua New Guinea's "glassmen" — men who claim to identify and accuse women of sorcery — must be hunted down and charged with their crimes, says Northern Governor Gary Juffa.
He said PNG should not just continue expressing concern and outrage while doing nothing to address sorcery accusation-related violence (SARV).
He made these comments in response to a video showing five women being stripped naked, tied to poles and tortured being released on social media last week. The cruelty portrayed in the video has shocked the nation.
Both daily newspapers — the PNG Post-Courier and The National — published horrifying front page pictures of the torture today with the Post-Courier carrying a banner headline "Inhumane".
An editorial note on the Post-Courier front page said: "This horrendous crime must not be seen as an isolated incident and such tortures and killings must be reported prominently."
According to The National, Police Commissioner David Manning described the torture as "vile, inhumane, uncivilised, void of any human decency".
The torture is believed to have occurred in Kagua, Southern Highlands Province.
Juffa said the perpetrators were visible in the video and it was not hard to identify them.
"They must all be rounded up and they must all be charged," he said.
'They are the guiltiest'
"And not only them, but those who claim to be 'glassmen', must also be brought in and charged.
"They are the guiltiest and must be apprehended and charged."
Juffa also said the video was debated and discussed among MPs at great length.
"Member for Porgera has already assured us that he has sent this video to the provincial police commander of Enga.
"The Minister of Police has also advised us that he has already informed the Commissioner of Police and they are investigating.
"But now, something must be done, we must take action."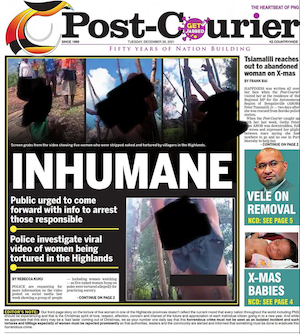 Deputy Commissioner Police Operations Anton Billie called on the public to come forward with any information they had about the torture.
He also called on churches, youth groups, community leaders and women's groups to come forward and assist the police with any information they might have on the perpetrators or the status of the five women — and whether they were still alive.
According to Cultural Survival, traditional PNG spiritualists are known in the Tok Pisin language as ol glas man — "glassmen", or seers — who practise soul travel characteristic of shamanism.
Rebecca Kuku is a a PNG Post-Courier reporter. Republished with permission.