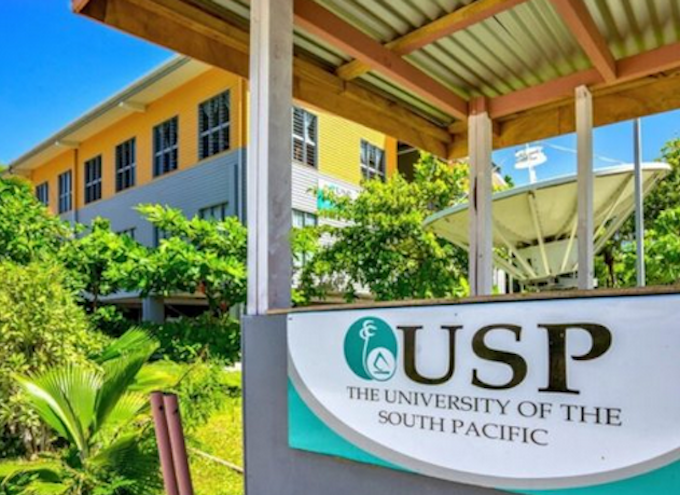 By Michael Field
As the fate of the University of the South Pacific remains on edge, a small leak of a personal file hints at what is wrong with the 50-year-old regional institution.
It is detail on Dr Angela Jokhan, until recently USP's Head of Faculty of Science, Technology and Environment.
It's unflattering: "…she has an unfortunate tendency to create conflict with her peers and to be extremely disrespectful".
Plainly a significant player in the organisation, Dr Jokhan is of greater significance now in Fiji having been appointed Fiji's Permanent Secretary Education last October.
How she got the job, given her academic performance, raises questions. Answers point to her marriage to a wealthy land agent who happened to be an unsuccessful FijiFirst candidate for Parliament.
The couple have been strong supporters of Prime Minister Voreqe Bainimarama.
At the 12-nation USP, under former vice-chancellor Professor Rajesh Chandra, Dr Jokhan earned a significant salary and had her contract renewed in a less than transparent way, say institutional sources.
Complaint led to BDO report
Incoming vice-chancellor Professor Pal Ahluwalia took up the post and, as is now well known, suspected matters were not right. His complaint to the USP Council led to the now infamous BDO report, initially revealed in The Pacific Newsroom.
Dr Angela Jokhan was mentioned 109 times in the BDO report.
Professor Ahluwalia called for reports on the various people and among them was one written by Professor Derrick Armstrong, the deputy vice-chancellor. Last year, he became acting vice-chancellor when the Fiji government moved to have Professor Ahluwalia fired.
When they were unsuccessful in that, they earlier this year just nabbed him in the middle of the night and deported him.
Professor Armstrong's report on Dr Angela Jokhan has been leaked. Headed "Feedback on the Performance of Associate Professor Anjeela Jokhan as Dean FSTE" it is in several sections.
"Contribution made to support the University, the Vice-Chancellor and President and the Senior Management Team.
"Associate Professor Jokhan is a highly experienced manager and makes significant contributions to the University across a number of areas. In addition to her Faculty responsibilities she has also recently taken over temporary responsibility at the SMT level for the University's ICT area. She pursues her responsibilities with vigour and has been fully engaged in a number of key areas and activities central to the University's strategy and performance. She is a very active member of the University Senate. Her enthusiasm can from time to time lead to her being quite abrasive and dismissive of other points of view. She can be a very effective member of the SMT team but this is not always the case and she has an unfortunate tendency to create conflict with her peers and to be extremely disrespectful. She does have a tendency to insist that she is correct on an issue on the basis of her personal knowledge and long experience with the University, even when there is no evidence to support her viewpoint.
"Contribution to the Faculty/Department.
Associate Professor Jokhan runs her Faculty with a very firm hand. The Faculty is successful on a number of indicators and she has put together a good team of Associate Deans who ensure efficiency and consistency in the administration of Faculty procedures. The Faculty has led the University in a number of areas, for example in the development of apps and the granting of patents. The Faculty has also been very successful in achieving the international accreditation/recognition of programmes in, for example, Engineering and Computing. The research performance of the Faculty might be considered satisfactory overall but there has been very little success in achieving external funding for research and with some individual exceptions its performance would not be considered notable compared with Science Faculties elsewhere. With stronger academic leadership there would most certainly be opportunities for the Faculty to step up a gear. There have been many conflicts with Heads of Schools and with other staff. On occasions the Dean has taken actions with regard to staff members that have put the University at risk. She demonstrates considerable impatience with those with whom she differs. It would be hard not to be aware of the widespread grumblings and dissatisfaction within the Faculty over her management style.
"Leadership, Representation
"Associate Professor Jokhan does not have the rank of full professor and her personal research leadership is minimal. She is a biologist by academic background but in recent times has contributed to publications with her students and junior staff in the area of ICT enabled learning. However, she does not have an academic background in this area, nor does she have a strong profile. The absence of academic leadership is a significant deficit in the leadership one might expect from a dean. Her contribution is principally as a manager rather than as an academic leader."
Also leaked is a spreadsheet itemising Dr Angela Jokhan's academic publications and PhD supervision.
It's rather modest for an academic who, as BDO said, was on a salary of F$450,000 (NZ$305,000) a year.