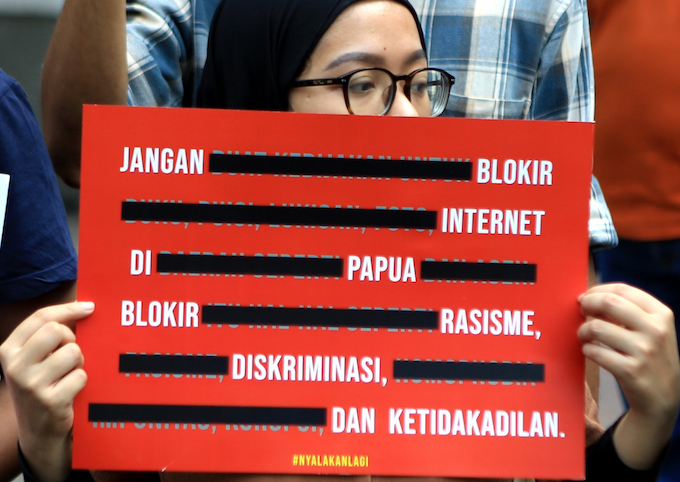 By Moch. Fiqih Prawira Adjie in Jakarta
A panel of judges at the Jakarta State Administrative Court (PTUN) has granted a lawsuit filed by civil society groups against the Indonesian government's decision to impose an internet blackout during weeks of protests in Papua and West Papua provinces last year, declaring that such a move violated the law.
The petitioners – the Alliance of Independent Journalists (AJI), the Southeast Asia Freedom of Expression Network (SAFEnet) and the Indonesian Legal Aid Foundation (YLBHI), among other groups – filed a lawsuit against President Joko "Jokowi" Widodo and the Communications and Information Ministry in January.
They said the blackout, which officials argued was put in place to prevent fake news from spreading, was flawed in authority, substance and procedure.
READ MORE: Blackout lacks 'substance, procedures': Jokowi sued over govt-imposed internet ban in Papua
"The court declares [the internet blackout] was a violation of the law by government bodies or officials," the presiding judge said reading the verdict during the hearing yesterday, as reported by YLBHI activist M Isnur through his Twitter account, @madisnur.
The judges argued the government had imposed the internet blackout without the prior declaration of a state of emergency; therefore, violating the 1959 State of Emergency Law.
The bench said the government failed to prove during the trial that Indonesia was in a state of emergency that required authorities to shut down the internet.
Judges also said any decision that limited people's right to information should be made in accordance with the law and not merely based on the government's discretion.
Use Criminal Code for fake news, says bench
The government initially claimed that its move to shut down internet access across Papua was in line with the Electronic Information and Transactions (ITE) Law. However, judges said the law could only be enforced to block access to electronic information and documents violating the law, not the entire internet.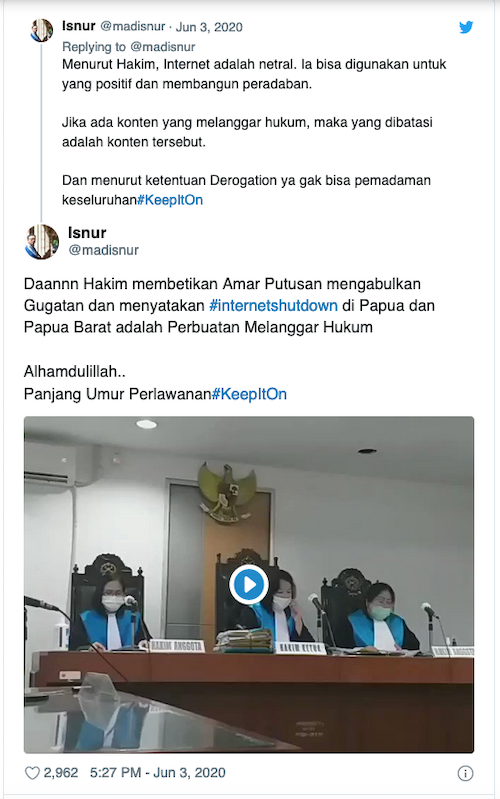 The bench also argued that fake news should be handled by using provisions in the Criminal Code or blocking the accounts spreading such false information, rather than shutting down internet access.
The petitioners lauded the court for the verdict. "The verdict also opens the possibility for affected parties to sue the government and ask for compensation," Isnur tweeted.
The government throttled back internet access in parts of the country's easternmost provinces on August 19, 2019 between 1 pm and 8:30 pm shortly after widespread protests escalated in the regions in response to incidents of racial abuse suffered by Papuan students in Surabaya, East Java.
According to the lawsuit, the government imposed a blackout between August 21 and September 4, affecting 29 cities and regencies in Papua and 13 cities and regencies in West Papua.