By RNZ Pacific
Fiji has put its hand up to join New Zealand and Australia's travel bubble amid the covid-19 coronavirus pandemic.
On Friday, New Zealand Prime Minister Jacinda Ardern said she was keen to reopen NZ's borders with its Pacific island neighbours.
Fiji's Attorney-General, Aiyaz Saiyed-Khaiyum, said he had discussed his government's plans with its two major partners in the region.
READ MORE: Eco-tourism major key to 'tricky' Pacific economic reset, says Leary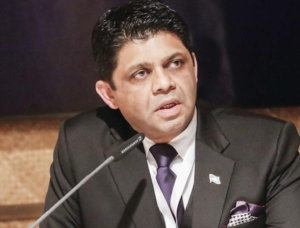 Saiyed-Khaiyum said it was important that New Zealand and Australia understood the "hub status" of Fiji in the Pacific.
"We talked about the travel bubble, the requirements and indeed the time period in which New Zealand is looking at opening up their borders.
"New Zealand's first priority is obviously Australia. What we did highlight to them is that there needs to be a more nuance approach in terms of dealing with us in the Pacific."
Saiyed-Khaiyum urged New Zealand and Australia to assess each country individually as the Pacific island states had different experiences, capacities and capabilities of their health system during the pandemic.
Eased travel restrictions when safe
Prime Minister Jacinda Ardern and her Australian counterpart, Scott Morrison, had announced they would ease travel restrictions between the two countries as soon as it was safe to do so.
Ardern said New Zealand was keen to work out post-Covid-19 travel bubble arrangements with Australia first before talking to the Pacific countries.
"New Zealand is keen to reopen borders with its Pacific island neighbours but not just yet."
But the Fiji government said New Zealand and Australia needed to understand that the Pacific island countries were different from each other.
The Attorney-General said rather than thinking that if they had to open up the bubble, they would need to open up to everybody, New Zealand and Australia could look at how each island country was handling the coronavirus crisis.
Aiyaz Saiyed-Khaiyum said since Fiji's 18th case was recorded on 21 April, there were no new cases of the virus and only four patients remained isolated in hospital.
"We have been fairly good in terms of the way that we've handled the cases relating to Covid-19, in terms of our recovery and the fact that we are one of the few, first countries to close its borders in respect to the high-risk countries, in respect to the cruise liners," he said.
'Successful fever clinics'
"We also have these very successful fever clinics that have gone around the country with over 700,000 people tested.
"These things don't get resolved overnight or decisions made overnight. There are various risks to be considered. In Australia's cases, they have different states with difference in positions or quarantine requirements in place. But that is something they'll need to resolve."
Saiyed-Khaiyum said Fiji had put its hand up to join the travel bubble and it was looking at placing itself "in a more prime position for example the legal frameworks."
He said if there was protocol developed that if a New Zealander who had to travel to Fiji "then they should perhaps be compulsory temperature testing before they get on the plane from NZ and then they get off, there could be another test here."
He said a lot of work was needed to be done in these areas including a detailed analysis.
"What happens, for example, if a person does not have a temperature before they leave NZ but when they land in Fiji they do have a temperature? What happens to the airline tickets, what happens to travel insurance? Where do they get kept? If they need to be quarantined, what are the expenses?"
This article is republished by the Pacific Media Centre under a partnership agreement with RNZ.
If you have symptoms of the coronavirus, call the NZ Covid-19 Healthline on 0800 358 5453 (+64 9 358 5453 for international SIMs) or call your GP – don't show up at a medical centre.