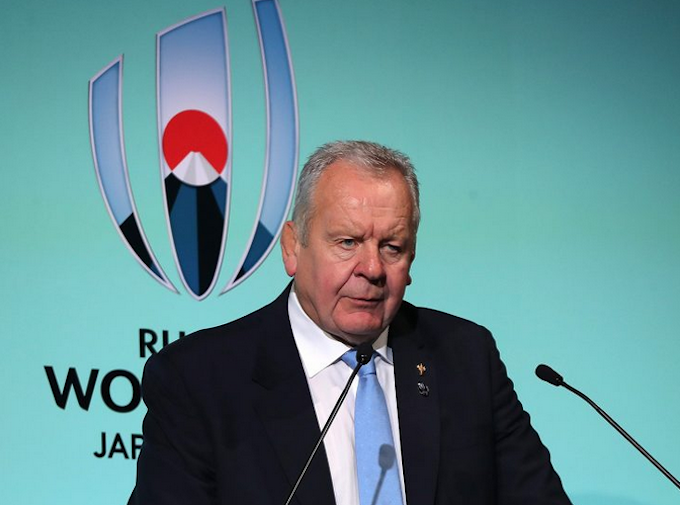 By Sri Krishnamurthi, contributing editor of Pacific Media Watch
The pressure goes on re-elected World Rugby chairman Bill Beaumont to investigate Fiji Rugby Union chief Francis Kean for allegedly using homophobic slurs in a recording during his role in charge of the Fiji Prison Service. 
The slurs emerged from an audio recording reportedly made during his prison job and revealed today by Rugby Pass following last month's London Sunday Times investigation.
Kean was recently stood down as a candidate from the vote for World Rugby's all-powerful executive committee over the allegation and it is understood to be at Beaumont's request. 
READ MORE: Inquiry into Francis Kean, the convicted killer whose Fijian union is backing Bill Beaumont's World Rugby bid
Overnight, the Pacific Rugby Players Welfare (PRPW) organisation, headed by former Samoan international Dan Leo sent a second letter calling for "urgent enquiries on the status of the investigation". 
It could become an embarrassment for Beaumont if he does nothing after New Zealand Member of Parliament Louisa Wall, who represented New Zealand in netball (Silver Fern) and rugby (Black Fern), outlined to Pacific Media Watch that Beaumont had called for "diversity" in the game. 
"In 2015, World Rugby and International Gay Rugby (IGR) signed an agreement to progress strategies to keep homophobia and intolerance out of rugby," Wall said. 
"It was an expression by World Rugby of its commitment through these alliances for rugby to live up to its stated values of integrity, respect, discipline, passion, and solidarity." 
'Proud of inclusivity'
She went on to say that World Rugby chairman Bill Beaumont had said at the time: "We are proud of our partnership with International Gay Rugby to promote inclusivity, equality and friendship as rugby continues to reach out, engage and inspire.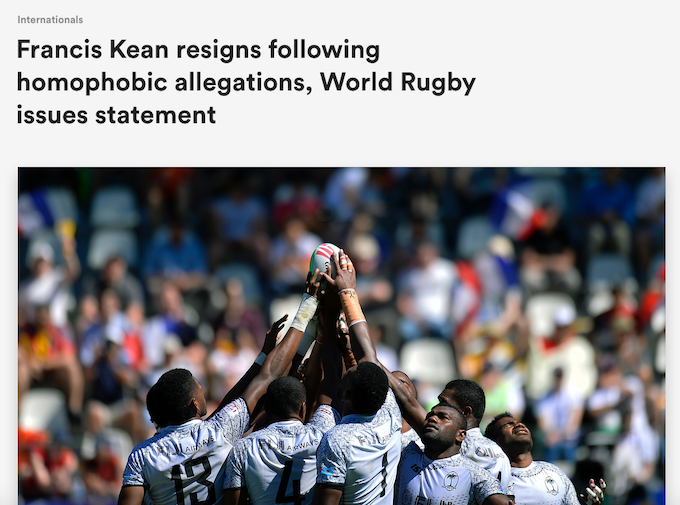 "It's important to us that rugby remains a sport for all, that it embraces diversity, celebrates difference and shuns intolerance." 
Without pointing a finger at Kean, she had a word of advice for World Rugby. 
"For rugby to be able to fully embrace diversity and inclusion it should be a requirement that all council members and elected executive members commit to these stated values and be able to demonstrate commitment to these values." 
"Eradicating homophobia, sexism and misogyny requires deliberate action and any person appointed or nominated to these positions should sign a code of conduct that includes a commitment to the stated values of World Rugby.  
"Anyone who cannot commit to those values or has acted in contravention of these values should not be eligible for appointment," Wall said 
"And, I am an advocate that board quality is dependent on board diversity. World Rugby does need a combination of skills and experience and this transcends gender and should include ethnicity, and a range of people passionate about rugby and who appreciate the value of sport to society.  
'Need to meet future threats'
"We need World Rugby to be in the best position to embrace new approaches to meet future threats and opportunities" – wise words for Beaumont and his executive. 
The PRPW in the letter, quoted in the Rugby Pass publication, said World Rugby had a regulation that it could invoke. 
"While  World Rugby  have no fit-and-proper-person test for anyone standing as a union official, PRPW have identified World Rugby regulation 20.4 (c) in relation to misconduct which refers to 'acts or statements that are discriminatory by reason of sexual orientation'." 
In the letter following the  Sunday Times  story that broke the original controversy ahead of World Rugby's vote, PRPW director Dan Leo wrote: "I note that, although it is more than two weeks since an investigation was first promised to the media, at the time of writing this letter no request has yet been received by the Sunday Times from WR (World Rugby) for a copy or transcript of the Kean recording or any other material generated in support of the April 19 report." 
One of the PRPW board members is former Fiji international Josh Matavesi, who told  RugbyPass:  
"I don't know what [Kean] adds to the FRU. I am embarrassed by his comments. As a Fijian, I know how hard the team has worked in the last decade to pride itself on the morals and values that it holds," Matavesi said. 
More scathing words
Lord Robert Hayward who is secretary of the All-Party Parliamentary Group in the United Kingdom for rugby union had more scathing words about Kean's actions. 
"The alleged comments attributed to Francis Kean are unacceptable. If World Rugby are to stand by the game's values and moreover their own regulations, we need more clarity about the undertaking of their investigation and any subsequent steps," he told Rugby Pass. 
"Taking swift and appropriate action against anti-LGBT remarks is what everyone in rugby should expect of those in the highest office of the game," Lord Hayward said. 
Kean was convicted of manslaughter in 2007 after he punched and killed John Whippy at a wedding in Suva. 
He is also the brother-in-law of Fijian Prime Minister Voreqe Bainimarama.