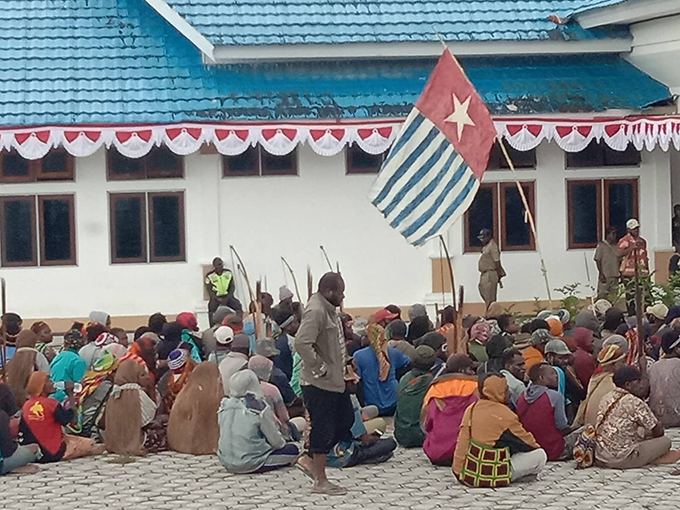 Pacific Media Watch Newsdesk
Six Papuan civilians have been killed and at least three others wounded after Indonesian security forces opened fire at a rally in Deiyai regency, Papua, as protests intensified, report news media.
The Jakarta Post cited reports from two eyewitnesses and security forces later confirmed that one soldier had also died and at least two policemen had been injured in the violence.
Agus Mote, one of the protesters, and a local Catholic priest, Santon Tekege, said six protesters had been killed and at least three others injured by shots from security forces, the Post reported.
READ MORE: Asia Pacific Report's coverage of the Papuan upheaval
According to Suara Papua's Arnold Belau, the military and police opened fire on the peaceful protesters yesterday after they had reportedly tried to occupy local government offices in Deiyai.
"The people entered the regent's office to ask him to sign a joint statement. As soon as they tried to enter the office, officers from the TNI and Polri opened fire," said Mote, spokesperson for the pro-independence KNPB Deiyai Region.
He said the protesters wanted to discuss their demands peacefully, but suddenly the forces opened fire.
Al Jazeera reported that children were among the wounded.
Reporting from Jakarta, Febriana Firdaus cited anonymous witnesses saying that the "demonstrators [were] fleeing into the jungle for fear of being pursued by police and soldiers".
However, Indonesian national police spolkesman Dedi Prasetyo denied that demonstrators were killed in Deiyai.
Firdaus reported that Al Jazeera and other media organisations found it difficult to gather and verify news from the region because of the Indonesian internet blackout imposed last week.
Protests have raged across the Papuan region for almost two weeks. The region is divided into two provinces, Papua and West Papua.