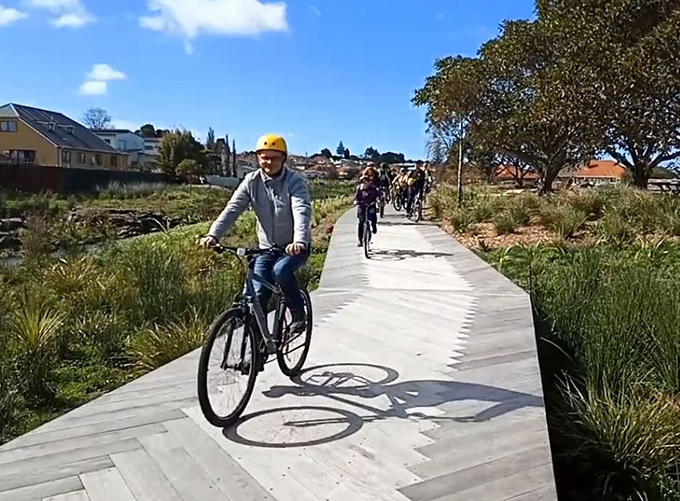 By Ayla Miller 
Pasifika people in New Zealand need to take charge against climate change which is already threatening their home islands, an Auckland hui has heard.
Political leaders have been too slow, warned climate experts, community, youth and Pasifika leaders who were joined at the Roskill Climate Restart hui by Minister for Climate Change James Shaw and Mt Roskill Labour MP Michael Wood.
"We have no choice. It's about my people surviving in this world. My people [in Tuvalu] are already suffering. In terms of food they can't plant crops now because of the salinity of the soil," said E Tū union Komiti Pasifika representative Fala Haulangi.
READ MORE: USP journo students return from Solomons climate storytelling project
"Every day our people live in fear and that's the reality people have to face. So, when we talk about what we will do in the next 10 years, no, let's talk about today."
Haulangi said there is a lack of trust in politicians among Pasifika communities but believes in the power of community to tackle climate change.
Pacific climate warrior Brianna Fruean said more attention needs to be placed on the resilience and adaptability of Pasifika people.
"Young people in Tokelau are building keyhole gardens for their villages so their gardening is raised off the ground as a way of adapting to climate change and soil salinisation. I've seen so many examples of the resilience humans can bring forward.
"We need more attention on the solutions and how we can look at people who really shouldn't be as resilient as they are, considering all the obstacles that are given to them, and how they've overcome them. If someone in the Pacific can put up a fight against climate change, then anyone in the world can."
James Shaw agreed, saying it was critical government works with communities when it comes to assessing real life effects of climate change.
"Wellington can't work that out all by itself. [Risk assessment] is an area where we need to work closely with other communities because they have on the ground knowledge. Communities often have knowledge that has been passed down from generations.
"It's going to take everything that we've got at every single level. It is one of those things that has to involve political change."
The hui began with a community cycle ride around the newly-opened Te Auaunga (Oakley Creek) walkway led by "local biking heroes" Roskill Bike Kitchen and Global Hope Mission, followed by a free lunch provided by Wise Collective.
Ayla Miller is studying Journalism through AUTs postgraduate diploma of communications and has an interest in arts, culture, entertainment and environmental news
This story was first published on Te Waha Nui