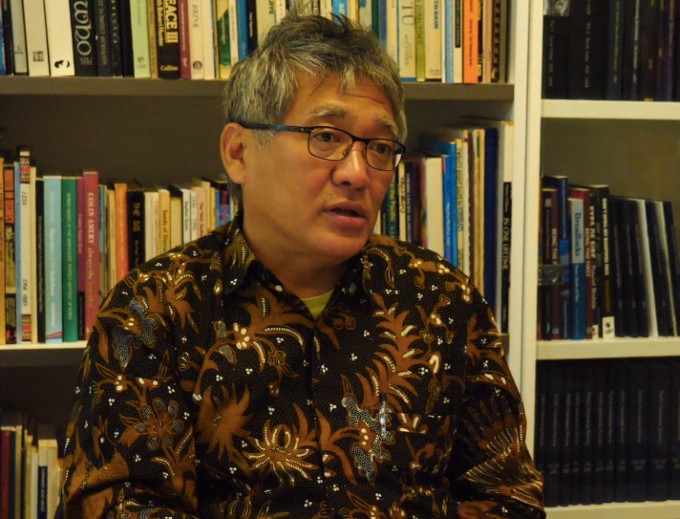 By Michael Andrew
The Indonesian media is contributing to resentment and racism toward Papuans, according to a human rights researcher and former journalist.
Andreas Harsono of Human Rights Watch Jakarta told Pacific Media Watch many Indonesian journalists either view Papuans as enemy "separatists" or deviants and their reporting tends to convey these stereotypes.
Papuan anger has erupted in widespread riots and rallies across Indonesia over the last week, after a militia attacked West Papuan students in Surabaya, pelting them with stones and calling them "monkeys".
READ MORE: Indonesia's political system has failed its minorities – like West Papuans, says author
Harsono, who is in New Zealand promoting his latest book Race, Islam and Power, says the manner in which the media reported the attacks created further anti-Papuan resentment which in turn sparked a backlash from the West Papuans themselves.
"The attack was reported by the media, videoed by the media, but it raised anger back home, now almost 30 cities are having rallies protesting against the use of the word monkey for this Papuan people."
Part of the problem, he says, is that many journalists are working for military or intelligence agencies and are therefore writing to a specific agenda.
"Another bad thing that Indonesian journalists in West Papua usually do is that many of them are collaborating with Indonesian military or Indonesian police, some of them are even on the payroll of the intelligence service."
According to Harsono, a 2010 leaked report revealed that 600 people were informing for the military and at least 200 were journalists.
"Some of them are agents on the payroll, some of them informers; they are kind of freelancers who provide information to the military.
"Also, it is quite common for intelligence officers to be stationed inside newsrooms, either in Jayapura or Manokwari."
Harsono wrote about a case in which a police officer had been placed under cover inside the Jubi newsroom in Jayapura. Editors discovered his identity when they saw on his computer messages detailing the editorial meetings that he had sent to the local police headquarters.

Michael Andrew's video report on Andreas Harsono at the Pacific Media Centre. Video: PMC
'Broken journalists'
But newsrooms have also been compromised in other ways. While there are journalists who have tried to report fairly and objectively, Harsono says many have been "broken" through intimidation and attack.
"I have seen many journalists, Indonesian and Papuan whose spirits are broken in Papua because of intimidation, because of being stabbed, the police did not investigate it, they have been beaten or been arrested, or sexually harassed for female journalists.
"So that is another category; those that are already broken, they dare not to do independent reporting."
'Soul searching'
However, he says there are some newsrooms which are doing some "soul searching" and re-evaluating the way they've historically reported West Papua.
"They say that we did wrong over the last 50 years to look at Papua so black and white. They are starting to be professional as journalists and at least cover both sides if not all sides."
Unlike much of the Indonesian media, these journalists are choosing to view the world around them through the unbiased, balanced tenets of free journalism rather than through a lens of dogmatic religion.
Harsono says this distinction is key to improving the quality of journalism and stemming the gradual erosion of Indonesia's democracy.
Faith and profession
However, it remains one the media's greatest challenges as many journalists – most of whom are Muslim –  struggle to differentiate between their faith and their profession.
"They tend to see others from their Sunni Islam perspective and those who in their view are not aligned with the Indonesian Ulama Council might be seen as blasphemous or deviants."
He says this is particularly telling when reporting on West Papua, a place with an entirely different culture and set of customs than those of Islam, such as the eating of pork and women going bare-chested.
Harsono says it is crucial that journalists do not let their background or identity create bias and "pollute" the principals of unbiased journalism.
"I believe if I am a journalist, I go out from my house and I leave behind my background, my religion my nationality, my ethnic background, my social status. I'm going out there in the field reporting, interviewing, doing research as a professional journalist."
Ongoing protests
Unfortunately, the media has not helped calm the current Papuan protests in Indonensia as people continue to rally across the archipelago, he says.
According to The Guardian, more than 1000 military have been dispatched to West Papuan cities to quell the demonstrations while internet has been cut off from parts of the region to prevent the unrest spreading.
Chairman of Indonesia's Alliance of Independent Journalists Abdul Manan and Amnesty International Indonesia's executive director Usman Hamid have condemned the internet block saying that it will prevent journalists from reporting on events and stop Papuans from sharing evidence of human rights abuses, reports Reuters.
The violence has already resulted in casualties with a Papuan demonstrator shot dead in a gunfight in the town of Wamena. Another man and a police officer were also injured.
In the Papuan towns of Jayapura, Timika, Sarong and Fakfak police reportedly used tear gas and fired warning shots to clear crowds after they set fire to a market and destroyed ATMs and shops. Local media report 45 people were arrested, reports The Guardian.
President Joko Widodo's plea for Papuans to be patient and forgive the racism has done little to appease demonstrators who are demanding an end to oppression.
According to Indonesian news service Pojok Satu, the coordinator of the Commission for Missing Persons and Victims of Violencer (Kontras), Yati Andriyani has lambasted Jokowi's efforts as "totally inadequate" and demanded that the President apologise for the racism and abuse Papuans have suffered.
Meanwhile, protests have spread to the Indonesian capital Jakarta, where the West Papuan flag for independence – the Morning Star – has been raised at a rally in front of the presidential palace, reports CNN Indonesia.
The small flag was flown as demonstrators were dancing and singing a song with lyrics demanding Papuan independence.