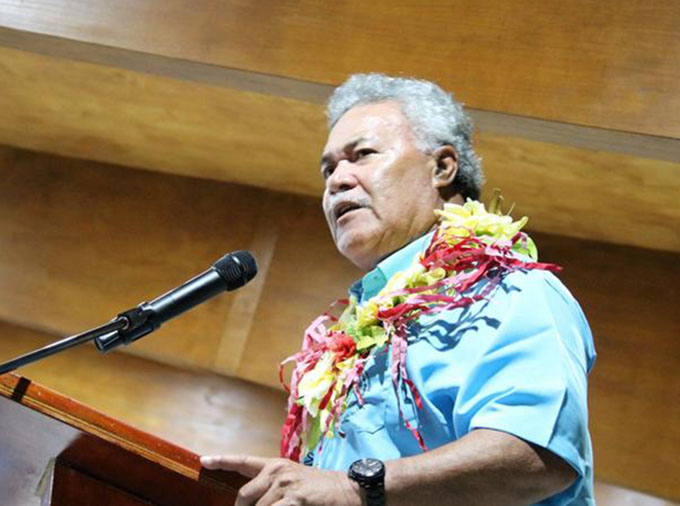 By RNZ Pacific
Tuvalu's Prime Minister has condemned the Australian Prime Minister's conduct at last week's Pacific Islands Forum, calling Scott Morrison's attitude "unfortunate" and "neo-colonial," and questioning Australia's future in the 18-member body.
In an interview with RNZ on Sunday, Enele Sopoaga also threatened to pull Tuvaluan labour from Australia's seasonal worker programme in light of comments by Deputy Prime Minister Michael McCormack, who was recorded saying people from Pacific countries threatened by climate change – like Tuvalu – would survive because "many of their workers come here and pick our fruit".
Australia's High Commissioner to Tuvalu would be summoned to explain the comments on Monday, Sopoaga said, and he would cancel the programme if he wasn't satisfied. He would also encourage the leaders of the other Pacific countries – including Kiribati, Samoa and Tonga – to do the same.
READ MORE: 'Bullying' Australia disregards Pacific over climate crisis, says 350 Pacific
"I thought the Australian labour scheme was determined on mutual respect, that Australia was also benefiting," said Sopoaga. "We are not crawling below that. If that's the view of the government, then I would have no hesitation in pulling back the Tuvaluan people as from tomorrow."
"I don't think the Tuvaluan people are paupers to come crawling under that type of very abusive and offensive language," he said. "If New Zealand is thinking the same way, we'll have no other option but to do that [there too]."
McCormack's comments came after the region's leaders – including Sopoaga, Morrison and New Zealand Prime Minister Jacinda Ardern – met for a marathon 12 hours on Tuvalu's main island, Funafuti, on Thursday with Australia, the region's largest economy and emitter, pitted against the Pacific.
The Pacific countries wanted strict commitments to cutting down greenhouse gas emissions, a phase out of coal power stations, support in replenishing the UN's Green Climate Fund and a strong and united communique that they could take to international climate talks at the UN next month.
But Australia refused to budge on certain red lines, which included insisting on the removal of mentions of coal, a commitment to limit global warming to under 1.5C and drafting a plan for achieving net-zero emissions by 2050.
It succeeded. Late on Thursday night, a watered-down communique was released, although some are now questioning at what cost.
Australia is meant to be in the midst of a so-called "step-up" in the Pacific, and Morrison came to the meeting stressing the vuvale (family links) between Australia and the region as Canberra gets increasingly jittery about China's presence.
Pacific trip-up
But if the reaction from the region's leaders in the past few days has been anything to go by, the step-up has tripped and tumbled some way down the stairs.
Vanuatu's foreign minister, Ralph Regenvanu, described the meeting as "tense" and "very frank," revealing that the talks almost broke down twice.
Marshall Islands Foreign Minister David Paul tweeted "Stepping-up means showing up. It means showing you are willing to play your own part in fighting the greatest threat to the Pacific and to the world." That was later followed by: "The Pacific's survival – and the Australian fruit industry – requires leadership on the greatest threat to our region and to the world."
But the most cutting criticism was from Fiji's Prime Minister, Voreqe Bainimarama, who said on Saturday that Australia had taken a "big step backwards" in its relationship with the Pacific. That came after he told The Guardian on Friday that Morrison's approach during Thursday's meeting was "very insulting and condescending."