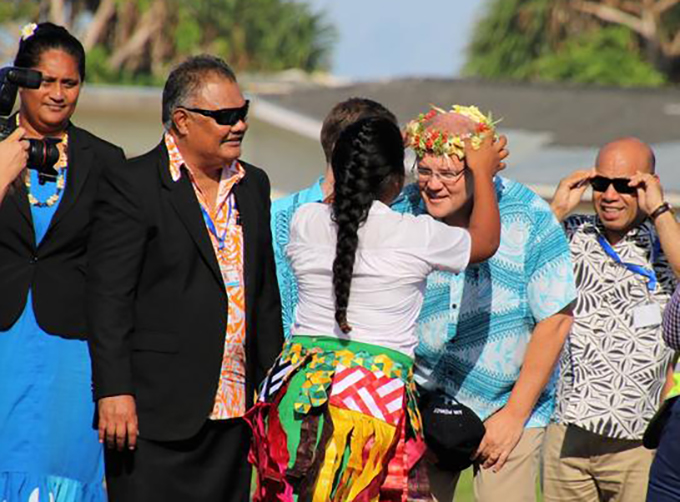 Pacific Media Centre Newsdesk
Wording has played a crucial role in a reportedly "fierce" Pacific Islands Forum in Tuvalu with Australia allegedly managing to alter documental terms to downplay its commitment to climate change mitigation.
According to RNZ Pacific, a communiqué and separate statement on climate change was released after a 12-hour meeting between the leaders yesterday.
The document, released after midnight, included what's titled the 'Funafuti Declaration for Urgent Climate Change Action Now".
READ MORE: Tongan PM blasts Pacific regionalism 'myth' and silence over West Papua
The main communiqué endorsed a declaration from the small island states calling for a commitment to limit global warming to 1.5 degrees celsius, an immediate phase out of coal, and contributions to the UN Green Climate Fund.
While Australia was a qualification and did not endorse the main communiqué it did endorse the separate statement which committed countries to work in solidarity to combat climate change, reports RNZ.
However, Australia which is the largest coal exporter in the world managed to have all references to coal removed from the documentation.
While the Guardian had reported that Scott Morrison's government was pushing for the words climate change "crisis" to be changed to "reality" in the draft communiqué, it remained in the final document.
Nevertheless, Australia's Shadow Minister for Foreign Affairs, Penny Wong, said Scott Morrison was undermining vital relationships in the Pacific.
"The reality is that Pacific Island nations, Pacific leaders have made it clear they don't trust the Morrison government when it comes to climate change. They don't trust them because the Morrison government has failed to act on climate change."
Fiji's Prime Minister Voreqe Bainimarama was not happy with the result of the forum, saying the leaders had settled for the status quo.
"Watered-down climate language has real consequences — like water-logged homes, schools, communities, and ancestral burial grounds," he said.
Opposition leader of the Solomon Islands, Matthew Wale, said the forum was a missed opportunity to really "step up".
"'Family', has been exploited for domestic Australian politics," he said, referencing the term Scott Morrison had used in his speech at the forum.
Tuvalu Prime Minister Enele Sopoaga was more diplomatic, saying: "I think the outcome is a very good outcome, it's probably the best outcome given the context and circumstances."
New Zealand Prime Minister Jacinda Ardern has been praised for her commitment to climate change at the forum.
This week she announced $150 million Pacific climate funding and reiterating New Zealand's commitment to reducing emissions, citing the goal of reaching net zero carbon emissions by 2035.
While she has said Scott Morrison's government "has to answer on the Pacific", she stopped short of calling for Australia to transition out of coal, reports The Guardian.
"Issues around Australia's domestic policy are issues for Australia," she said, when asked about Australia's coal use.