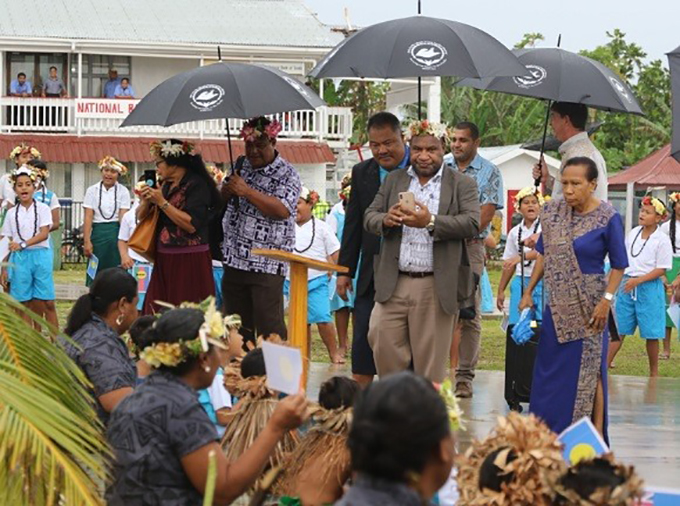 By Matthew Vari in Funafuti, Tuvalu
Relocation is a cheap option for sinking island countries – but "we are going to stay", vows Tuvalu Prime Minister Enele Sopoaga, who is this year's chair of the Pacific Islands Forum.
Sopoaga highlighted this during a press conference held before the main Forum meetings took place.
He said the issue of relocation had been around at the Forum for several years now. However, in spite of climate change, the small island nation is not giving up hope.
READ MORE: NZ's Jacinda Ardern to tackle climate change conversation in Tuvalu
"We have been trying in Tuvalu at least to build a trust and the conviction that we can still do something, not to give up but to work to do something to save the islands, to save Tuvalu and possibly to save the small islands," he said.
"Because we believe by relocation that would be fine, but we believe that is going to be a cheap option for those who caused global warming and climate change.
"It would be so easy for them to say to pass a resolution in the United Nations that we resolve to look for money to relocate these guys to somewhere safe, but there is nowhere safe in the world because of climate change."
His views highlighted the Tuvalu Coastal Adaptation Project (TCAP) that will provide 7 ha of raised flood-free new land.
'Self-defeating option'
"I think it is a cheap option and it is self-defeating, therefore we in Tuvalu say no," he said.
"We are going to stay and that in front of us – TCAP – that reclaimed area is a statement by Tuvalu.
"We can save Tuvalu by raising the islands, by building the islands, by reclaiming lands, to protect the islands."
Sopoaga expressed gratitude at Fiji's offer to take Tuvalu refugees if the time came for relocation, but he reaffirmed that that stage had not come yet.
It is a view that Fiji Prime Minister Voreqe Bainimarama echped at the Sautalaga meeting, but acknowledged the will of Tuvalu to maintain a foothold on its home.
"Fiji will offer a home to you the people of Tuvalu," Bainimarama said.
Natural justice
"We have made the same offer to your neighbours in Kiribati. This is obviously not our preferred option or yours, because natural justice demands that you continue to live in a place you call home, the islands you love and the islands of your ancestors.
"In the Fijian spirit of loving and open hearts, we are determined that you not only become refugees in a worst case scenario we will offer you refuge among us so that at the very least you remain close to where you belong."
He called on the region and the greater world not to forsake the people of Tuvalu, Kiribati and the Marshall Islands.
Matthew Vari is a PNG Post-Courier journalist covering the Pacific Islands Forum.