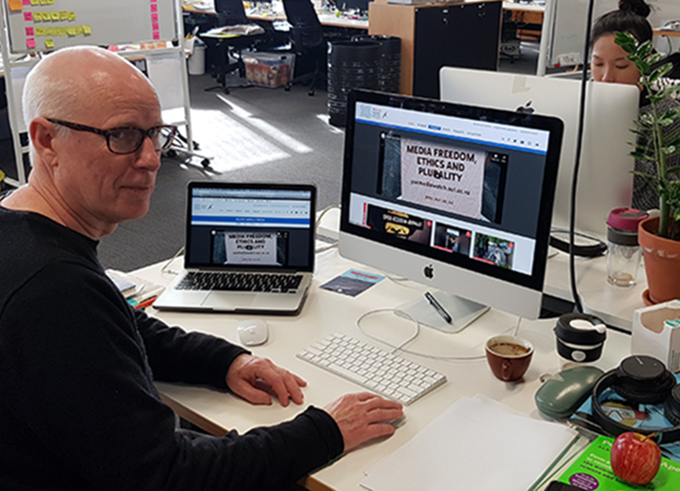 By Michael Andrew

The Pacific Media Centre has a new website and it will be going live over the next week.
A project almost two years in the making, the PMC Online website features a new vibrant design along with an innovative user interface.
Social enterprise website developer Tony Murrow from Little Island Press says that although the layout and design has been updated, the main aim of the project was to modernise the platform for security and user experience.
READ MORE: AUT's Pacific Media Watch 'lighthouse' role featured in freedom doco
"Unlike most websites, it fulfils a number of purposes," he says.
A unique website for a university environment, it features a blend of news and current affairs content, including the Pacific Media Watch freedom project along with research publication.
"It's more of a Swiss army knife approach where you're accommodating a wide range of tools under a single unifying element," says Murrow.
The most significant change is the new website's mobile friendly platform, which will allow users to browse easily from their cellphones.
Better showcase
Pacific Media Centre director Professor David Robie says this will "enormously enhance" the user experience.
"Personally, it has irked me to see a 'not mobile friendly' rider on Google for a few years."
"When PMC Online was first launched in 2010 it was a very innovative and appealing design at the time."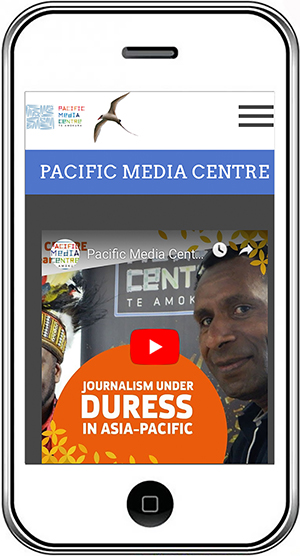 "And now this new updated design on Drupal takes us into a new digital era and it is a much better showcase for the work of the Pacific Media Centre, its student media outputs and its challenging 'critical conscience' social justice content."
He says the PMC Online website is used by a variety of media as a resource in the Asia-Pacific region.
Several people have contributed to the new PMC website development, including Amy Tansell, Emi Teng, Patrick Murrow and James Bristow.
Little Island Press has collaborated with the PMC on number of projects for almost a decade.
One of the most significant projects was in 2015, when 40 AUT journalism and television students worked with LIP to generate "Eyes of Fire – Thirty Years on", an archive of contemporary environmental and climate stories to mark the 30th anniversary of the Rainbow Warrior bombing on 10 July 1985.
It is believed to be the largest single journalism project carried out a media school in New Zealand.
Little Island also collaborates with the PMC in the printing of the Pacific Journalism Review research journal that is now in its 25th year of publication.
The launch of the new website along with the publication of this year's Pacific Journalism Review will be celebrated at the Pacific Media Centre's Midwinter Showcase tomorrow night.