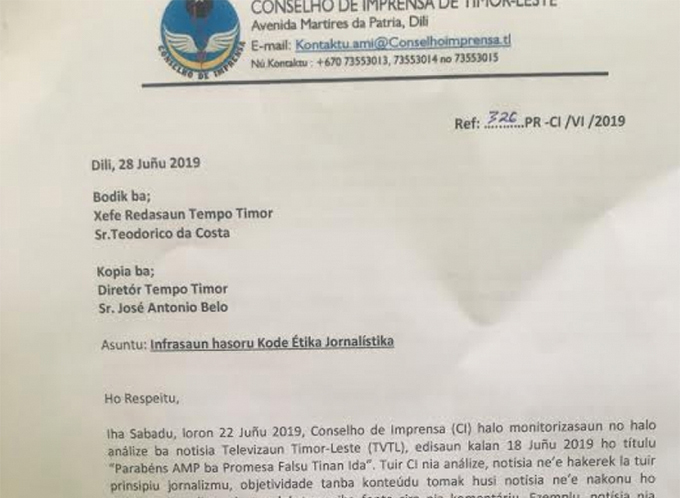 By Tempo Timor in Dili
Proposals to make defamation a crime in Timor-Leste have sparked public debate about a controversial law that could see people jailed for their opinions on popular platforms like Facebook.
Supporters of criminalising defamation argue that the growing instances of leaders being cursed and abused on Facebook – with more than 400,000 users in a population of 1.3 million – is "not public debate".
Opponents claim the proposed law will limit media freedom and prevent the expression of public opinion that has so far been protected by law.
READ MORE: Bob Howarth's Pacific Journalism Review article on Timor-Leste media
On December 6, 2005, the Constitutional Government ratified the Criminal Law Act, including a section which defined defamation as a crime.
This led to civil society protests to then President Xanana Gusmão in January 2006.
The fourth Constitutional Government led by Prime Minister Xanana had planned "to action" defamation into criminal law.
Then on December 12, 2018 the General Prosecutor's Office of Timor-Leste used Indonesian Criminal Code to criminalise defamation, thus targeting a journalist who had reported on issues raised over a prison guard uniforms contract
Draft criminal law
At the same time, a draft criminal law on defamation was prepared by the Constitutional Government. But after being widely criticised by civil society, the new Timor-Leste Penal Code did not include defamation as a crime.
The court tried former Minister of Justice Lucia Lobato in 2012. She was convicted of corruption and sentenced to 18 months jail.
President Taur Matan Ruak pardoned her in August 2014.
Even though the Criminal Code does not apply to defamation, there is still one section "denuncia Calunioza", which presents a threat to the work of journalists.
The Timor-Leste Prosecutor's Office investigated a Timor Post newspaper journalist after the Prosecutor's Office received a complaint from the leader of the sixth Constitutional Government.
The court tried and sentenced the reporter because of the news he wrote.
After government changes and changes in information technology became increasingly advanced, the campaign to criminalise defamation emerged again in the eighth Constitutional government led by Prime Minister Taur Matan Ruak.
Press Council critical
The president of the Press Council of Timor-Leste (Consuelo de Impreza – CI), Gil Guterres, strongly disagrees with the criminalisation campaign.
Guterres said that by criminalising defamation, Timor-Leste would undermine its international standing, and it would be a betrayal of the constitutional commitment to establish Timor-Leste as a state based on due process.
He said that when the reason used to criminalise defamation was only because people "cursed and insulted" the leaders, it was not justified.
The law was not only to protect the leaders – or "Maun Bo'ot sira" or "Big Brother" – but to protect all citizens.
"If you curse and insult them in the 'discurso de ódio' (hate speech) category, we don't need new laws anymore. The law of 'denúnsia Kalunioza' already exists," he said.
Guterres said criminalisation of defamation would have a "chilling" affect on journalists. They would be afraid to be critical or conduct investigative journalism because of the threat of a prison sentence.