Vanuatu-based journalist Ben Bohane raises West Papuan questions with UN Secretary-General António Guterres during his visit to Vanuatu. Video: Ben Bohane/Ginny Stein
By Dan McGarry in Port Vila
During his visit to Port Vila last weekend, United Nations Secretary-General António Guterres was confronted with questions about West Papua – but he waffled in his responses.
The matter was on the agenda during a bilateral meeting held between Guterres and key government officials, including Prime Minister Charlot Salwai and Foreign Affairs Minister Ralph Regenvanu.
In a joint press conference, Salwai was unequivocal about Vanuatu's continued commitment to support and help drive the decolonisation process globally, and especially in West Papua.
READ MORE: Boycott of 2019 Indonesian election successful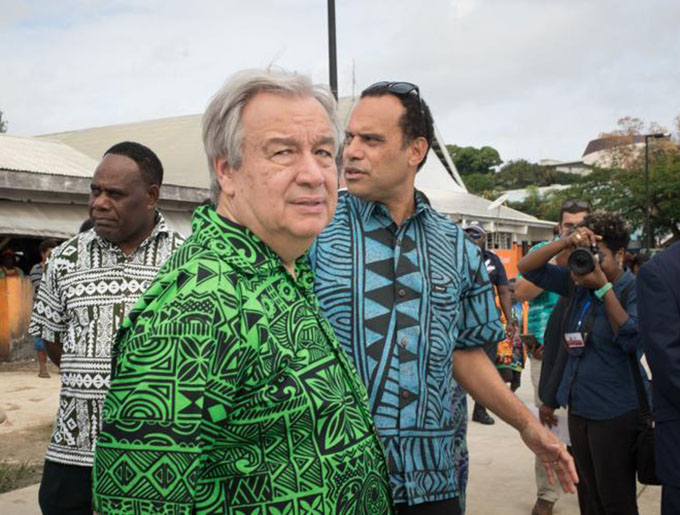 The UN head did little more than acknowledge the PM's words in his own prepared remarks.
Guterres also responded to questions on the topic from the media. The following exchange occurred during a pooled interview with Agence France Presse's Ben Bohane. He had little more to offer there.
The most serious deforestation, the most serious ecological trouble, as well as the most serious human rights abuses in the whole Pacific are happening in West Papua, Bohane said.
Shouldn't the UN be doing more to try and stop the human right abuses, and the ecological disaster that is unfolding there?
UN 'doing its job'
Guterres did little to raise expectations of a resolution to this crisis any time soon.
"There is a framework in the institutions, namely the human rights council… there are special procedures, there was a panel, that recently made a report on those issues, a report that was then presented internationally. Indonesia also responded," he said.
"So the UN is doing its job, with a major concern that there and everywhere, human rights are respected."
The problem is, he was told, that Indonesia is blocking Pacific island delegations, and they also appear to be blocking the UN Human Rights Commission from visiting West Papua.
At the moment, all international media is banned. Again, shouldn't the UN be doing more to open up West Papua?
The Secretary-General appeared to grant that there were indeed concerns about access to the area.
"The Human Rights High Commissioner has reaffirmed availability to visit the territory, and that remains our concern, and our objective."
So, if Indonesia says no, he was asked, is there nothing anyone can do, even the UN?
"As I said, we had the institutions working, we have a panel of experts, but there are also from our side strong commitments there and everywhere."
Little evidence of those commitments was on display in Port Vila.