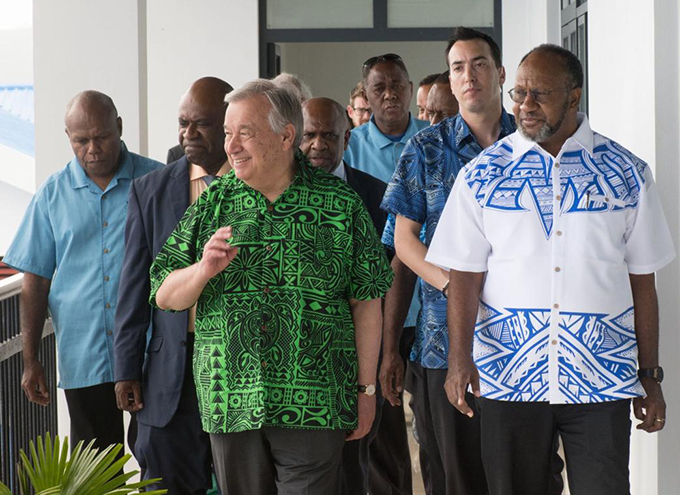 COMMENTARY: By Dan McGarry in Port Vila
Vanuatu and other Pacific nations can teach a lesson to the world, says UN Secretary-General António Guterres.
"That lesson is very simple. We absolutely need to save the Pacific, and to save the world, that the temperatures will not rise above 1.5 degrees Celsius by the end of the century."
"And this needs a lot of political will."
READ MORE: UN Secretary-General tells youth be 'noisy as possible' on climate change
The UN head arrived in Vanuatu on Saturday with literal as well as metaphorical storm clouds looming on the horizon. An out-of-season cyclone north of Fiji brought low cloud and high winds to Vanuatu, casting a light drizzle on the tarmac as the Guterres disembarked from a Royal Australian Air Force Hercules.
He was welcomed by representatives of the Vaturisu Council of Chiefs and given the high honour of passing under a pair of namele leaves as he entered the airport VIP lounge.
After a brief courtesy visit to the Head of State, where he toasted Vanuatu with a fresh coconut, the SG headed to the Prime Minister's Office, where a bilateral meeting discussed climate change, as well as other priority matters, including Vanuatu's continued support for decolonisation the world over.
Lip-service to West Papua
Guterres gave little more than lip-service to West Papua and other concerns, but he spoke passionately about the emerging climate emergency.
"The Pacific," he said, "has the moral authority to request all countries to be able to abide by what the international community—and the scientific community—now consider essential: that temperatures will not rise more than 1.5 degrees by the end of the century, and for that purpose, that we reach carbon neutrality by 2050.
He insisted "that these objectives are possible. They only depend on political will."
Later, in an interview with the AFP news agency, he said: "I was in Tuvalu yesterday, and to see the existential risks that Tuvalu is facing really breaks my heart."
Asked if action was needed in 50 years, 20 years or next year, he said, "No. We have to deal with it immediately. We have the risk of making [climate damage] irreversible, and the targets that were fixed cannot be reached."
Pacific Islanders have never seen such a high-level endorsement offered in-person and with evident sincerity.
But it is debatable whether that will translate into meaningful international action.
Actual progress?
If he thought there was any chance of finding a receptive audience in Washington, London—or Canberra, for that matter—Guterres would be saying those words there, not here.
And if it meant actual progress, Pacific islanders would be more than content to listen to them on the nightly news broadcast.
But with hardening attitudes among the most resource-rich nations, and the superpowers' increasing fixation on trade wars and territorial disputes, it's exceedingly difficult to see Guterres' fervent entreaties having any impact whatsoever.
Less than a day after his surprise win in the Australian general election, Prime Minister Scott Morrison was being encouraged by Sky News commentators to walk away entirely from the nation's remaining climate commitments.
The only substantial climate promises Australia has made to the Pacific relate to adaptation, not mitigation.
Australia signed the Boe Declaration along with all the other Pacific Island Forum countries. The declaration emphasises that the damage caused by a rapidly changing climate is the single greatest security threat the region faces.
Boe debate disappeared
But in the ensuing months, no mention whatsoever has been made of this by Australian diplomats or politicians. It has simply disappeared from their vocabulary.
And António Guterres is powerless in the face of this intransigence. His own speeches made no mention of Boe, presumably for fear of giving offence.
Given the opportunity, he refused to encourage Australian voters to think of the environment.
The most pressing global crisis facing the human species today has near-zero traction on the global stage.
There is no more striking evidence of this than the commendable but quixotic decision by António Guterres to use the Pacific as his backdrop in what will most likely be a vain attempt to build momentum for action.

Ben Bohane's exclusive interview with the UN Secretary-General António Guterres in Port Vila. Source: Ben Bohane Facebook