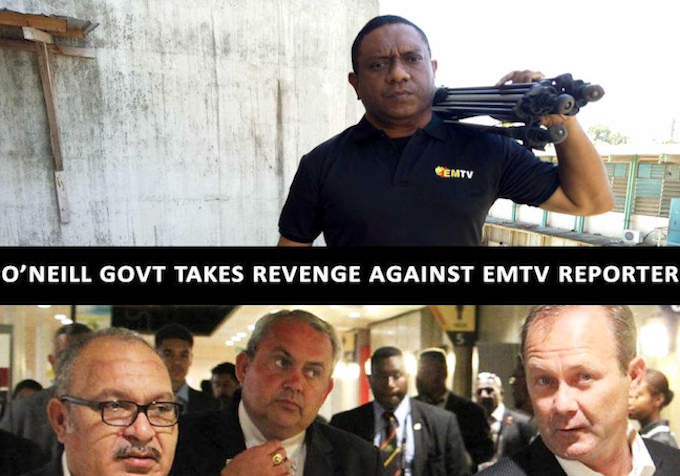 COMMENT: By Bryan Kramer, MP for Madang
Papua New Guinea's O'Neill government has taken revenge against senior EMTV Reporter Scott Waide, who was suspended over his broadcasting of New Zealand Prime Minister Jacinda Ardern's comments about the Maserati scandal.
I was informed soon after APEC (Asia Pacific Economic Cooperation) that the O'Neil  actually planned on sacking Waide. However, there was pushback from the management and staff so they decided to instead suspend him and order that he go on leave.
I suspect given the recent unrest in Port Moresby involving security forces, they had to be careful not to trigger another incident.
READ MORE: O'Neill defends government on suspension of EMTV journalist Waide
So the real question is, who was behind the decision calling for Waide's "sacking/suspension", Prime Minister Peter O'Neill himself, or the usual suspects such as O'Neill's Chief Media Officer Chris Hawkins and Minister for APEC Justin Tkatchenko?
EMTV is owned by Telikom PNG that is ultimately owned by Kumul Holdings Consolidated, a state-owned enterprise.
Shadow minister
The minister responsible for state-owned enterprises is William Duma and I am the shadow minister.
I will be writing to the minister and CEO of Kumul Consolidated Holdings asking them for an explanation behind this suspension.
I don't expect a response, but what I can assure them is that following the removal of O'Neill in February 2019, the person behind the decision can expect to be sacked.
Last week, Opposition Members were on FM100 radio talkback that was telecast live on EMTV. However, half way through the programme we were cut off air. This is the second time it has happened.
It appears those feeding from a corrupt O'Neill government are starting to get desperate in their efforts to take away our rights – including our freedom of speech.
It's time Papua New Guineans start to seriously think about organising ourselves in the cause to hold to account a corrupt prime minister and his cronies.
Opposition Madang MP Bryan Kramer is the shadow minister for state-owned enterprises, including the Telikom-owned EMTV. He founded the Allegiance Party and is an investigative journalist who publishes Kramer Report.