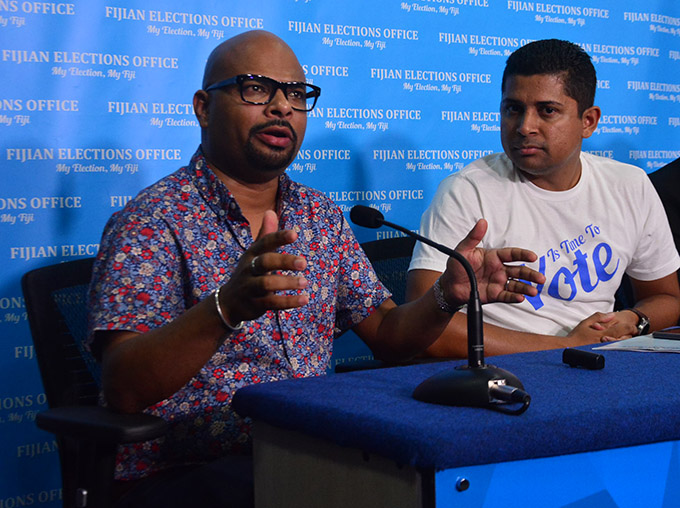 By Sri Krishnamurthi in Suva
Like a possum in headlights, the Fiji media authorities appear to have been caught out by social media trolls and fake news, admits Ashwin Raj, chairperson of the Media Industry Development Authority (MIDA).
Fake news, a term made infamous by US president Donald Trump, has proved to be the bane of the elections in Fiji – and the authorities had not anticipated having to deal with the ferocity of it.
"It is a completely new terrain, last elections (2014) we weren't talking about fake news; social media is now saturated with this stuff," Raj told a media conference in Suva yesterday.
READ MORE: Report fake page to Facebook plea from Fiji Times editor
"This is now a completely new phenomenon. Obviously we know who the culprits are, why they are doing it and what they are doing."
The extension of the media blackout to allow for 23 venues and 7,852 voters to vote at a date yet to be announced meant people had to be vigilant not to be taken in by social media trolls or fake news.
"Wait for official authorised results that will come from the Fijian Elections Office (FEO), be very mindful that people will take to the social media and spread rumours about lawlessness and instil fear, so it very important that we go to the official sources," said Raj.
"We've had members of various political parties who actually forwarded to us news items, which in their estimation constitutes fake news and has coloured a certain perception about the various political parties.
'Everybody is concerned'
"We've also had concerns from the mainstream media that have been brought to our attention. One of the things that have come out of this is that everybody, despite their political differences, ideological disposition, political proclivities are actually concerned about the proliferation of fake news.
"What that has done in terms of the campaign, public knowledge and so on; if anything, this is why we must resort to the mainstream media as the veritable site of truth.
"This is why we need something like the 48-hour blackout period. This is why we need the mainstream media that is going to be the voice of reason, help the public delineate fact from fiction," said the verbose Raj.
He said force of law would be brought to bear on those who indulged in the dark arts of social media.
"We are in the process of investigating, until we have concluded that process, I'm not going to make a series of statements in relation to that. We will be reporting it to the relevant agencies in due course," he said.
"There is a whole bunch of stuff going on. There are elements in it that simply constitute criminal acts, when you threaten somebody with sexual assault because you disagree with their political views.
"When you threaten the life, safety and security of people that is simply a criminal act. Then there are other things that are basically fiction and the sort. That can be easily discredited if people produce facts.
Blackout period
"So, the transgressions vary."
He reminded the people of the ongoing blackout period.
"We are still in the blackout period, the public needs to remember that 7,852 voters in 23 polling venues have yet to cast their votes it is imperative that people do not give any credence to fake news.
"This is where the role of media is very important is dispelling any fiction that might be out there, particular so when it comes to the results," said Raj.
Nothing could have prepared them from the effects of a tyrant social media.
Sri Krishnamurthi is a journalist and Postgraduate Diploma in Communication Studies student at Auckland University of Technology. He is attached to the University of the South Pacific's Journalism Programme, filing for USP's Wansolwara News and the AUT Pacific Media Centre's Asia Pacific Report.