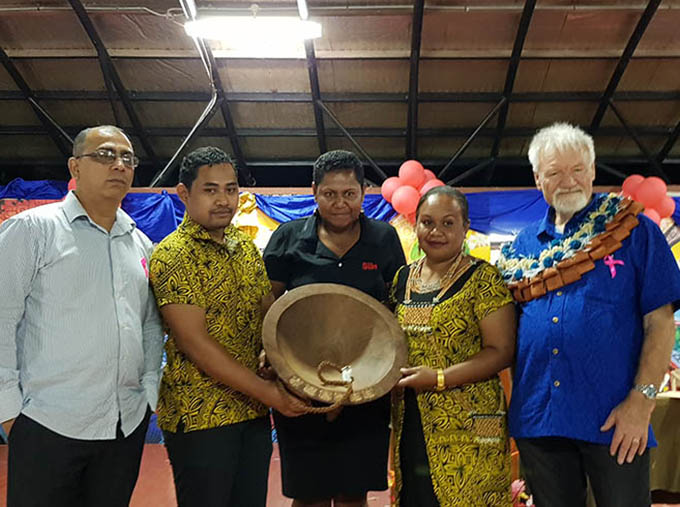 Solomon Islands student journalists impressed at the annual University of the South Pacific media awards marking the 50th year of the Fiji-based regional institution.
The 18th USP student journalist awards on Friday night featured 14 prizes and more than $6000 in cash awards for excellence in journalism.
Solomon Islands students collected seven awards.
READ MORE: David Robie's 'media phobia' speech at the USP journalism awards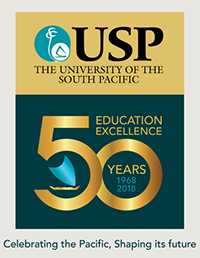 Final-year journalism students Elizabeth Osifelo from the Solomon Islands, who is also president of the Journalism Students Association, and Koroi Tadulala from Fiji scooped the premier award, Tanoa Award for the Most Outstanding Journalism Students, sponsored by Fiji Sun.
"The most important thing for us is being a responsible journalist – journalism has taught us not be passive but active – to pay attention to detail, to always be on your feet and to ask questions," said Osifelo, who was in New Zealand earlier this year and visited AUT's Pacific Media Centre and other news sites on a Pacific Cooperation Foundation scholarship.
"We learnt that we must read to develop our thinking.
"At USP, we learnt that as journalists, we have a very important role to play in society. We got first-hand experience by reporting for our Wansolwara newspaper and website.
More confident
"Some of us came to USP fresh out of school with no skills or experience. After three years, we are much more experienced, far more confident and more ready than ever before to take on the world.
"We are sad to be leaving but we will remain family, no matter where in the world we end up."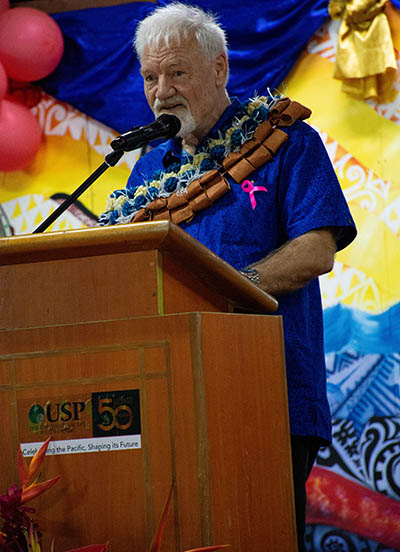 Keynote speaker Professor David Robie, director of AUT's Pacific Media Centre, spoke about the global dangers for journalists and reflected on his time at the university when he set up the USP Journalism Students Awards.
"It is with pride that I can look back at my five years with USP bridging the start of the millennium. Among high points were gaining my doctorate in history/politics at USP – the first journalism educator to do so in the Pacific – and launching these very annual journalism awards, initially with the Storyboard and Tanoa awards and a host of sponsors," he said.
"When I look at the outstanding achievements in the years since then with current journalism coordinator Dr Shailendra Singh and his colleagues Eliki Drugunalevu and Geraldine Panapasa, it is with some pleasure.
"And USP should be rightly delighted with one of the major success journalism programmes of the Asia-Pacific region.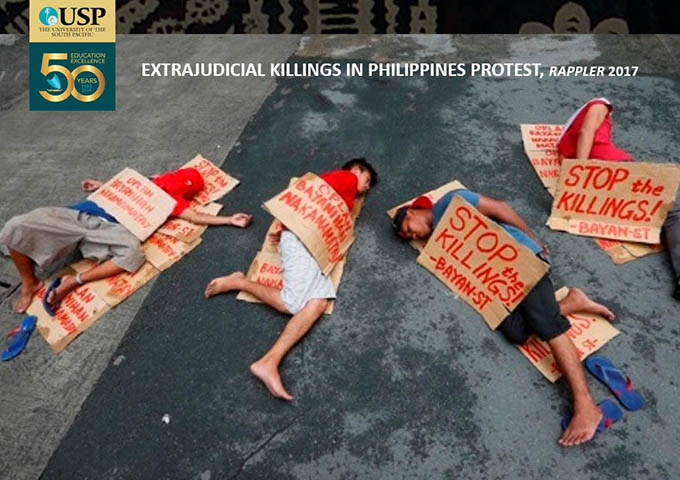 "Wansolwara newspaper, which celebrated two decades of publishing in 2016, has been a tremendous success. Not many journalism school publications have such sustained longevity and have won so many international awards."
MASI president
USP journalism alumni and president of the Media Association of Solomon Islands (MASI), Charles Kadamana, was also a guest speaker at the event.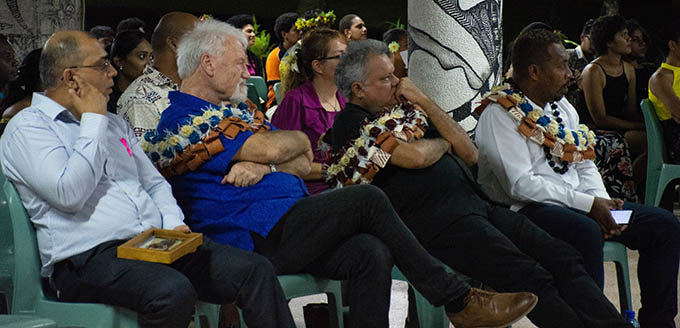 He said the awards event was a fitting occasion for USP's 50th anniversary.
"To those who received awards, I congratulate you. You deserve it. For others, do not be discouraged, rather you should be motivated to do better next time," he said at the Oceania Centre for Arts, Culture and Pacific Studies pavilion where the event was held.
"USP, over the past 50 years, has been the breeding ground for nurturing future journalists to meet the needs of the region. Many graduates have taken up leadership role within the government, private sectors, institutions and in the media industry.
"My message to students is that you carry a big responsibility. My advice is to make good use of your time while studying at USP. Every year thousands of students across the region struggle to secure scholarships to pursue journalism as a career so you should regard yourselves as the luckiest ones."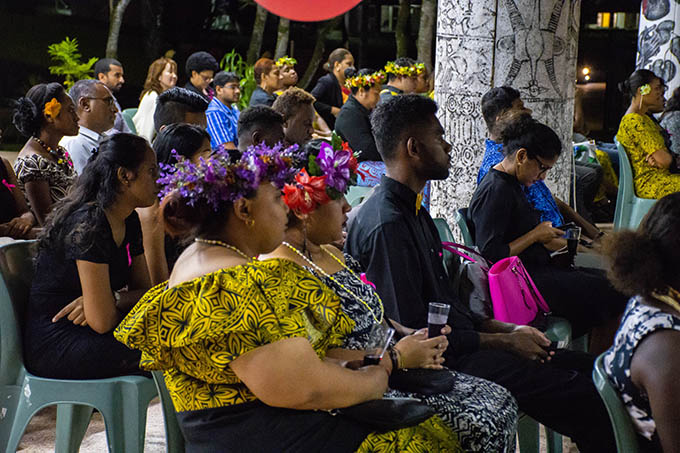 Organised by the University of the South Pacific Journalism Programme, the event is the longest running journalism awards in the region. It is the only awards for journalism in Fiji at the moment.
Dr Singh said the event recognises and rewards students who excel in their coursework, which includes producing news for print, online and broadcast media.
Other sponsors of the awards include Fiji Times Limited, Fiji Television Limited, Mai TV, FijiLive, Communications Fiji Limited, Islands Business, Pacific Islands News Association as well as international non-profit organisation Internews and Earth Journalism Network.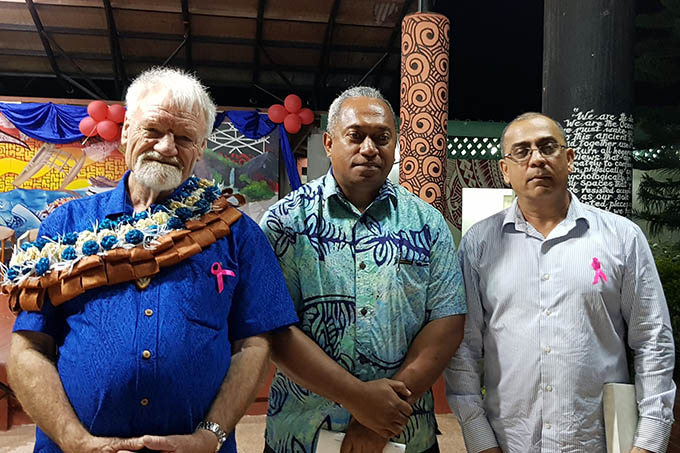 Recipients of the 14 awards were:
FijiLive Most Promising First Year Student Award – Fredrick Kusu (Solomon Islands)
FijiLive Best Online Reporting Award – Chris Ha'arabe (Solomon Islands)
Communications Fiji Limited Best Radio Student Award – Rosalie Nongebatu (Solomon Islands)
Fiji Television Limited Best Television Student Award – Sharon Nanau (Solomon Islands)
The Fiji Times Best News Reporting Award – Mereoni Mili and Anaseini Civavonovono
The Fiji Times Best Sports Reporting Award – Mitieli Baleiwai and Venina Tinaivugona
Islands Business Award for Best Feature Reporting – Laiseana Nasiga
Mai TV Award for Best Editor – Drue Slatter
Internews/Earth Journalism Network Awards for Best Mojo Documentary (Individual and Group) – Jared Koli (Solomon Islands for the Individual award) and Group 4 winners Kaelyn Dekarube (Nauru), Sharon Nanau, Eliza Kukutu (Solomon Islands), Harrison Selmen (Vanuatu) and Kirisitiana Uluwai
Pacific Islands News Association Encouragement Award – Dhruvkaran Nand
Wansolwara Award for Most Improved Student – Virashna Singh
The Fiji Times Storyboard Award for Best Regional Reporting – Rosalie Nongebatu and Semi Malaki (Tuvalu)
Fiji Sun Tanoa Award for the Most Outstanding Journalism Students – Koroi Tadulala and Elizabeth Osifelo