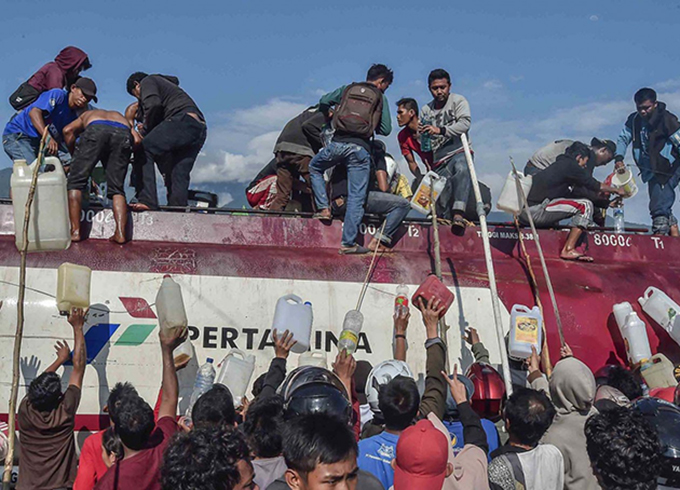 By Ruslan Sangadji and Andi Hajramurni in Palu, Indonesia
In the wake of mass destruction caused by Indonesia's 7.4-magnitude earthquake and the subsequent tsunami, survivors in Palu and Donggala in Central Sulawesi have been scrambling to salvage food supplies and other items, as aid from the central government began to trickle into the region.
Yesterday, many survivors blocked trucks carrying aid to plunder the contents as many have gone hungry and thirsty for days.
A video circulating on Twitter, said to have been taken in Donggala regency, also shows people intercepting a relief aid truck.
VIEW MORE: Drone video footage shows scale of Palu tsunami devastation
The Jakarta Post's correspondent saw people waiting for fuel at a Pertamina gas station asking the entourage of journalists and officials from Jakarta for drinking water.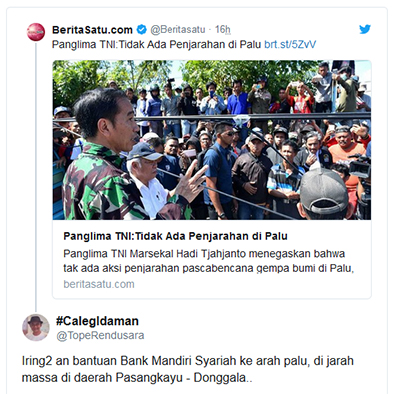 "Drinking water, drinking water, please," some survivors said to passing motorists.
"I ran into a mother and her child at the airport who asked me to share some of my water with her child," correspondent Andi Hajramurni said.
"Just a little, enough for my child," Hajramurni quoted the mother as saying to her.
Upset over aid
A pregnant woman was also found exhausted outside the airport. She said she was upset to see aid being unloaded from the planes but none reaching the survivors waiting to leave the city at the airport.
Thousands crowded Mutiara Sis Al Jufri airport to leave the devastated city while staving off hunger and thirst under the scorching heat.
The survivors have been waiting for a chance to flee the city since Saturday, camping outside on mats or cardboard. They were hoping to catch a plane to Makassar to later go to their respective hometowns.
"What is important is to get out of Palu. We have agreed to meet Papa in Makassar and then go to Jakarta," Paramita said. The 29-year-old, who sustained an injury to her leg from falling concrete debris, is taking her two sisters with her.
Desperate and impatient, the survivors were occupying part of the runway.
An airport official, Syaeful, said that on Sunday night, about 5000 people had waited for a plane at the airport. "The number keeps increasing," he said.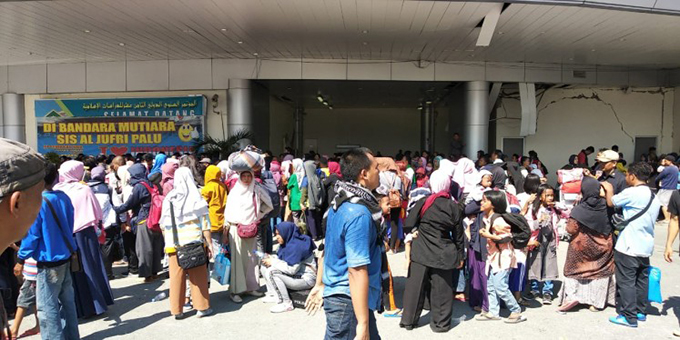 Some businesses, such as at Masomba traditional market, have opened for businesses and some survivors have bought food supplies.
"I bought some fish," the Post's correspondent Ruslan Sangadji, who is also a survivor of the quake, said.
Food, clean water scarce
However, food and clean water are scarce and many are desperate.
In Buluri subdistrict, Ulujadi district in the western part of Palu, survivors blocked roads to intercept trucks carrying food supplies. Police officers in the area are reported to be unable to hold off the crowd.
Similarly, residents in Tawaeli district in central Palu have taken to a nearby port to intercept government aid arriving on ships. The police were also reported to be unable to ward off the desperate crowd.
A handful of residents even looted nearby convenience stores for any life-sustaining item they could find, since aid from the government had not yet arrived.
Many also attempted to siphon fuel from gas stations around the city over the weekend as none of the city's gas stations were in operation following the earthquake and tsunami that hit the city on Friday.
Jokowi's message
President Joko "Jokowi" Widodo on Sunday asked quake survivors to be patient as they wait for aid to be distributed upon arriving in Palu, the capital of Central Sulawesi.
Jokowi said it would take one week to prepare the airport so airplanes carrying the supplies could land safely.
"I'm aware there are a lot of issues that need to be resolved as soon as possible, and I hope the people will remain patient in this situation," he told the reporters.
Yesterday, Jokowi said he would send "as much food as possible" immediately.
Several people also reportedly robbed ATMs and jewelry shops. Twitter user @MpuAnon posted a video showing gold shops that looked like they had been looted.
"Gold shops. Post-looting," the Twitter user said in the caption.
The police are reported to have ordered a shoot on sight policy against such robbers.
Guards on gas stations
In an attempt to maintain and restore order in the region, the National Police and the National Military have employed personnel to guard several gas stations and convenience stores across Palu, according to the police's head of communication Brig. Gen. Dedi Prasetyo.
Previously, Home Minister Tjahjo Kumolo advised against looting – not even in the wake of a natural disaster – as the act is considered criminal.
"There's no justification whatsoever for looting. Everyone's equally affected by the disaster; their shops destroyed, shopping malls devastated," Tjahjo said during a televised interview, as quoted by kompas.com.
Prior to Sunday's statement, news spread on social media that the government had approved of the looting at convenience stores and that the expenses would be covered by the state.
However, Tjahjo denied it, saying that what the government had approved was the transfer of aid funds to the Central Sulawesi administration, to be used for food supplies for survivors.