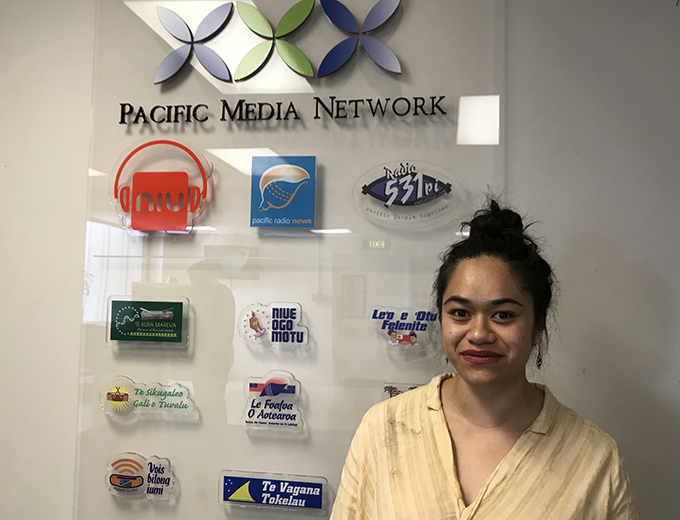 By Leilani Sitagata
Becoming a journalist wasn't always on the radar for a young Pasifika reporter from Auckland who covered the Pacific Islands Forum leaders' summit in Nauru earlier this month.
Auckland University of Technology alumni Mabel Muller is now a journalist for the Pacific Media Network (PMN).
She graduated in 2015 with a Bachelor of Communication Studies, majoring in journalism. But that wasn't her goal at first.
READ MORE: Pacific Islands Forum at Nauru – background
"It was my dream to pursue performing arts," she says.
"But career pathways like that aren't always supported by Pasifika people and after I talked about it with my parents my Dad wasn't keen on me doing that."
Muller was born in Tonga and grew up in Mangere while attending Marcellin College.
She says she was left trying to decide what to do instead of studying the arts after it not being the preferred choice of her parents.
Passion for talking
"That discouraged me going down that pathway, but I still had a passion for talking.
"I couldn't pursue acting, so I thought communications might be the answer to my problem."
Initially the goal was to major in television, but Muller didn't make the top 20 cut off.
"Journalism was my second option and I got put there by default, but I grew to love it in my last year."
Muller says in an interview with Asia Pacific Report that while studying she became quite aware of the way Pasifika people are represented by the media and she was "fired up".
"Once I learnt how often [Pasifika people's] stories were perceived in mainstream media, I was so determined that I wanted to be part of the group that changes that.
"I wanted to be part of the movement that flips the switch of Pacific perception in society through media."
Hesitant to step out
However, straight after graduation Muller was hesitant to step out and apply for jobs in the media.
She says that during her final year there were only a few students in her major who were of Pasifika descent.
"I guess being a minority in our major made me feel inadequate as a journalist compared to others.
"Obviously English is their first language and so of course they'd be better at writing than me."
Almost a year on from graduating, Muller says she couldn't stay away from journalism any longer.
"I applied everywhere, and I kept getting declined even though they were only junior reporting roles."
Through connections she found out about an opening as the receptionist for PMN, applied and got the job.
Neutral position
"It was awesome because being a newbie in the industry as it was good for me to be in a neutral position where I could get a feel for what things were like – especially in the Pacific context."
Seven months after working for PMN, Muller was shifted from reception to the newsroom.
"They were like we can't have a journalist sitting at the front desk doing nothing and not putting her skills to good use."
During university, Muller didn't realise her broadcasting papers might come in handy someday in her work.
"When I came [to PMN] I thought, oh gosh, all that I learnt in radio journalism, I actually need to apply here."
Muller says she wants to produce stories that are positive, although she won't shy away if some hard-hitting truth needs to be told.
"I always want my stories to improve the lives of Pacific people, to inspire, build, uplift and empower.
Accountability 'biggest value'
"Sometimes there are stories we have to report on which don't do those things and that can be uncomfortable.
"But at the end of the day that won't stop me because accountability is one of the biggest values of journalism."
At the start of September, Muller was flown to Nauru where she reported on the Pacific Islands Forum for PMN.
"I saw the aftermath of years of colonisation through phosphate mining and the damages on the island through that."
She says the experience was "overwhelming" and overall not what she expected.
"I'm used to going back to the islands and it being rich in land and being plentiful of food.
So, going to Nauru and seeing they didn't have that was so shocking."
Nauruan viewpoint
Muller believes something that needs to be voiced more is the Nauruan people's viewpoint, rather than just the government and the refugees.
"Journalism is about balance and giving everyone a voice.
"The Nauruan people play a big part in their story because that's their island."
Aged just 23, Muller has only scratched the surface but aims to shut down as many stereotypes as possible along the way.
"I hope one day to look back and see that I've been part of that change in perspective that we're not just sports players.
"We are more than just crime, obesity and non-communicable disease statistics."
Leilani Sitagata is a reporter on the Pacific Media Centre's Pacific Media Watch freedom project.