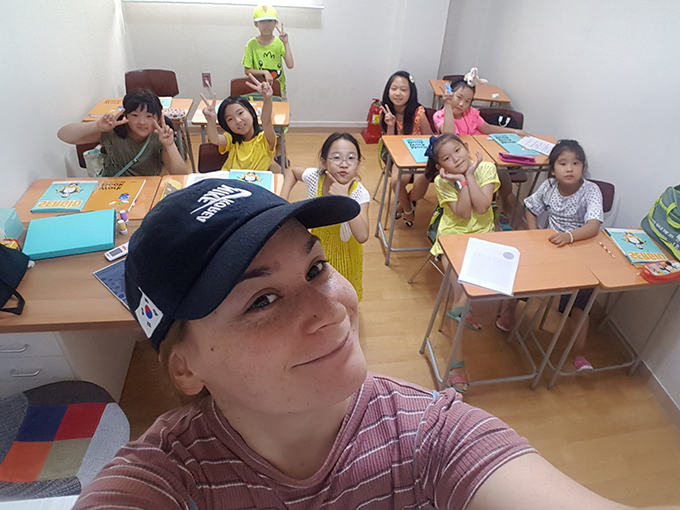 By Leilani Sitagata in Auckland
Sia Caldwell made a big shift across the ocean at the start of this year to South Korea to teach English while completing a student exchange.
In spite of Sia's Samoan, Tuvaluan, European heritage, she fell in love with the Korean culture during high school years.
And now the 22-year-old is regarded as a local.
"Whenever I speak, Korean people assume I'm of mixed ethnicity, and when I tell them I'm not, they assume I've lived in Korea since I was little. So, when people learn the truth that I've only been in Korea for 8 months, they're shocked."
In 2014, Sia said she was a target for bullying when she was younger because of her size and from there changed school for her final year.
"I met a group of Koreans at school, started going to a Korean church and before I knew it I was surrounded by Koreans."
She says there was always the issue of a language barrier. Naturally, Caldwell decided the way to solve that problem was to learn the language through conversations with her friends.
Fluent speaker
"I can speak Korean comfortably, confidently and fluently. But I can't read and write very well since I learnt the language through conversing with others."
In 2015, Sia enrolled to study Korean at the University of Auckland but was told she was "too ahead" to be a first year student.
"I was told that my Korean language skills were too advanced, and I needed to move up to second year."
There were some complications and from there she moved to Auckland University of Technology.
After a few shuffles to find the right major that fit her, Caldwell settled on a choice that combined two of her passions; English and New Media studies.
"I realised that I loved teaching English as a second language and I love media. When I found out there was a degree offering the subjects conjoined, I immediately chose that."
This year Sia is currently on a student exchange at Soongsil University in Seoul, Korea to further her studies.
Great experience
"I think it's been a great experience so far and has taught me a lot of lessons. It's very eye opening to go to a country and live there and see how different the culture, people and traditions are compared to your own."
As well as studying, Sia is teaching English as a second language to primary aged school kids which she says is an "interesting job".
"By teaching English in Korea, you get to meet some adorable kids, you get to work flexibly, be paid really well and the rent here is very cheap."
Caldwell has created a YouTube channel, Sia Korea, combining videos of her and animations dedicated to her experiences of living and studying in Korea.
"I decided to start a channel to show people the life of living in a foreign country and the amazing things I see – but also to share with everyone the truth and the hardships that come with living overseas."
Although she's enjoying her new home country, Sia admits she does miss a few things from New Zealand.
"I miss my family and friends and I miss all the dairy products."
Leilani Sitagata is a reporter on the Pacific Media Centre's Pacific Media Watch freedom project.