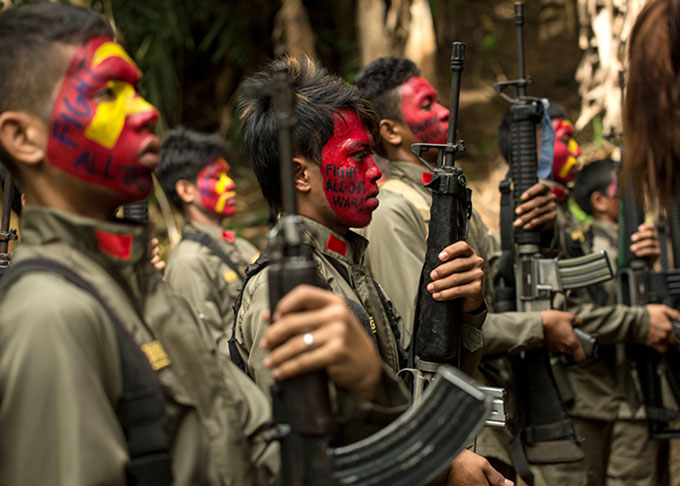 By Bong S Sarmiento in Mindanao
Tactics used to target Filipino drug suspects are now being deployed against leftist activists and alleged supporters of an outlawed communist movement
Last year, Philippine President Rodrigo Duterte threatened to bomb the schools of indigenous Lumad people in mountainous areas of the southern island of Mindanao for allegedly teaching communism to students.
The threat represented a violent reversal for the tough-talking leader, who famously said on the campaign trail in 2016 that if elected he would become the country's first "leftist president."
READ MORE: Manila brands volunteer teachers as 'terrorists', say Lumad activists
Upon taking office, the Mindanao native prioritised pursuing peace with the leftist Communist Party of the Philippines (CPP) and its armed wing New People's Army (NPA). Formed in 1969, the NPA has been at war against the government ever since.
Duterte's peace initiative, like those of his predecessors, quickly fell apart amid new firefights between rebels and government troops.
The president abandoned the peace effort last year and designated both the CPP and NPA as "terrorist organisations", a punitive upgrade from their previous classifications as "illegal organisations."
The shift has opened the way for a new offensive against the country's leftists, a campaign of harassment some see as an extension of his brutal war on drugs. "
16,000 deaths
The anti-drug drive has resulted in as many as 16,000 deaths, many in police shoot-outs with alleged drug suspects, according to rights groups.
In January, Duterte vowed to pursue left-wing organisations for allegedly acting as fronts for the outlawed communist movement. Weeks later, Duterte stirred a backlash for his unbridled threat to "shoot in the vagina" female NPA fighters.
Duterte's crude and violent threats against communist rebels has put leftist activists and ethnic minority Lumad communities situated in known NPA-controlled territories spread across Mindanao in the government's firing line.
In December, eight Lumad tribe members were killed during a military operation against the NPA in Lake Sebu town in South Cotabato province. Authorities later closed the village's school on suspicion that it was teaching communism to students.
The Save our Schools Network, an umbrella group of child-focused nongovernmental organisations and church-based groups, has documented 225 military "attacks" on Lumad schools since last year.
John Timothy Romero, spokesperson for the Centre for Lumad Advocacy, Networking and Services (CLANS), a civil society group, said 33 formal and non-formal Lumad-run schools in Central Mindanao have been closed by authorities since last year, affecting nearly 4600 primary and secondary school students.
Local military officials accused the schools of teaching subversion and communism, and justified the closures because they lacked proper Department of Education licences. Romero denied the schools were used to propagate communism, although he admitted that NPA rebels have a presence in the affected areas.
'Caught in the war'
"We're operating in remote mountain areas where communist rebels are around, but that does not mean that we are NPA supporters. We are just caught in the war between the military and the NPA," he said.
A local court in Northern Luzon, an area where the NPA is also active, ordered the arrest of four prominent leftists – Satur Ocampo, Teddy Casino, Rafael Ocampo and Liza Maza – on murder charges. Maza currently heads the government's National Anti-Poverty Commission.
The court ruled out the murder case against the four on August 13 due to insufficient evidence.
Ryan Amper, spokesperson for the Stand for Human Rights Mindanao group, stressed the crackdown against leftists, human rights activists and environmental defenders is part and parcel of the Duterte government's rising political persecution.
Amper says that "Oplan Tokhang", Duterte's anti-drug policy that has morphed into a seemingly unmitigated killing spree against illegal drug users and pushers, is now being deployed against left-leaning activists, community leaders and Lumads who resist big mining and plantation operations in Mindanao.
"We have verified incidents where the military knocked on the houses of suspected NPA rebels or supporters and asked them to surrender," Amper said.
He said in several cases those identified as NPA supporters, including some who opposed big mining operations, were eventually killed by unidentified gunmen.
State agent killers
Amper's group has recorded at least 140 killings of activists and Lumad tribal leaders, allegedly perpetrated by state agents, since Duterte came to power.
Duterte's anti-drug drive has killed at least 4075 in legitimate police operations, according to official data up to March 2018. More than 16,000 potentially related deaths recorded through the end of 2017 were classified as "cases under investigation."
Oplan Tokhang was derived from the two Visayan words "toktok" (knock) and "hangyo" (plead). With tactics derived from Duterte's Davao City when he served as mayor, the operations involve police officers knocking on the doors of alleged drug suspects and pleading for them to surrender and undergo rehabilitation.
Amber says those tactics have been transformed into "political tokhang", whereby more than 600 mostly leftist activists in Mindanao have been slapped with allegedly fabricated charges, mostly by the military, since Duterte assumed power in June 2016.
"This political tokhang is meant to silence the dissent of activists and community leaders,' Amper said.
Amper blamed the growing number of cases filed against activists on the Inter-Agency Committee on Legal Action, which was created by the Philippine National Police and the Armed Forces of the Philippines in October 2017. The mechanism aims to strengthen intelligence-gathering, investigations, prosecutions and monitoring of perceived "threat" groups in the country.
Captain Arvin Encinas, spokesperson of the 6th Infantry Division based in Central Mindanao, denied accusations that the military has filed fabricated charges against those critical of the government or its associated business interests.
'Evidence-backed'
"Our charges are backed with evidence," he said. Encinas also acknowledged that there has been a surge in cases filed against believed militants and community leaders since the military intensified its operations against the NPA in response to Duterte's call to "crush" the insurgents.
The allegedly "manufactured" charges filed against suspected communist rebels and their activist supporters include murder, frustrated murder, serious illegal detention, alarm and scandal, public disorder, grave coercion and obstruction of justice, among others.
So far, the government has sought to declare  more than 600 individuals as "terrorists" in the mounting crackdown against the communist movement under the Human Security Act of 2007, which critics said puts named persons on a virtual "hit list" for state agents.
From a high of 25,000 combatants in the 1980s, the military estimates there are now around 3700 NPA guerillas under arms, mostly operating in Mindanao, a region prone to various types of insurgencies.
The military hopes to reduce the NPA's numbers by half this year through programs that include payments for surrendered firearms and livelihood assistance schemes that help fighters transition to live peacefully in mainstream society.
For Amper and others, Duterte's regime is laying the groundwork for mass arrests and even political killings by filing false charges against political dissenters.
Activists are fighting back through protests. Last month, a Lumad group barricaded the entrance of the Department of Education in Central Mindanao with a coffin bearing the remains of their dead tribal leader, Pakingan Gantangan.
Cardiac arrest
Gantangan died of cardiac arrest on July 21 while participating in a months-long picket protest seeking permits for dozens of schools serving Lumad communities that had been closed by the government for operating without licenses.
They recently dismantled their picket after reaching an agreement with education officials.
Gantangan's daughter, Jolita Tolino, a volunteer teacher for the school operated by CLANS in their remote community in Sultan Kudarat province's Kalamansig town, was arrested by the military earlier this year on charges of murder and frustrated murder.
Her family claims the charges are fabricated.
Bong S. Sarmiento is a Philippines-based journalist with the Asia Times.