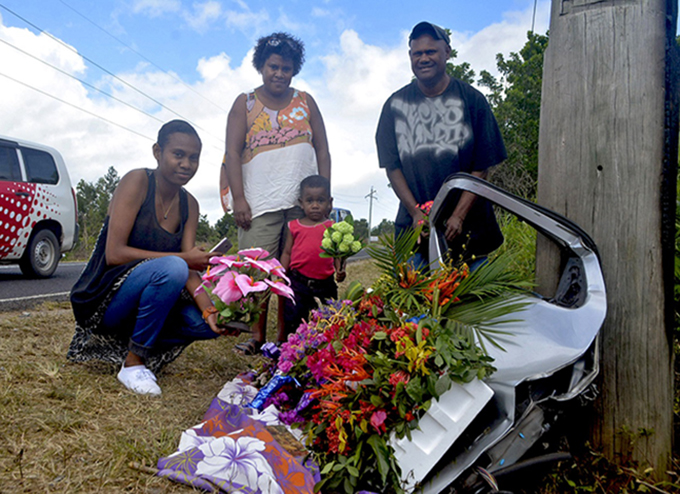 By Leilani Sitagata in Auckland
A viral spread of photos and videos from last week's fatal crash at Nabou has highlighted a need for education surrounding the use of social media in Fiji.
University of the South Pacific's senior lecturer and coordinator of journalism Dr Shailendra Singh told Asia Pacific Report this was "not a first" for something to be spread across social media.
"It highlights a bigger problem and the lack of action to address it," he said.
READ MORE: Family shocked at gruesome images
"There is need for a national education campaign on how to use social media in a responsible manner."
The death toll from the tragic minivan crash now stands at seven and at least 25 people received medical treatment. Many social media postings carried gruesome close-ups of the dead victims.
Dr Singh said mainstream news outlets in Fiji did not use graphic images of the deceased because of ethical reasons.
"None of the mainstream news media carried such images because it's against professional ethics."
However, the public did not have the same obligations as the media when it came to what they posted on social media, said Dr Singh.
'Not bound by rules'
"The public users of social media are not bound by any such rules or ethics."
USP journalism student Anaseini Civavonovono said that in this digital era with the rapid evolution of technology there was an increased concern for their use.
"Smartphones allow people to stay connected always but the challenge is how (ethically) they use it."
A big problem that comes with the connectedness of technology is the need to be first, said Civavonovono.
"The trend now is not only about geobragging, but how fast a user can update their post and being the first person to provide the update."
Save the Children Fiji CEO Iris Low-Mackenzie said people should have more tact before sharing on social media.
"This is a sign that it's time to evaluate our social media habits because some of the deceased are children, children who belong to families, who have friends and a whole network around them, and to be circulating these horrific videos is very inhumane and insensitive."
Posts upsetting
Family member of one of the young men who survived the car crash Kasanita Bilitaki told Asia Pacific Report it was upsetting to see the many posts about the tragic event.
"I felt so disgusted by those who were posting graphic images and videos on social media, even before the families knew about the crash had the audacity to do that."
"It was as if our morals as itaukei went quickly out the door for a few likes on social media."
Bilitaki said she was thankful that her cousin Jacob Vunicagi was recovering in hospital, but said her family was saddened by the spread of explicit posts on Facebook.
"They were disappointed that people went through all that effort to post up graphic images about the other victims that died instantly."
Harvard University student and intern for UNICEF Pacific Sruthi Palaniappan witnessed the accident and said although she was in shock, that did not stop her from trying to help.
'Tried my best'
"I tried my best to help by assisting a woman out of a car, calling the ambulance, and providing water and a towel that I had.
"I remember feeling so helpless in the moment as no one around me was a trained medical professional and I wanted to do more to help but did not know how."
Since the tragic event, Palaniappan said she was compelled to start a GoFundMe page to raise funds to support those affected.
"The lives of these families will never be the same.
"My heart goes out to the affected families, and I wish them all the strength."
Leilani Sitagata is a reporter for the Pacific Media Centre's Pacific Media Watch project.