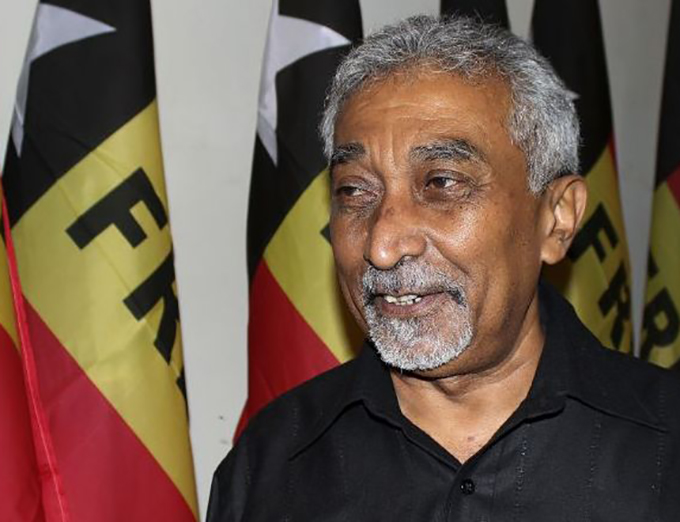 By Ismira Lutfia Tisnadibrata in Dili
East Timor's outgoing Prime Minister Dr Mari Alkatiri says that after almost two decades of separation from Indonesia, the country's relations with its neighbour continue to strengthen despite some unresolved issues.
Indonesia "is our biggest supporter," he said.
Timor-Leste, also known as East Timor, celebrated the 16th anniversary of its hard-fought restoration to independence last week on May 20.
The day marked Timor-Leste regaining its independence after 24 years of Indonesia's occupation, which invaded the country shortly following its independence from Portugal in November 1975 that political party Frente Revolucionária de Timor-Leste Independente (Fretilin) unilaterally declared.
In an exclusive interview at a hotel near Fretilin party's headquarters, Dr Alkatiri, Fretilin's secretary-general, described East Timor's relationship with its former invader as "amazing, very good."
"We still have some pending issues, such as maritime and land borders in Oecussi," he said, referring to an East Timor coastal exclave surrounded by Indonesia's East Nusa Tenggara province, which lies on the western part of Timor Island. East Timor is located on the island's eastern half.
Oecussi is a special administrative zone and has been designated as special economic zone with Dr Alkatiri as its president.
Maritime border dispute
Dr Alkatiri, who also served as East Timor's first prime minister from 2002 to 2006, said both countries need to solve the border issue soon because it would be difficult to define a maritime border on the Savu Sea without a clearly marked land border.
"But the goodwill from both governments is there," he said, adding that successive governments of East Timor would continue to strengthen the relations between the two countries.
Dr Alkatiri described Indonesia as East Timor's "biggest supporter" in its bid to become the 11th member of the Association of Southeast Asian Nations (ASEAN).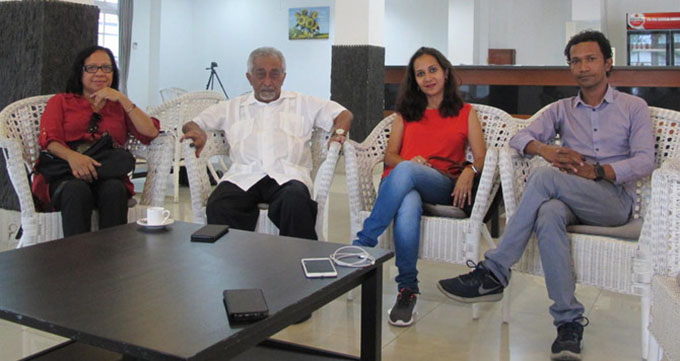 Dr Alkatiri, who has been serving his second term as prime minister since September last year, is a Muslim leader in a predominantly Catholic country. His family on his paternal grandfather's side came from Hadramaut in Yemen.
"They came as traders at that time and decided to stay," he said.
Dr Alkatiri's maternal grandparents were Timorese who came from Baucau and Liquica districts. He is married to Marina Ribeiro and has three children.
De facto leader
Indonesia was one of the regional bloc's founding countries when it was established in 1967, and is regarded as its de facto leader.
Indonesia endorsed East Timor's ASEAN bid when it formally submitted its application in 2011 during Indonesia's ASEAN chairmanship.
Singapore, the current chair, has been reluctant to welcome East Timor into the bloc, but has said it looked forward to East Timor meeting the requirements to allow it to become a member.
Singapore's Prime Minister Lee Hsien Loong said after hosting an ASEAN leaders' summit in April that the topic was discussed during the forum, but "there was no extended discussion of the matter in this meeting".
Dr Alkatiri said that ASEAN membership is "a very long dream".
So far, Timor-Leste has met two of the requirements to be an ASEAN member: The country is located in Southeast Asia and has embassies in all 10 member states.
"This is one of the few things that is a consensus between the leadership of Timor Leste, despite the differences," he said.
Coalition rule
Dr Alkatiri's apparent successor Xanana Gusmao, who is poised to serve as prime minister for the third time, said East Timor is doing its best to become an ASEAN member.
"We understand some (member) countries think we are not ready, but sooner or later, we will be a member," Gusmao said in an interview at his party National Congress for Timorese Reconstruction (CNRT) headquarters.
CNRT led a three-party coalition that beat the shortlived, Fretilin-led minority government in the May 12 parliamentary election.
Dr Alkatiri said the most pressing need for East Timor, with almost half its 1.2 million population still living in poverty, was government investment in public infrastructure, such as education and health, and spending on basic living needs, such as community housing and clean water.
"This is a 16-year-old country. We still need to build the nation; we really need to strengthen the foundation of the nation, institutional, political foundation, everyone needs to join efforts to do it," he said.