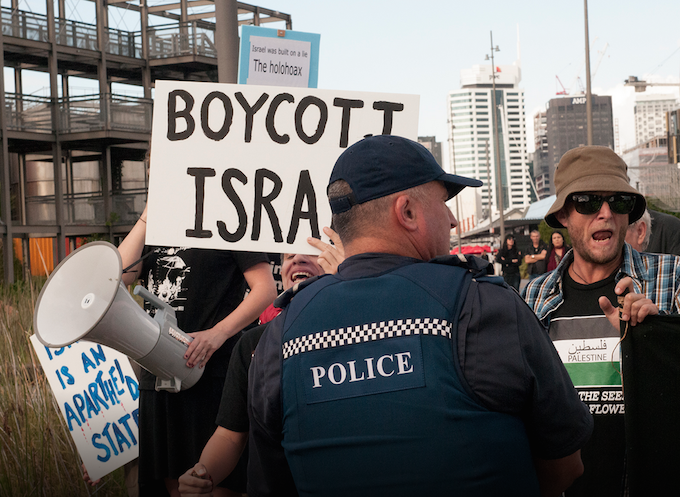 By Rahul Bhattarai in Auckland

About 50 people gathered in Auckland's Silo Park today to protest over the 70th year of Nakba – also known as the Palestinian "catastrophe".
The protesters included a Palestinian whose father had been evicted by Israeli forces to make way for Jewish settlers and a prominent Pacific social justice advocate who had protested during the 1981 Springbok rugby tour of New Zealand.
Both protesters likened the policies of the Israeli state to the anti-apartheid policies of the former white minority South African regime.
READ MORE: Gaza rallies: How women shape Great March of Return movement
But Israelis celebrate tomorrow – 14 May 1948 – as Independence Day for their state.
One Palestinian was killed in Gaza on Friday as the six-week "Great March of Return" headed into its last days ahead of Nakba Day on May 15, reports the Middle East Eye.
According to the latest Gaza Ministry of Health tally on Wednesday, Israeli forces stationed behind the fence had killed 47 Palestinians and wounded 8536 during demonstrations.
The Palestinian supporters in Auckland marched peacefully from ANZ Event Centre by the waterfront to Silo Park beating steel washtubs and chanting slogans such as, "free free Palestine!" and "Israel is a racist nation!"
Placards declared "Israel is a racist state", "Boycott Israel" and "Israel was built on a lie – the holohoax".
Israeli supporters had organised their own events, which were attended by some National MPs and Rob Berg, head of the Zionist movement in New Zealand.
Police set up a "safe zone" to prevent protesters and Israel Day festival supporters clashing.

The Nakba protest at Silo Park today. Video: Rahul Bhattarai/PMC
Peaceful protesters
The line of police mostly held back the peaceful protesters while there were few police to monitor the pro-Zionist hecklers.
Billy Hania, a Palestinian living in New Zealand, told Asia Pacific Report he was at the protest to oppose the celebration of the state of Israel.
"Israel is an apartheid establishment and was founded by evicting people from their home," he said.
The victims included his own father who was evicted at the age of 12 at gunpoint in order to make room for Jewish settlers, he said.
Hania was at the protest to commemorate the Nakba which was a "catastrophe". This was in 1948 when the people of Palestine had lost their homes and continued to be under Israeli occupation which is illegal under international law.
Will 'Ilolahia, a founding member of Polynesian Panther Party, was also present in "support of the anti-Zionist policy in regard to Israel, and also the pro-Palestinian struggle".
'Ilolahia was in the Patu Squad during the anti-apartheid protests against the 1981 Springbok rugby tour of New Zealand and he was "self-exiled" to Tonga.
'Follow Lorde' plea
He said New Zealand should follow in the footsteps of Kiwi musician Lorde and "put it out there that Israel is actually like apartheid".
He said: "Zionist Israel is set up as just like apartheid."
'Ilolahia added that the "struggles of the Palestinians are the same as the struggles we've had here in Aotearoa and the Pacific – us indigenous people have to stick together".
Valerie Morse, organiser of the Auckland Peace Action, said the protesters were there "as a protest against the 70th anniversary of the founding of the state of Israel".
She added: "We are here in support of the Palestinian people and their struggle for freedom and justice."
Morse also said there had been seven decades of "ethnic cleansing" of Palestinian people – ever since the state of Israel had been founded.
Almost five million indigenous Palestinians live in refugee camps – waiting to return home – outside of their Palestine homeland.
Morse and other protesters were protesting over the displaced Palestinians as a part of an international campaign of Boycott, Divestment and Sanctions (BDS).
The BDS campaign has three main demands: to " tear down the apartheid wall", enable the right of return for Palestinians living outside of their former homeland, and equal rights for Palestinians within Israel.