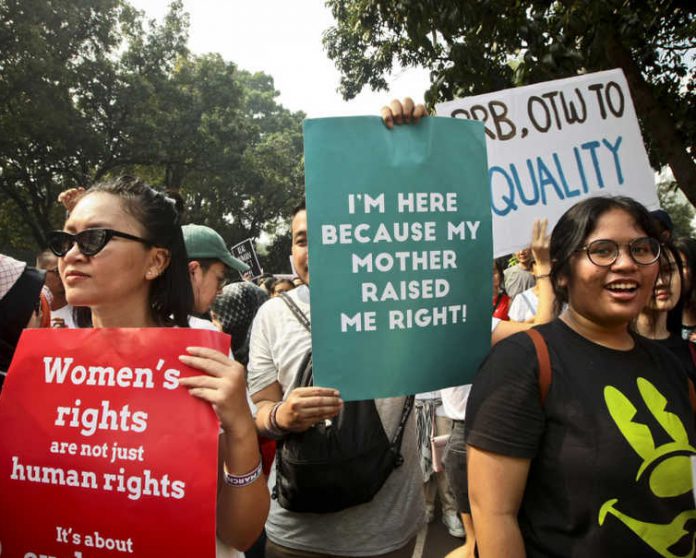 By Sheany in Jakarta
The National Commission on Violence Against Women, or Komnas Perempuan, has called on the government to do more to protect women's rights, particularly by enacting a long-overdue bill on the elimination of sexual violence.
The commission also said that current response to and handling of cases of violence against women in Indonesia was still too slow.
"There are still a number of issues that the government must pay attention to, in order to make sure that women's rights in Indonesia are protected," Komnas Perempuan chairwoman Azriana told reporters in Jakarta.
Komnas Perempuan's annual report revealed that there were nearly 350,000 cases of violence against women in 2017 – a 25 percent increase from the previous year.
The report, which was published a day before International Women's Day, also criticised the government for its slow prevention and handling mechanisms.
"We are not moving forward with our justice system … There are even no educational efforts to minimise the harmful effect of [cultural] norms that can lead to sexual violence," Azriana said.
In Indonesia, cases of sexual violence are handled in accordance with the criminal code, the Law on the Elimination of Domestic Violence, the Law on Child Protection and the Law on Human Trafficking.
Legal vacuum
These laws, however, do not cover all types violence, leaving its victims in legal vacuum.
"Many women who are no longer children [in the eyes of the law] are also victims of sexual violence, but they are not protected. The types of violence also evolve," Azriana said.
For example, femicide – the killing of a woman or girl on account of her gender – is not traditionally categorised as sexual violence.
"This is one of the reasons why the bill on the elimination of sexual violence must be passed quickly," Azriana said, adding that Komnas Perempuan and several other organisations have suggested the inclusion of several other types of sexual violence, which are not yet recognised by the law, leaving many victims helpless.
Sheany is a journalist with the Jakarta Globe.