Trailer for the controversial climate change documentary Anote's Ark – former Kiribati President Anote Tong opened the first Pacific Climate Change Conference in Wellington in 2016. Mail & Guardian's review.

By David Robie at Te Papa
A recent Andy Marlette cartoon published by the Statesman Journal in Salem, Oregon, depicted a bathtub-looking Noah's Ark with a couple of stony-faced elephants on board with a sodden sign declaring "Climate change is a hoax".
The other animals on board floating to safety were muttering among themselves: "The elephants won't admit that these 100-year events are happening once a month …"
At the other end of the globe in Wellington this week for the second Pacific Ocean Climate Conference at Te Papa Museum, I encountered a fatalistic message from a Tongan taxi driver counting down the hours before the tail-end of Tropical Cyclone Gita struck the New Zealand capital after wreaking a trail of devastation in Samoa, Tonga and Fiji.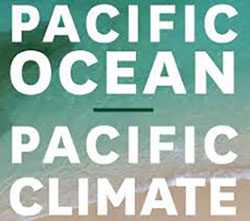 He had it all worked out: "We don't need climate conferences," he said. "Just trust in God and we'll survive."
However, a key takeaway message from the three-day conference was just how urgent action is needed by global policymakers, especially for the frontline states in the Pacific – Kiribati, Marshall Islands and Tuvalu, where none of the sprawling atolls that make up those countries are higher than 2m above sea level.
Many of the predictions in assessments by the Intergovernmental Panel on Climate Change (IPCC) are being revised as being too cautious or are already exceeded.
The hosting Victoria University of Wellington's Antarctic Research Centre director Professor Tim Naish, for example, says the sea level rise from the ice sheet from the frozen continent may be double the earlier estimates and could by rise by 2m by 2100.
Bleak news for the Pacific at least. Glaciologist Dr Naish is working on a project to improve estimates of sea level rise in New Zealand and the Pacific.
New Zealand's Climate Change Minister James Shaw warned that scientists may need to create a new Category 6 for cyclones as the effects of a warming planet made them more frequent and worse.
Cyclone Winston, a Category 5 cyclone, was an example of such extreme weather – it was the strongest cyclone on record and lashed the Pacific in early 2016, killing 44 people in Fiji.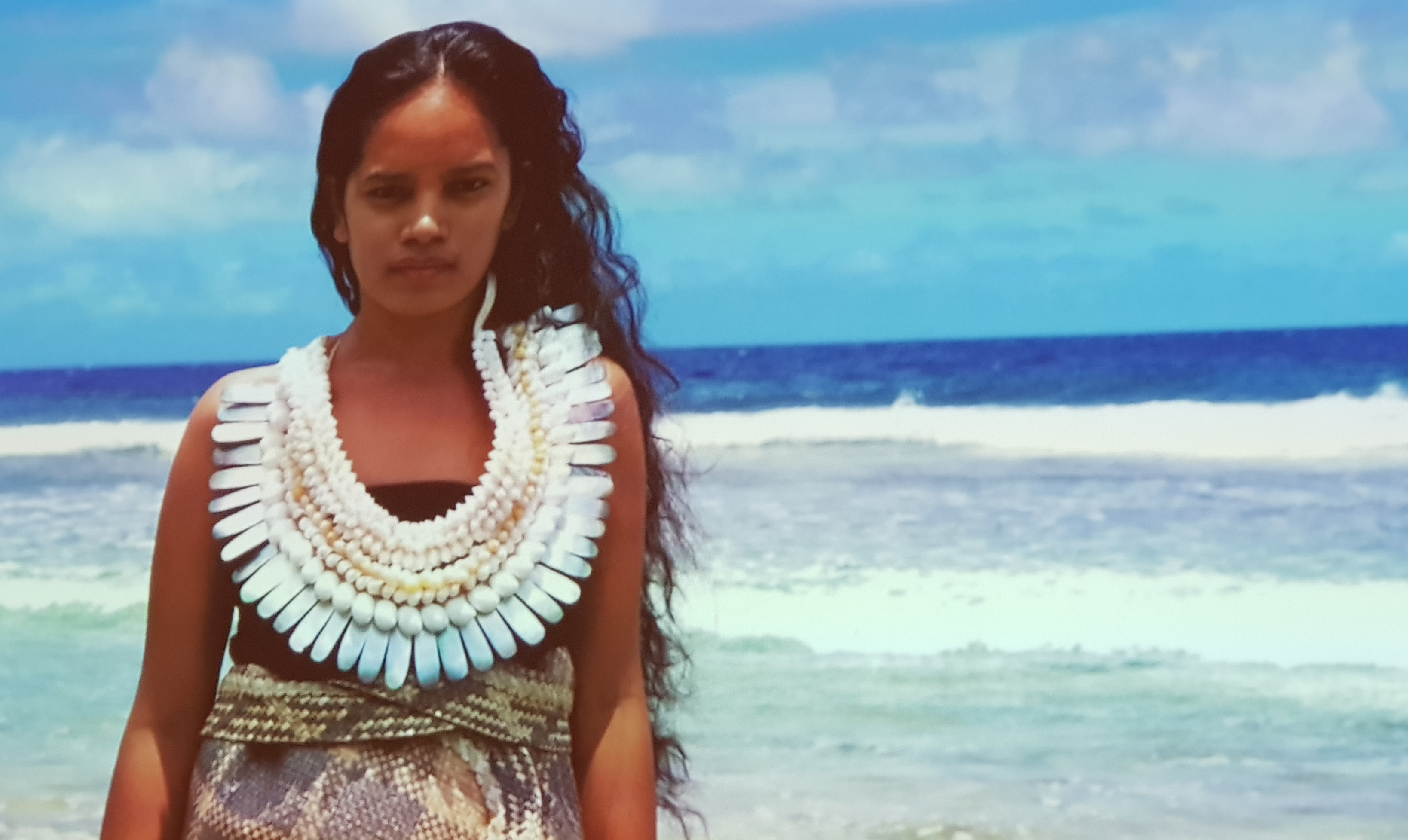 More Pacific research needed
Another critical takeaway message was the vital need for "more Pacific research, by the Pacific and for the Pacific", as expressed by 2007 Nobel Peace Prize co-recipient Professor Elisabeth Holland, director of the University of the South Pacific's Pacific Centre for Environment and Sustainable Development (PaCE-SD).
Many of the global models drawn from average statistics are not too helpful for the specifics in the Pacific where climate change is already a daily reality.
Dr Holland was a keynote speaker on the final day. Describing herself as a "climate accountant" making sense of the critical numbers and statistics, she said it was vital that indigenous Pacific knowledge was being partnered with the scientists to develop strategies especially tailored for the "frontline region".
"Local research in the region is of utmost importance, leading to informed development choices and is the best way forward as it creates a direct connection between the research and the communities once it is implemented" she says.
"Our Big Ocean States are the most vulnerable to the impacts of climate change and remote research does not suffice, calling for the creation of leaders and experts locally through joint Pacific-led research."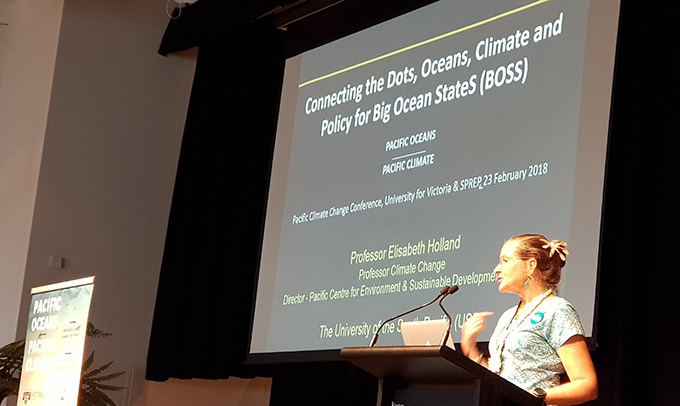 Scientists, researchers and postgraduate students were at Te Papa in force among the 240 delegates or so at the conference.
Deputy director Dr Morgan Wairiu was among them, speaking on "Engaging Pacific Islands on SRM Geoengineering Research".
Environmental education and engagement
USP is one of only two regional universities in the world – the other is in the Caribbean. Its PaCE-SD is a centre for excellence in environmental education and engagement, and a global climate change research leader, especially with its focus on the Pacific region and island countries.
The university has 12 member countries with campuses or centres in each.
Local researchers are highly motivated and passionate about studies dealing with the effects of the changes occurring in their environment first hand.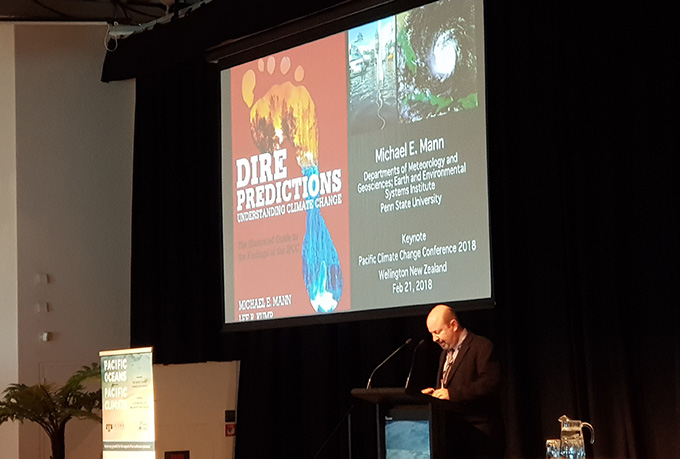 The conference speakers included some the leading and innovative global climate science thinkers and advocates, such as Dr Michael E. Mann, distinguished professor of atmospheric science at Pennsylvania State University.
He is the author of several revealing books on the subject, including The Madhouse Effect: How Climate Change Denial is Threatening our Planet, Destroying our Politics, and Driving us Crazy, and The Hockey Stick and The Climate Wars, who spoke about "Dire predictions" in a keynote.
"There are droughts, wildfires and floods that are occurring now that are without any precedent in the historical record and where we can now use modelling simulations, climate models," he says.
"You can run two parallel simulations. You can run a simulation where the carbon dioxide levels are left at pre-industrial levels, and a parallel simulation where you increase those levels in response to the burning of fossil fuels. And you can look at how often a particular event happened."
Artificial leaf strategy
Perhaps the most innovative ideas speaker over the three days was Dr Daniel Nocera, the Patterson Rockwood professor of energy at Harvard University, with his groundbreaking research on renewable energy, especially the solar fuels process of photosynthesis – a process of splitting water into hydrogen and oxygen using sunlight.
He developed the artificial leaf from this theory, a project named by Time magazine as Innovation of the Year for 2011. Since then he has elaborated this invention with a partner in India to develop a production pilot deploying a complete artificial photosynthetic cycle.
He argues that it is developing countries that may play a more crucial role in harnessing renewable energy discoveries because the massive vested interest infrastuctures built around fossil fuels in Western countries hamper rapid progress.
Many speakers gave an indigenous perspective on climate change, arguing that a holistic approach was needed, not just focusing on the science and political solutions.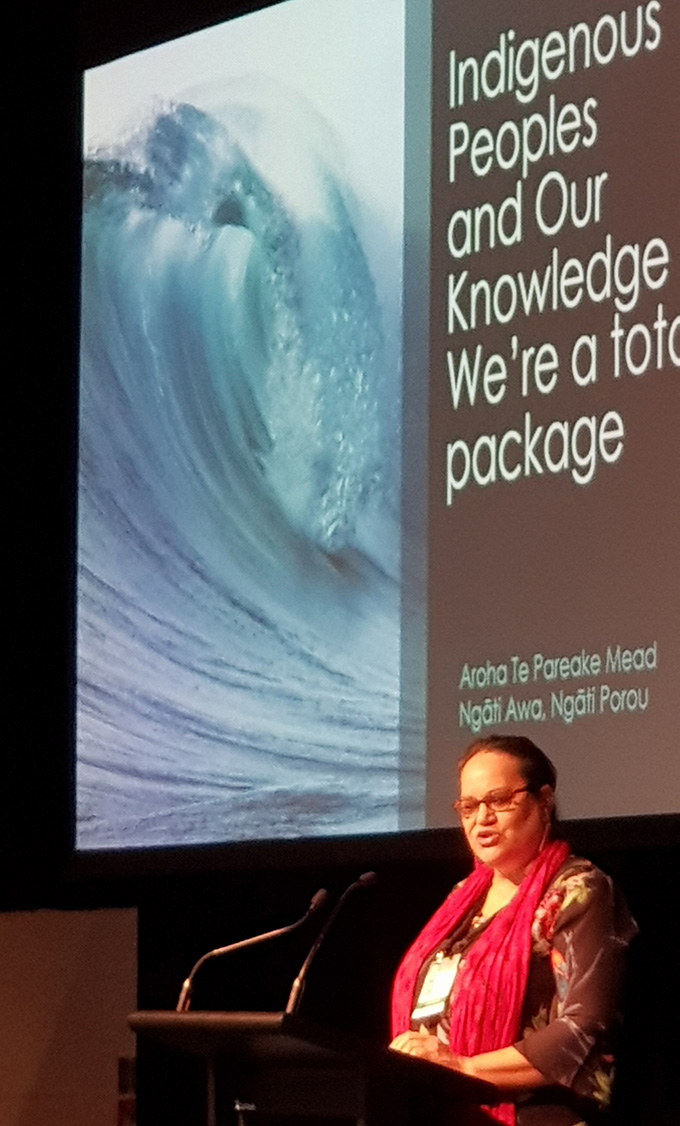 Independent researcher Aroha Te Pareake Mead gave an inspiring message about "Indigenous peoples and our knowledge – we're a total package" and the Mataatua Declaration on the Cultural and Intellectual Property Rights of Indigenous Peoples 1993 and what has been achieved since.
The Mana Wahine panel – Associate professor Leonie Pihama, Dr Naomi Simmonds and Assistant Professor Huhana Smith – gave an inspirational sharing on "transforming lives through research".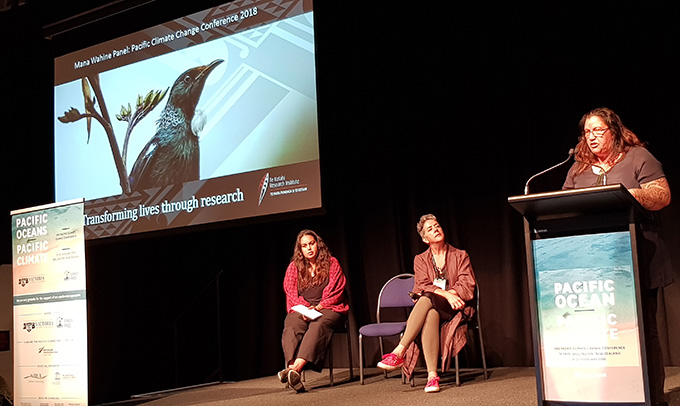 Legal challenges
Law graduate Sarah Thompson spoke about her legal challenge last year to the previous National-led New Zealand government over the emissions target, and although she eventually lost the High Court case for a judicial review, she opened the door to future climate change lawsuits that may prove more successful.
However, former prime minister Sir Geoffrey Palmer, Victoria University's Law Faculty distinguished fellow, was far more cautious, saying that there was better chance of persuading politicians and trying to develop climate change policy through the courts.
He also warned that countries, New Zealand included, would be ignoring an impeding climate change governance upheaval "at their peril".
Dr D. Kapua Sproat, acting director of Ka Huli Ao Centre for Excellence in Native Hawai'ian Law and director of the Environmental Law clinic at the University of Hawai'i at Manoa, said Native Hawai'ians could invoke indigenous rights to environmental self-determination.
Julian Aguon of Guam, founder of boutique Blue Ocean Law, said it was a challenge to confront deep-sea mining negotiators and corporate lawyers in "wild west" style cases in the Pacific.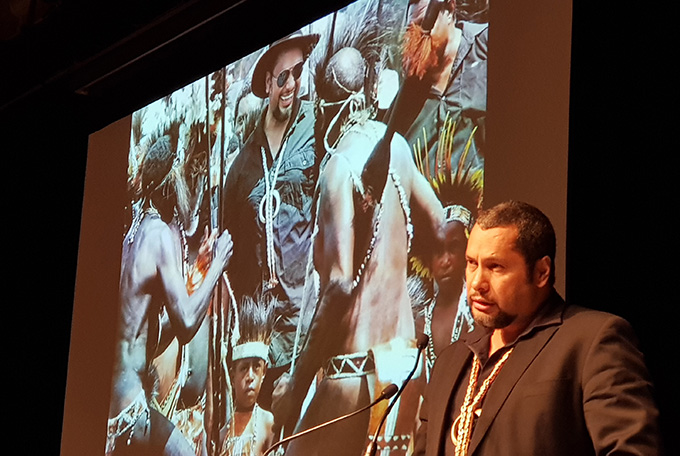 Papua New Guinea's Northern Governor and tribal chief Gary Juffa gave three compelling talks – none of them originally in the programme – on corruption and the barriers it poses for climate action and protecting his country's forests.
But he also pointed out that more media, climate change frontline activists such as the Climate Warriors, and West Papuan advocates – "where horrendous climate and cultural abuses are happening" – needed to be included in such a conference.
Core themes
In the concluding panel, the joint Victoria University and SPREP organisers, led by Professor James Renwick and "spiritual leader" Assistant Vice-Chancellor (Pacific) Luamanuvao Winnie Laban, pulled together these core themes for going forward for the next conference in two years "somewhere in the Pacific":
• Urgency of action
• Pacific on the frontline of climate change
• Multiple voices, and legitimacy of Pacific voices
• New, more and better capacity-building in the Pacific
• Action on all fronts – top down and bottom up
• Need more effective laws
• Transformative change is needed