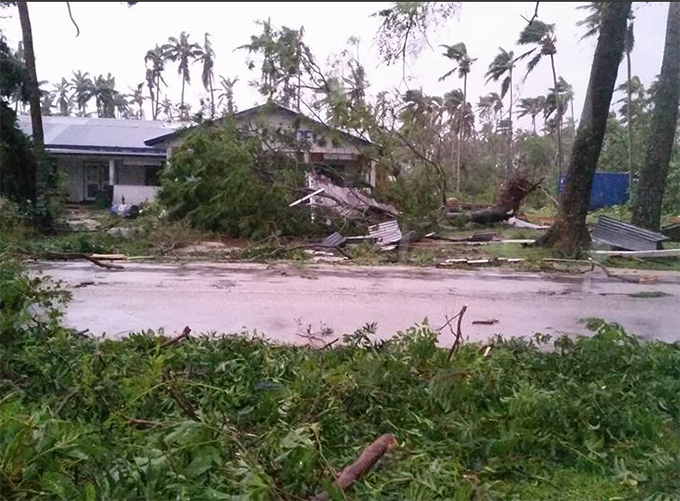 Pacific Media Centre Newsdesk
Severe Tropical Cyclone Gita has left a trail of destruction after hitting Tonga with 200 kph plus winds during the night.
RNZ reports that on the main island of Tongatapu in the kingdom, the category four cyclone had ripped roofs off houses, brought down trees, destroyed a Catholic church, and took the Tongan Met Office in Fua'amotu and the national radio station off line.
Roads across the island were blocked by debris and power lines were downed restricting relief efforts.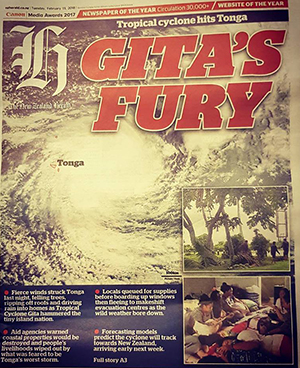 Last night, TV One's Pacific correspondent Barbara Dreaver reported from the eye of the storm, saying: "It's screaming like a freight train and it just keeps getting noisier and noisier".
Speaking by telephone from her Nuku'alofa hotel room, she said the biggest danger for her were palm trees or sheet metal flying through the window.
"Compared to storms at home [in New Zealand], this just doesn't compare. It's like someone screaming out of control, the palm trees are bent over sideways, there's a lot of variables in play. You're completely at its mercy."
Retired Tongan Navy officer Solomone Savelio reported on Twitter today:  "Lot of trees falling over on powerline, roads, houses. Expect power to be out for days in some areas. Some places [are] flooded. Some (mostly old houses or huts) have [roofs] blown off. 2 deaths so far. Unknown injuries. Hospital request 4 blood."