The Morning Star flag-raising at Auckland's Aotea Square yesterday. Video: Café Pacific
Pacific Media Centre Newsdesk
The West Papuan Morning Star flag of independence – banned in Indonesia – has been raised on an official local government flagpole in Auckland's Aotea Square as solidarity protests have been held around the Pacific.
Green MP Golriz Ghahraman, a defender of human rights, praised the flag-raising action yesterday when speaking to a small crowd of supporters including visiting international free speech advocates.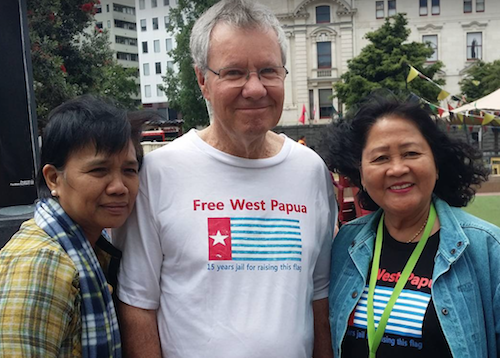 "New Zealand has always led on these issues and in a very proud way," she said.
She said to remain silent in the face of ongoing human rights violations in Papua by security forces amounted to "complicity".
West Papua Action Auckland spokesperson Maire Leadbeater said it had been the first time official permission had been granted for the flag-raising on a flagpole in front of the central city Aotea Centre.
In Indonesia, protesters raising the Morning Star flag risk up to 15 years in jail.
200 arrested
Last year, more than 200 people were arrested in a flag-raising protest in the capital of Jakarta and authorities used water canon to quell the demonstration.
The Auckland flag-raising marked the 56th year since the Morning Star was first hoisted on 1 December 1961 alongside the flag of the Dutch colonial authorities before Indonesia invaded the territory.
The Auckland protest included Malou Mangahas, executive director of the Philippine Center for Investigative Journalism (PCIJ), and other participants at the Pacific Media Centre's "Journalism under duress in Asia-Pacific" event featuring West Papua held the night before at Auckland University of Technology.