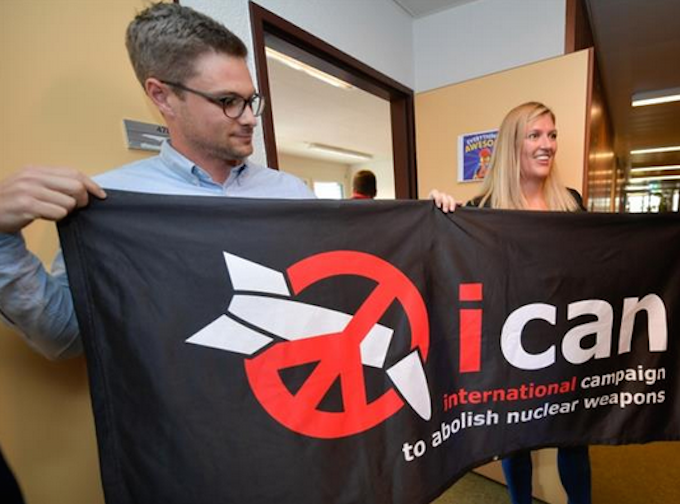 Pacific Media Watch Newdesk
The Geneva-based International Campaign to Abolish Nuclear Weapons (ICAN) has been awarded the 2017 Nobel Peace Prize, reports Al Jazeera English.
In an announcement in Oslo, Norway, yesterday, the Nobel committee cited ICAN's role in pushing for a global prohibition on the use of nuclear weapons, through the Treaty on the Prohibition of Nuclear Weapons, which was adopted at the United Nations in July 2017 by a vote of 122-1 with one country abstaining.
ICAN executive director Beatrice Fihn told reporters that given the current political atmosphere around the world, the call to ban nuclear weapons is more imperative.
"The treaty is meant to make it harder to justify nuclear weapons, to make it uncomfortable for states to continue the status quo, to put more pressure on them," she said.
Here are some things to know about the winner of this year's Nobel Peace Prize:
Banning nukes

In a landmark resolution, 123 countries voted to start talks on a "legally binding instrument to prohibit nuclear weapons" in the First Committee of the UN General Assembly in October 2016.
In July, a UN conference adopted the Treaty on the Prohibition of Nuclear Weapons.
It is the "first multilateral legally-binding instrument for nuclear disarmament to have been negotiated in 20 years", the UN said in a statement.
The treaty opened for signature during the annual UN General Assembly last month.
As of September 20, 50 states had signed the treaty, which bans the use, development, testing or storing of nuclear weapons under any circumstances.
However, some of the top nuclear powers have yet to sign on to the pact, including the United States, Russia and China.
Significantly, Iran, which has been accused by the US President Donald Trump of pursuing a nuclear programme, has signed the treaty.
INSIDE STORY: Will the US pull out of the Iran nuclear deal? (25:30)
Strength in numbers
Before Friday, ICAN was a little-known organisation based in Geneva, Switzerland.
Originally founded in Australia in 2007, ICAN has now become a global coalition of 468 non-government organisations spread over 100 countries.
International partners include peace organisations to humanitarian and environmental groups.
Among its coalition partners are The Ceasefire Campaign in South Africa and the Africa Peace Forum in Kenya.
Physicians for Social Responsibility in Bangladesh is also a partner, as well as the Arab Network for Research on Landmines and Explosive Remnants of War.
Public figures who have voiced support for ICAN include Nobel Prize winners the Dalai Lama and Desmond Tutu, as well as artist and activist Ai Weiwei, and internationally-known artists Herbie Hancock and Yoko Ono.
"Let's act up! Ban nuclear weapons completely and unconditionally," Ai Weiwei was quoted as saying as he declared his support for the nuclear weapons ban treaty.
Its roots
In 2006, the International Physicians for the Prevention of Nuclear War, which won the 1985 Nobel Peace Prize, adopted ICAN as a major priority at its world congress in Helsinki Finland. A year later, ICAN was formed in Australia, and its international campaign was officially launched in Vienna, Austria.
Beatrice Fihn said ICAN founders were also inspired to establish the group following the success of the International Campaign to Ban Landmines, which won the Nobel Prize in 1997.
As part of its work to push for the nuclear prohibition treaty, ICAN launched in 2012 the campaign "Don't Bank on the Bomb", pushing for divestment from hundreds of banks, pension funds and insurance companies with investments in companies producing nuclear arms.
Call for global responsibility
Online, many celebrated the news that ICAN was awarded this year's prize.
UN Secretary-General Antonio Guterres congratulated the campaign, saying "now more than ever we need a world without nuclear weapons".
Others called the Nobel committee's decision a "resounding call to global responsibility".
Challenges
While ICAN's Beatrice Fihn said that the prize is a "huge" boost for her organisation and other groups working on the nuclear weapons issue, the world faces significant hurdles related to the nuclear weapons and threats of war.
Just before the Nobel committee made the announcement in Oslo, US President Donald Trump had threatened not to re-certify the nuclear deal agreed between world powers and Iran.
"We must not allow Iran … to obtain nuclear weapons," Trump said.
"The Iranian regime supports terrorism and exports violence, bloodshed and chaos across the Middle East. That is why we must put an end to Iran's continued aggression and nuclear ambitions. They have not lived up to the spirit of their agreement," he said.
Iran has denied it is pursuing a nuclear weapons programme and said it would continue to abide by the deal. The UN nuclear monitor also said that Iran is in compliance with the deal.
Trump has also threatened "to destroy North Korea" if necessary after its leader Kim Jong-un said that nothing could stop his country from acquiring ballistic missiles with the capability of carrying nuclear warheads.