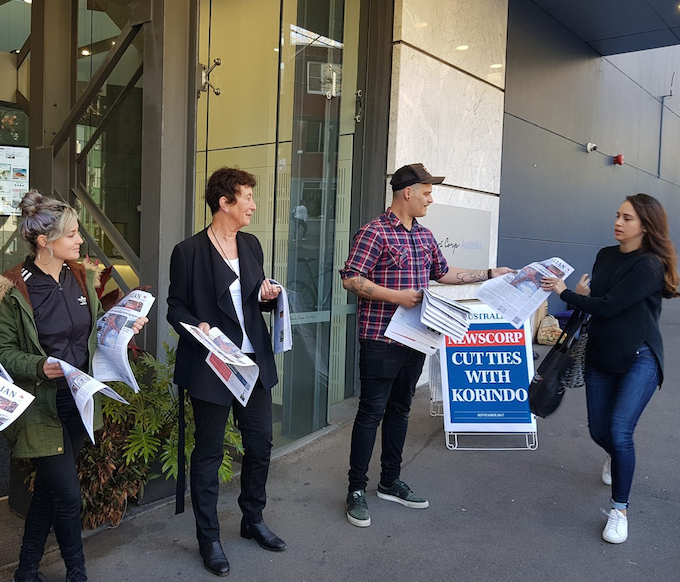 By Vaidehi Shah
Environmental campaigners have accused The Australian and Courier Mail newspapers in regional Queensland of being printed on paper linked to illegal deforestation and human rights abuses in Indonesia.
In a campaign launched earlier this month, Tasmania-based advocacy group Markets for Change and Washington DC-headquartered Mighty Earth said that the owners of the two publications, Rupert Murdoch's News Corp, buys paper from Indonesian paper manufacturer Aspex.
Aspex is a wholly owned subsidiary of Korean-Indonesian agribusiness conglomerate The Korindo Group, which has businesses ranging from palm oil and paper to construction, to real estate, financial services, and building wind towers.
An investigation by Mighty Earth last year revealed that Korindo's palm oil arm was burning ecologically precious tracts of forest in Indonesia's Papua province bordering with Papua New Guinea, as well as violating the rights of local indigenous communities by grabbing land without their consent, and destroying their forest livelihoods.
While the company has committed to a moratorium on forest clearing until an independent assessment has identified areas that have a high carbon stock and high conservation value—though it did briefly break this ban in February—it has yet to make progress on implementing more stringent environmental and social impact policies.
Measures that environmentalists are calling for include the institution of a no deforestation policy, restoring forests to compensate for the land they cleared after issuing a moratorium on deforestation, resolving conflicts with communities, and being transparent about its concession boundaries, suppliers, and sustainability practices.
The Australian connection
Deborah Lapidus, campaign director, Mighty Earth, said that the investigation was sparked by a reference to Aspex on the website of Australia-based paper products company Oceanic Multitrading; the firm says it imports Aspex newsprint—that is, the cheap paper used to make newspapers—into Australia.
Through further research, trade data analysis and collaboration with a paper supply chain expert, investigators determined that Aspex newsprint was used to produce The Australian and Courier Mail in regional Queensland. News Corp has confirmed that it sources some newsprint from the firm.
Lapidus explained that this was not an active decision by News Corp, but rather a "holdover issue" from the media giant's acquisition of APN News and Media's regional Queensland publications last December.
APN had an existing trade relationship with Aspex in the regional Queesland market, which News Corp inherited, Lapidus said.
For the rest of its print publications, News Corp sources sustainable newsprint from the Norwegian pulp and paper firm Norse Skog's Australian business.
News Corp's head of environment Tony Wilkins told Mighty Earth and Markets for Change in a letter dated July 19 that "the only paper we procure from Aspex is 100 percent recycled fibre content newsprint and this is Forest Stewardship Council certified".