By Kendall Hutt in Auckland
Auckland University of Technology has launched a "first of its kind" Indonesia Centre in a cultural diplomacy initiative.
"This is both a celebration and a step forward into the future," AUT's Vice-Chancellor Derek McCormack said at last night's launch.
"The centre is an acknowledgement of the strong relationship enjoyed between the government of Indonesia and AUT, and the acknowledgement of both parties to strengthen that relationship," he said.
Significantly, AUT's Indonesia Centre was also a "world first partnership".
"This is the first centre of its type in the world. The Indonesian government sees the establishment of this centre at AUT as a significant move in cultural diplomacy and assuming that this pilot is successful…it is likely to be repeated in other cities around the globe," McCormack added.
This was echoed by Indonesia's ambassador to New Zealand, Tantowi Yahya, who said:
"The Indonesia Centre is a pilot project for promoting Indonesia in New Zealand…It is quite an ambitious undertaking and if it succeeds it will be replicated in other cities around the world. If it succeeds, it will also be the opening door for Indonesia to work with many countries through culture."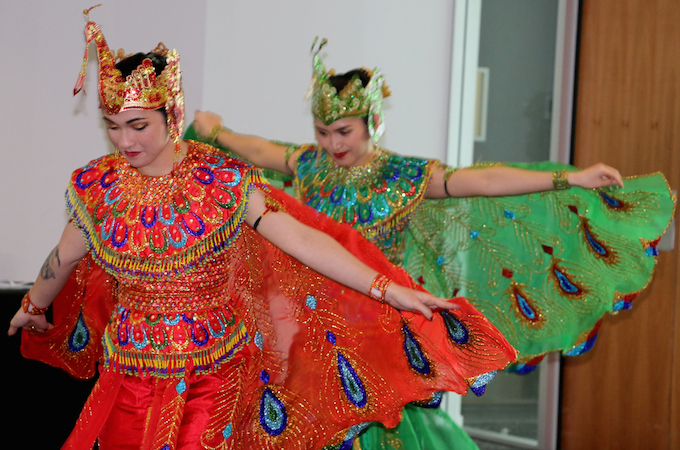 Centre cultural addition
It was hoped the centre will be an addition to both the cultural life of the university and Auckland, the delegates also acknowledged.
"I'm very hopeful that every visitor to this centre will be enchanted by the richness of Indonesia's cultural diversity and it is also hoped it will become a window for New Zealanders, for Aucklanders, to know more about Indonesia and will one day get to the point of wanting to visit Indonesia and to learn.
"I'm also hopeful that cultural interactions will also take place so that it will enhance better understanding and deeper friendship between Indonesians and New Zealand people," Yahya said.
Indonesia's cultural diversity was on full display at the opening, where dancers performed several traditional Javanese dances and the orchestra took up wooden mallets to play on the full royal Javan Gamelan donated by Indonesia's Ministry of Education and Culture.
Vice-Chancellor McCormack described the Gamelan as a taonga, or treasure.
"We're getting something that is extremely special to be housed in, and be a part of, the work and the cultural events at the Indonesia Centre," he said.
AUT's Indonesia Centre, dubbed AUTIC, will see people able to learn Bahasa Indonesia and take part in summer schools across various areas, such as culinary art and filmmaking, in an annual program which will continue to be collaborated on, delegates said.
Engage with Indonesia
Vice-Chancellor McCormack also highlighted other AUT engagements with Indonesia, including a Pacific Media Centre partnership.
The PMC will be hosting two weeks of workshops and collaborative research with four Indonesian communication researchers from the Centre for Southeast Asian Social Studies (CESSAS) at Gadjah Mada University in Yogyakarta early next month.
Centre director Professor David Robie has been selected to visit the Yogyakarta university as part of the Indonesian government's World Class Professor (WCP) programme later in the month.
Lester Khoo, director of AUT's International Relations and Development reflected:
"We have to be engaged with Indonesia, we have to be engaged with ASEAN, otherwise we risk being irrelevant. It's very important that we have this as a first step of a longer-term vision of being connected with Indonesia."