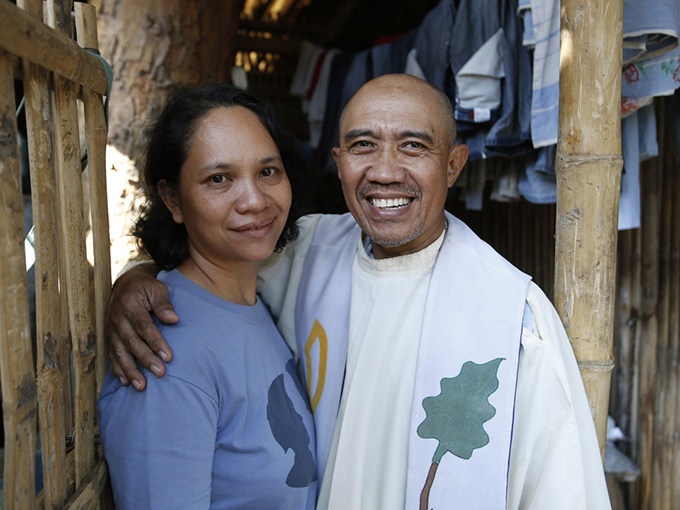 By Father Casibjorn Guy Quiacao in Manila

Imagine your Catholic parish priest rushing or abruptly ending a mass because his wife or his child met an accident. Or that priest is budgeting a part of a parish's funds for his wife's and his children's needs.
Such scenarios are not impossible if married men are allowed to be ordained as suggested recently by Pope Francis, say Filipino canon law experts and priests.
"What if in the long run such marriages of these 'married priests' won't last," asked Father Stephen Mifsud, MSSP.
"So we'll have another case of separation or divorce. What will parishioners say?"
These concerns are just some of the reactions generated by Pope Francis' previous statement that the Church should be open to allowing married men to enter the priesthood.
The statement was made as the Church is grappling with the declining number of priests and the aggressive proselytising by other Christian sects, including evangelicals.
"What the Pope seems to be considering lately, especially in places where there is a dearth of priestly vocations, is the possible ordination of married men to the priesthood. [This is for] men who have not made a vow of celibacy," Bishop Pablo David of the Diocese of Caloocan in Metro Manila said in a Facebook post.
Married priests exist
Bishop David explained that there were married priests in other parts of the world, as in the case of Anglican priests who converted to the Catholic Church and the non-celibate clergymen of the Eastern Orthodox churches.
In the Philippines, about 60 married priests who are now living with their respective families have formed a group called the Philippine Federation of Married Catholic Priests (PFMCP).
Members of the 25-year-old PFMCP have asked the Vatican to recognise their group but have yet to receive a response.
The PFMCP is one of four federations of married Catholic priests worldwide, the others being continental networks: the North Atlantic Federation, the European Federation and the Latin American Federation.
PFMCP member Father Jose Elmer Cajilig said that in the group's seeking of Vatican recognition, married priests are a reality.
"Even in Europe, there are many married priests in the ministry," he said in Visayan dialect.
Cajilig had his priestly faculties suspended by the Archdiocese of Jaro in Iloilo province (central Philippines), but he continues to minister in the area.
'I'm still a priest'
Cajilig currently lives with his common-law wife and four children, and hears mass on two chapels there on Sundays.
"Although, I'm no longer part of the Archdiocese of Jaro, I'm still a priest. My masses are still valid," Cajilig said.
Father Jim Achacoso, a canon lawyer and consultant of the Philippine Catholic bishops' Episcopal Commission on Canon Law, said the ordination of married men is not the same as allowing clerics to marry.
"What Church law demands is perpetual celibacy in its ordained ministers. So even if married men were ordained, it would mean that they will have to remain celibate thereafter. The prohibition to get married comes with ordination," Achacoso said.
He explained that married men who are capable of exercising the ministry with all its demands should also live in "complete and perpetual chastity".
And as for PFMCP, Achacoso said the group's members have proven themselves "incapable of being faithful to their first love".
For Bishop David and Achacoso, only those married men who can give up married life can be ordained.
Pope Francis open
In an interview by German weekly Die Zeit in March, Pope Francis acknowledged that there was a shortage of clerics due to what he described as a "vocation crisis".
When the magazine asked Pope Francis if he was open to ordaining married men of proven virtue, or viri probati, the pontiff agreed.
The pope also maintained that optional celibacy was not the solution to the problem.
The Vatican processes at least 500 married priests a year who want to return to the ministry.
But some priests are open to the idea of ordaining married men.
Like Father Mifsud, a Maltese missionary serving in Bataan province (north of Manila, on Luzon Island), who said the Catholic Church had been losing adherents to other religious groups because of the lack of priests.
"If viri probati is a solution, why not? Because of the decline in vocations, we could be losing our Catholic faithful to other sects —as we have already experienced in some parts of the country where there are less priests," Father Mifsud said.
Catholic priest ratio
While about 85 percent of the 100 million Filipinos in the Philippines are Catholics, there are only 9,433 priests, according to the 2016-2017 Catholic Directory of the Philippines. Thus, the ratio is a Catholic priest for every 8,500 Filipino Catholics.
The ordination of married men would be one way to allow the Church to reach the "ideal" ratio of one priest for every 2,000 parishioners, Father Mifsud said.
But canon lawyer Monsignor Rey Monsanto disagreed, saying the move may "create a lot of chaos".
"This [ordination of married men] will give a precedent and priests may just get married and later go back to the Church," Monsanto said.
He said such arrangements might bring more confusion and could put the requirement of priestly celibacy in jeopardy.
"This will be tantamount to having optional celibacy, which is not in the purview of the Church," Monsanto said.
Father Casibjorn Guy Quiacao is an MA in Communication student at the University of Santo Tomas, and produced this story for the graduate class Global Journalism Practice and Studies.