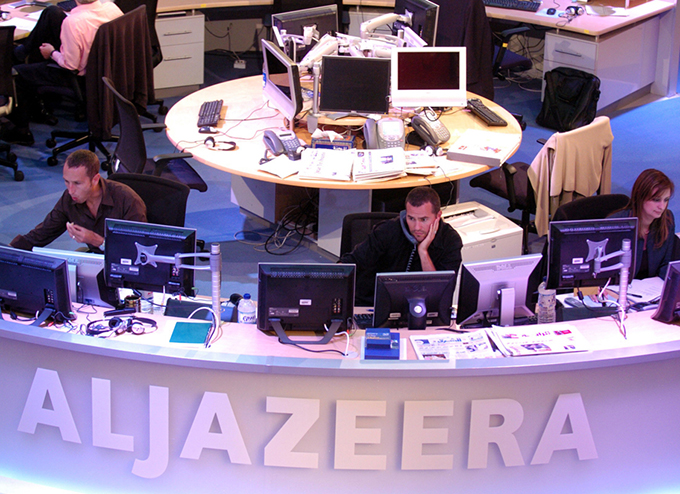 Silencing Al Jazeera was a high priority when Saudi Arabia, the United Arab Emirates, Bahrain and Yemen moved to isolate Qatar earlier this month, the editorial board of The New York Times wrote in an opinion piece published today.
"Qatar's critics accuse the station of supporting Sunni Islamist terrorism and Iranian ambitions. But Saudi Arabia is hardly innocent when it comes to spreading Islamist extremism or supporting terrorist groups," the board wrote, reports Al Jazeera English.
By attacking Al Jazeera, Saudi Arabia and its anti-Qatar coalition were attempting to "eliminate a voice that could lead citizens to question their rulers", the editorial said.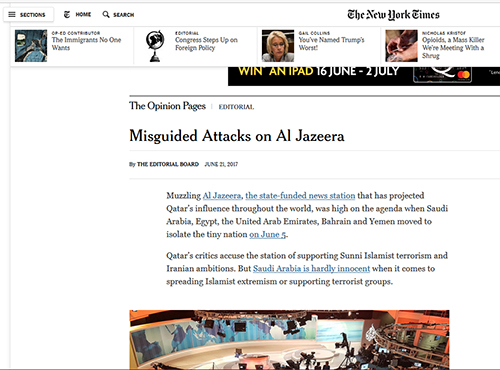 Al Jazeera was a key source of news as the Arab Spring rolled across the Middle East, and particularly as Egyptian President Hosni Mubarak's government was toppled in Egypt.
Al Jazeera has also been a strong reporter on dissident groups in Asia-Pacific.
Mubarak's overthrow was followed by Egypt's "first free election", according to the New York Times, which brought Mohamed Morsi and the Muslim Brotherhood to power.
Founded in Egypt in 1928, the Muslim Brotherhood is the Middle East's oldest political party.
Qatar has been accused by the Saudi Arabia and its allies of supporting the Brotherhood, a group they have labelled "extremists".
Real reason is 'populist threat'
But, according to the Times editorial board, "the real reason [the Muslim Brotherhood has] been labeled a terrorist group is that autocratic regimes see it as a populist threat".
Egyptian President Abdel Fateh el-Sisi, who overthrew Morsi in a 2013 military coup, has since "moved brutally to quash dissent and eviscerate the Brotherhood", imprisoning three Al Jazeera English journalists in the process on the grounds that the network supported the Muslim Brotherhood.
"Now, a drive is on against Al Jazeera and free speech in the region," the Times wrote.
Late last month, Saudi Arabia, Egypt and the UAE moved to block the websites of Al Jazeera and Qatari media outlets.
Earlier this month, Jordan closed Al Jazeera's bureau in Amman and stripped it of its operating licence.
The next day Saudi Arabia shut down Al Jazeera's office in Riyadh and revoked its operating licence, and ordered hotels to block all of its channels.
"Al Jazeera is hardly a perfect news organisation," but much of its reporting "hews to international journalistic standards, provides a unique view on events in the Middle East and serves as a vital news source for millions who live under antidemocratic rule," The New York Times wrote.
"Those are reasons enough for the monarchs and dictators attacking Qatar to silence Al Jazeera. And reason enough to condemn their action."