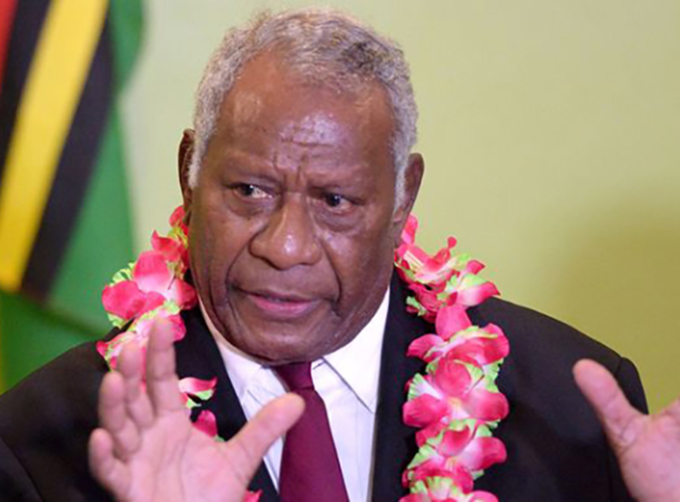 OBITUARY: Pacific Media Watch News Desk
Vanuatu's President Baldwin Jacobson Lonsdale has died at Vila Central Hospital early today after being rushed to hospital last night, reports Vanuatu Digest.
President Lonsdale, 67, had been Head of State since September 2014.
From Mota Lava island, Lonsdale was previously an Anglican priest, secretary-general of Torba Province.
He did his tertiary studies in Auckland, New Zealand, at St John's Theological College.
President Lonsdale played a critical role in recent events in Vanuatu. While category 5 Cyclone Pam was battering Vanuatu in March 2015, President Lonsdale was attending a world conference on disaster risk reduction in Japan, and his emotional appeals for international assistance helped galvanise the international humanitarian response to Cyclone Pam, reports Vanuatu Digest.
But arguably his greatest contribution came just seven months later in October 2015 when the then Speaker of Parliament, Marcellino Pipite, abused his position as Acting President to issue a "presidential pardon" to himself and 13 other MPs who had just been convicted of bribery.
The President, en route from Samoa during Pipite's attempt to undermine the rule of law, returned to Vanuatu and immediately revoked the pardon.
Misuse of powers
During a televised address to the nation, President Lonsdale was visibly upset, expressing his "shame and sorrow" at Pipite's misuse of his powers.
He vowed to "clean the dirt from my backyard", telling Vanuatu's people that "we as a nation have to stop these crooked ways".
Following a failed appeal against his revocation of Pipite's pardon, Lonsdale then dissolved Parliament and called a snap election.
President Lonsdale's actions were widely seen as a decisive blow against Vanuatu's culture of impunity for corrupt politicians, reports Vanuatu Digest.
Addressing the newly-elected MPs at the opening session of Parliament following the election, he described the new legislature as a "new chart for Vanuatu's destiny".
He will also be remembered for his leadership of Vanuatu's Anglican church, and his strong support for kastom and for women's rights.
The Vanuatu government is currently making arrangements with his family and Motalava chiefs for a state funeral.
Under the constitution, a new president will need to be elected by MPs and local government chairs within three weeks.