Philippines Presidential Spokesperson Ernesto Abella announcing President Duterte has declared martial law on the southern island of Mindanao. Video: Rappler
Pacific Media Centre News Desk
The martial law in Mindanao which President Rodrigo Duterte has declared will be no different from martial law during the time of Ferdinand Marcos, the President said before flying back to the Philippines, reports Rappler.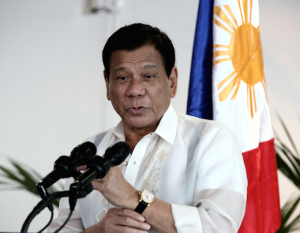 "Martial law is martial law ha. It will not be any different from what the President, Marcos did. I'd be harsh," said Duterte, Rappler said citing the Facebook live video of Presidential Communications Assistant Secretary Mocha Uson.
He was speaking on board the presidential plane just before it took off for Moscow for Manila.
"I was asked how I would deal with terrorism. I said I'd be harsh. I told everyone, 'do not force my hand into it,'" he added.
Reports from the Islamic city of Marawi in Lanao del Sur, Mindanao, said about 100 militia from the rebel Maute group had attacked the city and were reportedly holding hostage a priest, a college professor, and at least three other people following the ISIS-linked group's raids that began yesterday.
Bishop Edwin dela Peña of the Prelature of Marawi revealed this today.
"They were taken hostage to an undisclosed location. We have not heard anything about them," dela Peña said in an interview with radio dzBB.
Assistant Secretary Mocha Uson did not elaborate on the short video but did mention the likely timeframe of his martial law declaration.
"How long? Well, if it would take a year to do it then we'll do it. If it's over in a month I'd be happy," he said.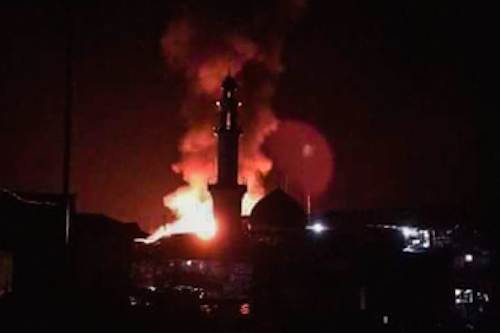 The Constitution says it should not initially exceed 60 days – any extension has to be approved by Congress.
Presidential Spokesman Ernesto Abella himself earlier said it would last 60 days.
Section 18, Article VII of the 1987 Philippine Constitution says that the President, as commander-in-chief, may "in case of invasion or rebellion, when the public safety requires it" suspend the privilege of the writ of habeas corpus or place the country under martial law. The writ safeguards individual freedom against arbitrary state action.
Dark period
Duterte is the third Philippines president to declare martial law since 1972, when Marcos declared one – a dark chapter in Philippine history that was marked by abuse, violence and corruption.
On December 5, 2009, then president Gloria Macapagal Arroyo declared martial law in Maguindanao, also in the southern Philippines, through Proclamation 1959, following the massacre of 58 people – mostly members of the media – in the town of Ampatuan.
But it was short. Arroyo lifted it 7 days later on December 12, 2009 upon the recommendation of the Cabinet.
Duterte declared martial law Tuesday night after the Maute terrorist group seized the Islamic city of Marawi.
The Philippines military has been running a two-front anti-terror campaign in Mindanao – one against the Abu Sayyaf Group (ASG) based in Western Mindanao in the islands of Sulu and Basilan, and another against the Maute and its Abu Sayyaf allies in the Lanao provinces in Northern Mindanao.