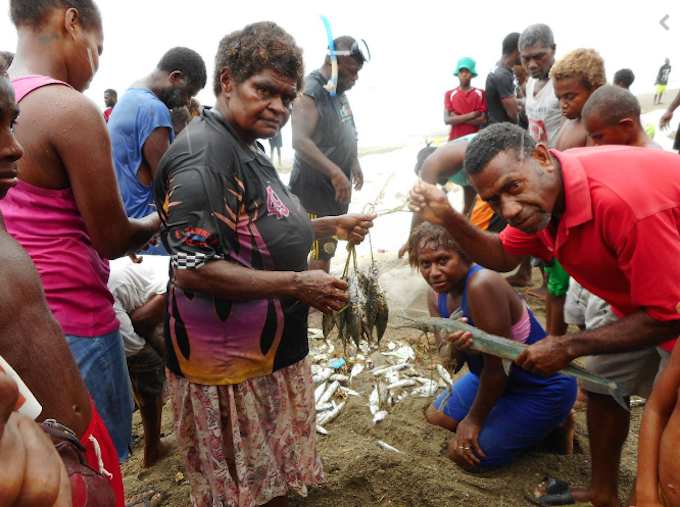 By Jonas Cullwick in Port Vila
Hundreds of people from Blacksands, Kokoreko, Man Ples and Malapoa converged at Blacksands beach in the vicinity of the Vanuatu capital of Port Vila when the paramount chief of Ifira, Teriki Paunimanu Mantaoi Kalsakau III lifted the ban on harvesting of marine resources.
The paramount chief and his council traveled by banana boat to Blacksands where he declared the ban on the full length of Blacksands to Prima River lifted for the five days of the Easter weekend to allow the people of the area to be able to fish the area to supplement their protein during the weekend celebration of Easter.
Teriki Mantoi Kalsakau III said when lifting the ban yesterday he was glad to to do this to help the people living on the areas around the Blacksands sea coast.
He added that the ban on the harvesting of marine resources was important to enable the coast to become full of fish again.
In recent years the full coast was so overfished that fishermen had to go far out to sea in canoes and mostly boats to be able to catch fish.
He said the ban will be back in place on Tuesday after the Easter holiday was over and would last another two to two-and-a-half years before a similar lifting of the ban could take place.
The people of Ifira who look after the ban organised the day that saw nets that had been cast hours earlier drawn and others on canoes catch fish. The catch was shared with families to take home while some of the catch was also cooked at the beach for people to eat.
The Ifira community-based Resource Management ban on harvesting of marine resources in the area from Prima River to Kawenu was put in place towards the end of last year.
The paramount chief said it would be there for the next 12 years with periodical lifting of the ban to allow community harvesting to take place.
Jonas Cullwick is a former general manager of the Vanuatu Broadcasting and Television Corporation (VBTC) and is now a senior journalist with the Vanuatu Daily Post.