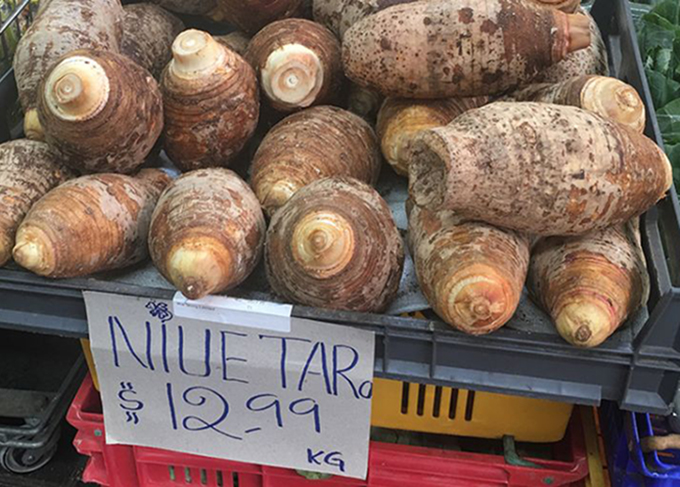 By Brandon Ulfsby
Niuean taro has made a return to the shelves and the stomachs of many in New Zealand — but the humble vegetable has come at a cost.
The Niuean taro is being sold at the Mangere Food Market for $12.99 a kg – more than twice the price of the Fijian and Samoan equivalent.
Managing director for the Mangere Food Market, Vutha Hang says transport costs are to blame.
"Reason why it's more expensive is because they send it via plane, if they send it via boat then it'll be cheaper," he says.
Hang was approached by Shopexports and Freight Ltd to sell the product. Others had declined the offer, he said.
"For me I'll try, if the people buy it then I'll carry on and sell it, but if people don't buy it then I have to stop."
Shopexports and Freight Ltd, which imports the taro for Mangere Food Market, claims on its Facebook page that the produce supports growers in Niue.
Niuean expats claim their country's product is of a superior quality than other Pacific varieties.
Fotu Jackson, a Pacific engagement manager at AUT University, says from her extensive knowledge of the Pacific she believes Niuean taro is one of the best.
"I think Niuean taro has a lot more taste, the texture is different than other taro from the Pacific – and I say that as a Samoan," she says.
Jackson says the soil in Niue is very rich, and she believes this contributes to the uniqueness of the Niuean variety.
Hang says a lot of customers come into his store and look for the taro but only a few actually buy it.
Jackson says despite the price of the Niuean taro, it is worth it.
"I was actually one of the people who drove to buy the taro."
Jackson says there are not many places you can buy Niuean taro, whereas the Fijian and Samoan variety is readily available throughout the country.
"When it comes to New Zealand it's really popular, it's in high demand."
Repeated efforts to get comment from Shopexports and Freight Ltd were not been successful.
Brandon Ulfsby is a student journalist with Auckland University of Technology's traning newspaper Te Waha Nui.