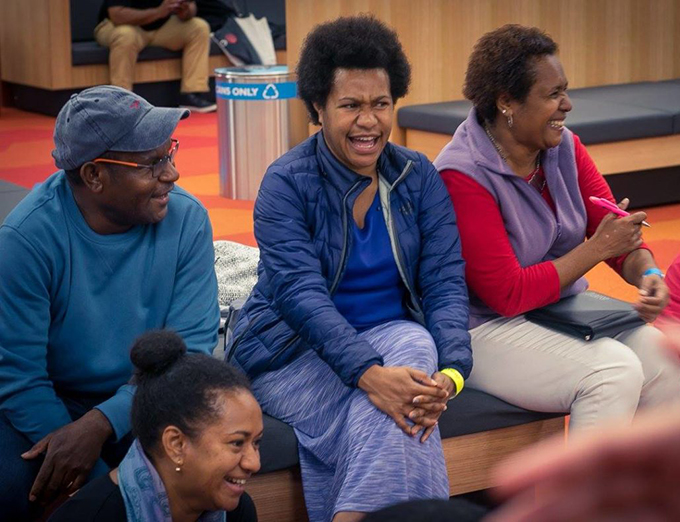 By Michelle Curran in Auckland
Ten years ago, Tonga's Kisione Manu was studying a Bachelor of Science at Palmerston North-based Massey University on a New Zealand scholarship.
After graduating, Manu returned home to teach chemistry and biology at Tonga High School, and enjoyed teaching students about his passion – science – before starting a job as a Senior Qualification Analyst at the Ministry of Education, in Nuku'alofa.
One decade later, he has travelled back in NZ to complete his Master of Education, at the familiar Massey University campus, once again through the Ministry of Foreign Affairs and Trade (MFAT) NZ Scholarship initiative.
When Manu saw the inaugural Pacific Island Scholar Alumni Network (PISAN) fono at the University of Auckland being promoted, it was a "no-brainer to attend", he says.
"I saw it as a forum to meet other New Zealand scholars from different nations, and as an opportunity to share with others about our cultural backgrounds," Manu says.
The PISAN Fono, facilitated by the Pacific Cooperation Foundation (PCF), got underway on Friday and concluded on Sunday, attracting approximately 150 NZ scholars.
These scholars come from the Pacific and Timor-Leste, and currently study at various North Island tertiary institutions.
Chance to connect
Speaking on the final day of the North Island fono, Manu says the event met his expectations — and offered so much more.
"I was able to surround myself with people from Samoa, Papua New Guinea, Vanuatu, Tuvalu and Kiribati and other cultures … it has been a great chance to connect with other professionals too.
"I met two scholars also studying their Master of Education at Victoria University – one from Papua New Guinea and one from Vanuatu, and I will definitely stay connected with these new friends."
Tonga is currently trying to get tertiary providers in Tonga registered and accredited, using a system like NZQA, and it is this reason why Manu is studying in New Zealand, he says.
The new contacts he has made will enable him to compare education programmes and systems happening in the wider Pacific region, he adds.
"Ten years ago, there was no forum for scholars from different universities to interact together, and Pacific nations tended to stick together – Tongans with Tongans, Samoans with Samoans, and so on … the fono is a fantastic idea."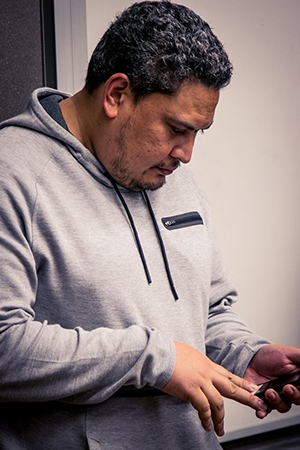 Throughout the three-day fono, scholars heard from keynote speakers who are both alumni – Papua New Guinea's Noel Mobiha, an ICT and energy consultant, who has held senior management and advisory roles in PNG; and Jody Jackson-Becerra, AUT's community engagement manager, from Samoa.
Nurturing connections
Both presenters shared their experiences of studying in NZ, and the importance of making connections and nurturing them.
For Manu, the highlight of the weekend was Jody's presentation where she used the work of Tongan/Fijian writer and anthropologist Epeli Hau'ofa to stress the point all the Pacific scholars belong to Oceania, and this commonality can help these students to collaborate and work together to create change and progress in their region.
Scholars also attended workshops based on priority areas outlined by the Pacific Islands Forum (PIF) 2016 Communique.
They discussed topics and came up with ideas and opinions, which will be documented and presented at the PIF Leaders' Meeting later this year in Samoa by a scholar selected from the North Island Fono, and another scholar chosen at this weekend's South Island Fono.
On the final day of the fono, it was announced that the 2017-18 Summer Internship applications were open for NZ scholars.
Summer internship
The fono attendees heard from three NZ scholars, who were part of the 2016-17 Summer Internship initiative – Jeremiah Tauiliili, Ana Tupou and Marilyn Jime.
They shared their experiences as Summer Interns, and the benefits they feel they have gained from taking part in the initiative – such as improved communication skills and professionalism – and encouraged current scholars to apply for an internship.
PCF chief executive officer Laulu Mac Leauanae says it is "fantastic to see the vision" and aim of the fono come to life.
"We wanted to provide a forum where New Zealand scholars could meet other people from different universities and from all kinds of backgrounds, to make their time in New Zealand truly memorable and prosperous – the contacts made now at this fono will come into play later in life when these scholars are leading their respective countries," Laulu says.
The PISAN Fono for scholars studying in the South Island will get underway this Friday, at the University of Canterbury, in Christchurch, and conclude on Sunday.