Amnesty International video and release of its Annual Report on the State of the World's Human Rights. 
Toxic fear mongering by anti-establishment politicians, among them US President Donald Trump and President Roidrigo Duterte, and the leaders of Hungary and Turkey, is contributing to a global pushback against human rights, says Amnesty International.
Releasing its 408-page annual report on rights abuses around the world, the watchdog group described 2016 as "the year when the cynical use of 'us versus them' narratives of blame, hate and fear took on a global prominence to a level not seen since the 1930s", when Adolf Hitler rose to power in Germany.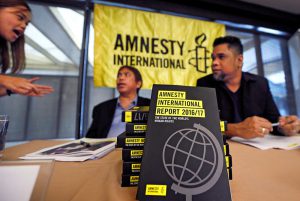 Salil Shetty, the group's secretary-general, said: "A new world order where human rights are portrayed as a barrier to national interests makes the ability to tackle mass atrocities dangerously low, leaving the door open to abuses reminiscent of the darkest times of humanity."
Amnesty named Trump, Duterte, Hungarian Prime Minister Viktor Orban and Turkish President Recep Tayyip Erdogan among leaders it said were "wielding a toxic agenda that hounds, scapegoats and dehumanises entire groups of people".
"Poisonous" rhetoric employed by Trump in his election campaign exemplified "the global trend of angrier and more divisive politics", Amnesty said.
Refugees the 'first target'
"The limits of what is acceptable have shifted. Politicians are shamelessly and actively legitimising all sorts of hateful rhetoric and policies based on people's identity: misogyny, racism and homophobia. The first target has been refugees and, if this continues in 2017, others will be in the crosshairs."
The White House did not respond to a request for comment on the report.
Amnesty's report cited an example of divisive propaganda in the UK.
In June, the former leader of the far-right, anti-immigration United Kingdom Independence Party (UKIP), Nigel Farage, infamously unveiled a poster showing a queue of refugees with the slogan "Breaking Point: The EU has failed us all" as he campaigned for Brexit.
"The [UK] government has shirked its responsibility for the global refugee crisis, pushing thousands of vulnerable people into the hands of people smugglers.
"Its decision to prematurely close the Dubs Amendment scheme to bring unaccompanied refugee children already in Europe to the UK is shameful," the report said.
Holding the world accountable
The annual study, "The State of the World's Human Rights", documented what it called "grave violations of human rights" in 159 countries in 2016, including Bangladesh, Thailand, Honduras and Myanmar, where "tens of thousands of Rohingya people – who remain deprived of a nationality – have been displaced by 'clearance operations' amid reports of unlawful killings".
It said governments "turned a blind eye to war crimes, pushed through deals that undermine the right to claim asylum, passed laws that violate free expression, incited murder of people simply because they are accused of using drugs, justified torture and mass surveillance, and extended draconian police powers."
The report added that "the big question in 2017 will be how far the world lets atrocities go before doing something about them".
French 'deeply discriminatory' powers
Exceptionally, London-based Amnesty chose to launch its report in Paris.
Shetty said France had used emergency powers introduced in 2015 in the wake of attacks in an abusive and "deeply discriminatory" manner, confining more than 600 people, mostly Muslims, under house arrest and banning more than 140 protests.
"Even states that once claimed to champion rights abroad are now too busy rolling back human rights at home to hold others to account," Amnesty said.
"The more countries backtrack on fundamental human rights commitments, the more we risk a domino effect of leaders emboldened to knock back established human rights protections."
France's government has repeatedly defended the emergency powers as a necessary safeguard against the severe security threat it says is facing the country, and parliament has repeatedly voted to extend those powers.