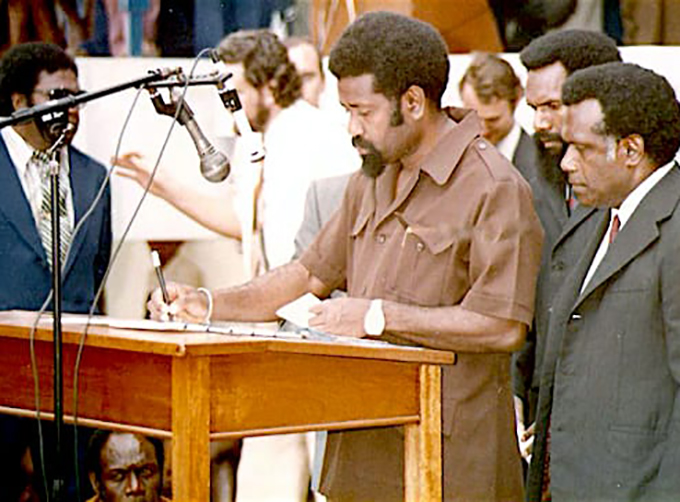 By Bob Makin in Port Vila
Prime Minister Charlot Salwai paid a moving tribute to the late Father Walter Lini's leadership of Vanuatu at the Anglican Church, Tagabe, today.
The anniversary memorial service was also attended by the Head of State, President Baldwin Lonsdale, and other community leaders.
Prime Minister Salwai had just returned from the home island, Pentecost, he shared with the country's first Prime Minister. He regretted that there was no national body in place to determine how the Vanuatu people should keep such anniversaries as Lini Day and Constitution Day.
He vowed that government must see such an institution created.
Lini Day would be the day to mark leadership, Salwai said.
The Prime Minister expressed his gratitude to the Anglican Church for organising the service of worship in the company of Mary Lini and other members of the Lini family.
Father Walter Lini's breaking through a particular horizon was Prime Minister Salwai's main theme.
"This action guaranteed independence and the freedom we hold good today," Salwai said.
'Stand up strong'
"We must stand up strong to continue to maintain our independence into the future as this is what we want."
Prime Minister Charlot Salwai saw it as equally important to pay tribute to the others who also "broke the horizon" to achieve Vanuatu's independence and those who had carried the ideals of independence forward until today.
Salwai spoke of an issue still to be resolved – that of Vanuatu's borders.
The border with Solomon Islands was resolved last year, but still remaining to be settled were the frontiers with Fiji and New Caledonia.
"They are still part of the struggle for independence which must be completed," Salwai said.
Father Walter Lini wrote the forward to PMC director David Robie's book Eyes of Fire.