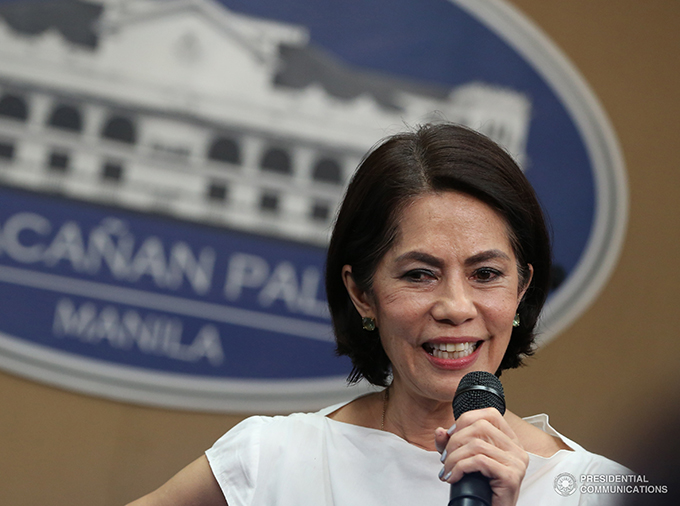 By Jeremaiah M. Opiniano in Manila
The Philippines is among the world's top sources of metallic deposits like nickel. But in this Southeast Asian mining haven, love may have been lost between the Philippine government and the mining industry.
The country's Department of Environment and Natural Resources (DENR) has ordered the closure of 23 mines and the companies operating them, plus suspending five others. The firms' closures and suspensions were recommended by experts who conducted mining audits for the DENR between July and August 2016.
The audits were done in response to reports of these mining firms' compliance or non-compliance with prevailing regulations on responsible mining and maintaining of environmental standards.
Philippines' Environment Secretary Regina Lopez is in hot water from the mining industry given her closure and suspension orders, all announced in early February.
Policy and legal battles related to the months-old government of President Rodrigo Duterte have triggered a closer watch on the mining issue.
Mining sector protests
The controversy erupted after February 2 with the announcement of the cancellation and suspension orders by Lopez. Six days later, Lopez had signed the cancellation and suspension orders of the 28 affected companies.
The DENR also released results of the mining audit online explaining why the firms' mining operations were ordered cancelled or suspended.
Protests followed from the mining sector, especially the industry association Chamber of Mines of the Philippines (COMP). The group said an estimated PhP70 billion (NZ$1.9 billion) in gross production value and some P20 billion (NZ$556 million) in taxes would be lost because of these closure orders, and some 67,000 workers may be displaced.
The COMP said the orders were released "without due process," but Lopez said  on February 10 that DENR "meticulously observed due process."
Lopez was referring to the work of the multi-sectoral audit teams that looked at the mining projects in the identified areas. Experts from the central and regional offices of the DENR; from the DENR attached agencies like the Mines and Geosciences Bureau (MGB), Environmental Management Bureau (EMB), the Biodiversity Management Bureau (BMB and the Ecosystems Research and Development Bureau (ERDB); experts from the Departments of Health and Agriculture; and representatives from various civil society organisations conducted the audits.
The multi-sectoral audit teams, Lopez explained, used criteria on the requirements of the different mining and environmental laws of the country. The teams also did cross-auditing, with auditors who reviewed the projects come from another Philippine geographical region. Lopez added the teams also staged entry and exit conferences with stakeholders, including the mining companies.
Seven days were given to the companies to respond to the technical results of the audits and the "show cause" orders. Afterwards, and spanning five months, a technical review committee conducted further review on the companies' replies to the audit teams' reviews
Bombardment
After the February 2 announcement from Secretary Lopez, COMP sought the help of the economic managers of Duterte's cabinet, including Finance Secretary Carlos Dominguez who co-chairs with Lopez an inter-agency Mining Industry Coordinating Council (MICC).
On February 9, Secretaries Lopez and Dominguez — as MICC co-chairs— decided to form a multi-stakeholder committee that will review and advise DENR on Philippine mining operations, to include the recent decisions handed out to the 23 closed and five suspended mining firms.
The mining companies had operations in identified mining hotspots of the country, such as Benguet province (north of Manila, in Luzon island), Zambales province (in the western part of Luzon island), Surigao del Sur (in eastern Mindanao island), Dinagat Island (also in eastern Mindanao), and Eastern Samar (in eastern Visayas region).
Zambales province saw four mining companies —BenguetCorp Nickel Mines, Inc., Eramen Minerals, Inc., LNL Archipelago Minerals, and Zambales Diversified Metals Corp — ordered closed due to alleged illegal logging activities, and for conducting mining operation near a river that had led to siltation in the municipality of Sta. Cruz. Nickel is said to be being extracted there close to a watershed.
Seven mining firms operating in Dinagat Islands were also ordered closed for a build-up of silt on coastal waters: AAM Philippines Natural Resources Exploration, Krominco, Inc., SinoStell Philippines H.Y. Mining Corp., Wellex Mining Corp., Libjo Mining Corp., and Oriental Vision Mining Corp.
In Surigao del Sur province, a further seven mining firms were ordered closed, also for silt in coastal waters and for mining in watersheds: ADNAMA Mining Resources Corp., Claver Mineral Development Corp., Platinum Development Corp., CTP Construction and Mining Corp., Carrascal Nickel Corp., Marcventures Mining and Development Corp. and Hinatuan Mining Corp.
Companies Mt. Sinai Exploration Mining and Development, EMIR Mineral Resources and Techlron Mineral Resources, with operations located in Eastern Samar, were also ordered closed not only because of the siltation of coastal waters, but because of the destruction of a functional watershed.
Mining audits
Apart from the 23 firms whose operations were ordered cancelled and closed by DENR, five other firms were given suspension orders. These are Berong Nickel Corp., OceanaGold Phils., Lepanto Consolidated Mining Corp., Citinickel Mines and Development Corp. and Strong Built Mining Development Corp.
DENR conducts mining audits on a regular basis. Some of the firms whose licences were cancelled by Lopez were suspended in previous years and were asked to respond to findings of mining audits.
Some of the firms were also listed in the Philippine stock market, as a few others are joint ventures by a Philippine and a foreign company. For example, Zambales Diversified Metals Corp. is a joint venture between Filipino-run D.M. Consunji Inc. (DMCI) Mining Corp. and the Australia-headquartered Rusina Mining Corp.
Another closed firm, Oriental Synergy Mining Corp., was established by Qishu Mining Corp., a subsidiary of Qishu Enterprises with headquarters in Fujian, China.
Suspended company OceanaGold Philippines, for its part, is a subsidiary of OceanGold Corp., a mid-tier multinational gold producer with assets found in the Philippines, United States and New Zealand.
Other mining companies were also sued by local residents through the writ of kalikasan (nature), a legal remedy provided by the country's constitution for anybody to sue those who allegedly violate environmental laws and cause environmental havoc.
Lopez alleged last Thursday that some mining firms had links to local politicians, allowing the industry to flourish.
High stakes
The Philippines houses the world's leading supply of nickel, as it was estimated by the MGB that some PhP54.9 billion (NZ$1.53 billion) of nickel products were produced in 2015.
Nickel prices at the London Metal Exchange's LMEX Index actually rose to a 16-month high last November 2016. But the stainless steel alloy's performance at the LMEX dropped again since January, and the price of nickel rose to over-US$10,400 per tonne last Feb. 3 given Lopez's closure order.
There are 40 metallic mines (including 27 nickel mines) and 62 non-metallic mines in the Philippines, not to mention five processing plants, 16 cement plants, and 2397 small quarries and sand and gravel operations. The Philippines' mining operations are governed by the 1995 Philippine Mining Act, with some 9 million ha. of land identified to have "high mineral potential" says the MGB.
MGB data shows that the Philippines earned some US$2.8 billion (NZ$3.9 billion) in exports of minerals to Japan, Australia, Canada and China. The Philippines' minerals industry is currently employing an estimated 236,000 workers, with a job in the mining sector said to be providing four indirect jobs. Mining companies had also paid some PhP25.78 million (NZ$717.2 million) in taxes in 2015.
But a report by the country's National Economic and Development Authority (NEDA) showed that the mining and quarrying industry contributed only less than a percent — 0.7 percent— of the country's gross domestic product during the period 2000 to 2015. The sector also contributed 5.6 percent of total exports in the same 15-year period, as the mining sector also generated an average of 236,400 jobs from 2011 to 2015.
The Philippines is said to have as many untapped mineral deposits, according to industry experts.
COMP said in a strongly-worded February 7 statement that Lopez "has trained her guns on the legitimate (mining) operations, while turning a blind eye to un-permitted, undocumented, non-tax paying and non-compliant mining operations who are the real violators of the environment."
'Pose a danger'
Lopez's closure and suspension orders, COMP said, "pose a danger to other industries" like logistics, processing companies, manpower and transportation service providers and even the education and health sectors.
"The country needs minerals and environmental policies to be handled with technical competence and sensitivity to the complexities of the issues," COMP wrote. "We respectfully appeal to… President Duterte to thoroughly review the actions of (Lopez)… and their serious repercussions as a whole as they are without basis and legality."
The environment secretary, a member of the Lopez family that runs a gamut of Philippine companies found in the media, power generation and distribution and energy sectors, however claimed to have the support of President Duterte.
She also wanted to prove a "green economy" model that, Lopez claims, "can provide more jobs than destructive mining."
"My issue is not about mining," Lopez said February 5. "My issue is about social justice."
The closed and suspended firms have 15 days, possibly before February ends, to respond to the DENR's cancellation and suspension orders.
Assistant Professor Jeremaiah Opiniano is coordinator of the undergraduate and graduate journalism degree programmes of the University of Santo Tomas (UST) in Manila, Philippines.