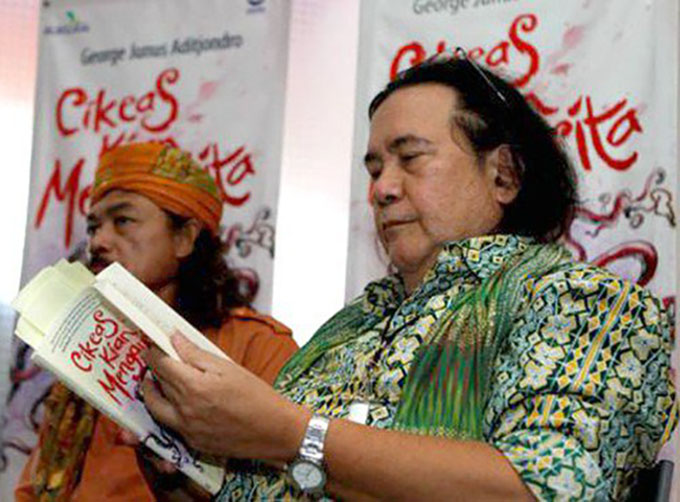 OBITUARY: By Ruslan Sangadji in Jakarta

Activist, researcher, scholar and former Tempo magazine journalist George Junus Aditjondro has died in Palu, Central Sulawesi. He was 70 and is survived by his widow, Erna Tenge, and son from his earlier marriage, Enrico Suryo Aditjondro.
Since 2012 when a stroke affected his health, Aditjondrohad difficulty speaking. He died in Bala Keselamatan Hospital in Palu on Saturday morning.
Aditjondro was known as a passionate critic of what he saw as corrupt power. During the Soeharto regime he researched the business empire of the "Cendana family", referring to Soeharto's family that resided on Jl. Cendana in Central Jakarta.
He also wrote about military business in Indonesia.
A prolific writer and researcher, Aditjondro , who earned his PhD degree from Cornell University, had written dozens of books and hundreds of papers. His works and audacity to speak up had put him into trouble several times.
He had to leave Indonesia during the Soeharto era and he went to Australia from 1995 to 2002. He taught sociology at Newcastle University in Australia and was a guest lecturer at Murdoch University.
He also taught at Satya Wacana Christian University in Salatiga, Central Java, when he was part of a trio of passionate critics from the university at that time: Ariel Heryanto, Arief Budiman and Aditjondro himself.
Controversial books
After he returned home from Australia, he wrote more controversial books, including Dissecting Cikeas Octopus: Behind the Scene of Bank Century Scandal, which discusses then president Susilo Bambang Yudhoyono. The book looks into Yudhoyono and how four foundations allegedly helped raise money for his 2009 election campaign.
During the launch of the book in 2009, he was accused of violence against Ramadhan Pohan, a politician from Yudhoyono's Democratic Party. Ramadhan accused Aditjondro of hitting him with a book.
Read also: George Aditjondro: Of watchdog and octopi
His last controversial criticism was in 2011 when he lived in Yogyakarta while his wife finished her PhD at Gadjah Mada University (UGM).
In a discussion at UGM about the controversial Sultan Ground, in which the Yogyakarta Sultanate marked plots of lands in the province as "Sultan Ground", he criticised the sultanate. Several residents said he insulted the sultan and he was barred from his own home in Yogyakarta. Later he tried, to no avail, to apologise in person to Sultan Hamengkubuwono IX.
In September 2014 he moved to Palu after his Poso-born wife Erna completed her doctorate degree from Geography School at UGM. In Palu he researched and wrote about military and police operations in conflict-ridden Poso in Central Sulawesi. He joined Tanah Merdeka Foundation in Palu and did his research as an activist in the foundation.
Aditjondro was born on May 27, 1946, in Pekalongan, to a Javanese father and Dutch mother. Before Erna, he married Bernadetta Esti and they had a son, Enrico Suryo Aditjondro.
After his separation with Bernadetta, Aditjondro , who loved to keep his hair long, married Erna, 60, a scholar at Economic School in Tadulako University.
Ruslan Sangadji is a Jakarta Post journalist.