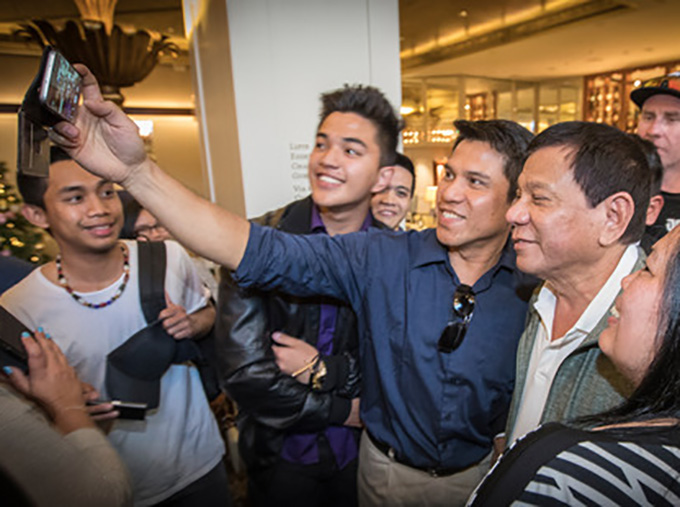 Exclusive interview by Corazon Miller of The New Zealand Herald
The controversial president of the Philippines, known as "The Punisher", says he wished he could have settled in New Zealand, following his brief stopover in Auckland.
In an extraordinary interview with the Herald – his first and only in New Zealand – Rodrigo Duterte twice accidentally referred to the country as Australia, countered the long-held view former president Ferdinand Marcos was a dictator, and asked a reporter if she was married.
While leaving the Langham Hotel in the central city on his way to the airport for a flight home later in the evening, he stopped to take selfies with fans who had gathered and spoke to the Herald.
"I'd like to urge the Filipinos to be just like New Zealanders, well-behaved and following the law," he said.
"How I wish I could have settled here."
Duterte, who was in Auckland on his way home from Peru where he'd been attending the Asia Pacific Economic Cooperation summit, also expressed a desire to work more closely with New Zealand.
"I'd like to extend my warm wishes to all Filipinos and of course to all the Australians who are hosting us here.
'Thank you Australia'
"Firstly, I'd like to thank the Australian government…sorry the New Zealand government and the people and the citizens for hosting us in manner that befits brother Asian.
"We have excellent relations between NZ, and of course Australia, and so we would like to maintain that bond in the coming years," he said.
"We have a great friendship and we should nurture it."
When asked by a reporter if he'd return to New Zealand, Duterte quipped; "pag niyaya mo ako [if you invite me] … are you married?"
In the short interview, he went on to counter the long-held view former president Ferdinand Marcos was a dictator and appeared to justify violence against the people.
"There was no deliberate really to kill, except for those who took arms to the Government and that would be the rebels within the military and of course the Communist party of the Philippines."
Duterte this month has copped criticism for allowing the former dictator to be buried in the Heroes' Cemetery – a place normally reserved for military personnel, former presidents and national heroes.
Marcos 'hero' burial 'just'
The current president said it wasn't for him to decide whether Marcos was a hero or a dictator – but said his burial was just.
"You know it's the law, the law says you are entitled to be buried in the Cemetery of Heroes, if you are a soldier and, more than that, if you are a former president."
Marcos was president from 1965 to 1986, and ruled as a dictator under martial law from 1972 until 1981.
In 1986, Marcos was eventually overthrown by the people's revolution, that saw millions take to the streets, and oust him in favour of Corazon Aquino.
He was criticised and accused by many Filipinos and members of the international community for a number of human rights abuses, including torturing, abducting and killing thousands of his opponents.
However, the Marcos family has in the years since been a part of the Filipino political scene and supported Duterte's bid for the presidency.
Duterte, who took office on June 30, promised to wage his own war – this one against drugs in his country.
'The Punisher'
His promise to kill more than 100,000 drug users and fill Manila Bay with their bodies, and his urging citizens and police to conduct extrajudicial killings, has earned him the nickname of "The Punisher".
The bodies of dealers and addicts have since been turning up in cities across the Philippines.
Police statistics show a surge in the number of drug suspects shot dead by security forces, but vigilantes appear to have killed significantly more.
Nevertheless, when questioned by the Herald, Duterte remained staunch in the face of international criticism and reiterated his commitment to "neutralise" all drug-lords in his country.
"It will not stop until the last drug pusher is out of the streets and the last drug lord neutralised … it will remain to be a war and I am committed to it."
New Zealand Herald reporter Corazon Miller is a journalist graduate of Auckland University of Technology and a fluent speaker of Tagalog. This article was originally published by The New Zealand Herald and is republished on Asia Pacific Report with permission.
Video feed from The New Zealand Herald