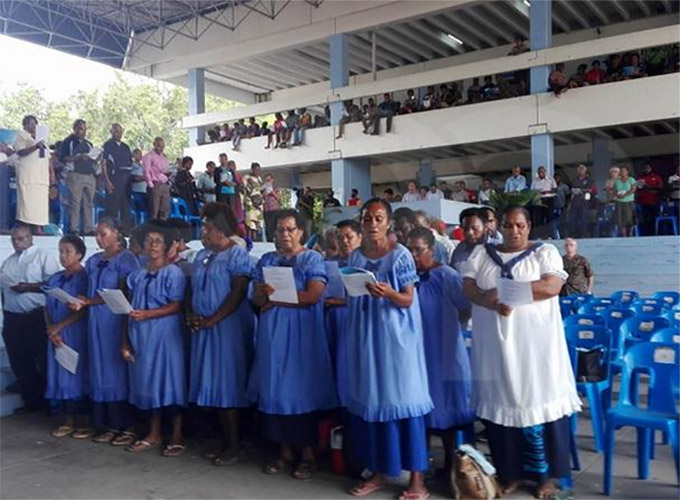 By Peter S. Kinjap in Port Moresby
Students are due to return to classes tomorrow at the University of Papua New Guinea after two months of protest against Prime Minister Peter O'Neill and a further two months of meetings and negotiations about the academic year having earlier been cancelled.
In contrast to statements issued by acting chancellor Dr Nicholas Mann last week that the reconciliation would be among the students themselves, Friday's programme demonstrated that the symbolic gesture was between the university administration and the students.
Few students turned up for the ceremony, most standing on the balconies overlooking the UPNG Forum while only a handful sat in the chairs provided for them.
The poor turnout and lack of elected student representation threw the reconciliation process into doubt.
The UPNG vice-chancellor, Professor Albert Mellam, shook hands with a student representative from the Tertiary Students Christian Fellowship (TSCF) body, a student body not directly involved in the unrest.
The student body that had taken the lead in the June unrest was the Student Representative Council (SRC), which is established under university regulations and operates with a budget funded out of the student's tuition fees.
SRC is separate from TSCF and it was recently disbanded by the UPNG administration.
Leaders barred
Also, eight elected student leaders who had served on the SRC found out last week that they had been barred from further study and are appealing against this university decision.
A student, who preferred not to be named, told Asia Pacific Report that none of the students involved in the unrest took part in the reconciliation programme.
They took this action because the university had excluded their elected leaders.
"The majority of the students will not attend this programme because it is being forced," the student said before the ceremony took place.
"Also the student leaders who should be leading the reconciliation have been terminated so there is currently no student representative.
"I think what [the administration] is doing is not for us students but a church service for themselves."
Some critics have speculated that the university administration has acted harshly against the student leaders at the behest of the government.
The eight weeks of protest and boycotts climaxed on June 8 with heavily armed PNG police firing upon peacefully demonstrating students, wounding at least 23 people.