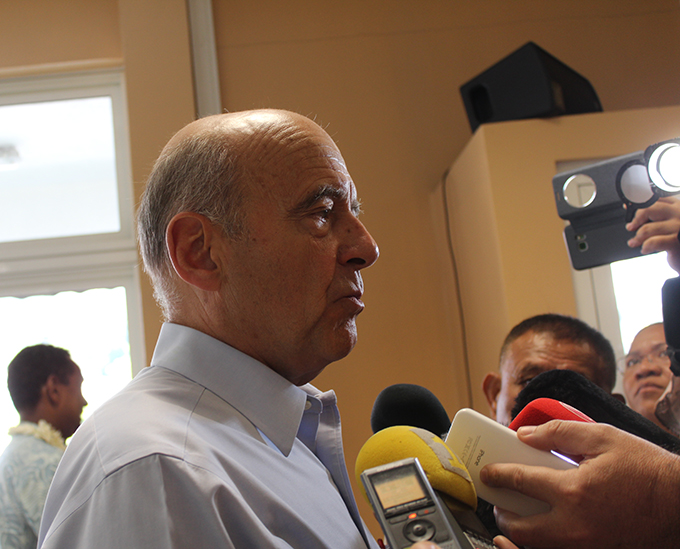 By Amélie David in Pape'ete
An admission by Alain Juppé, a former French prime minister at the time of the last nuclear tests in the Pacific, during his visit to French Polynesia last week that nuclear tests did have an impact on the environment and health has left antinuclear activists here puzzled.
He also appealed to the nuclear-free groups to play down the decolonisation overture to the United Nations, saying: "We will look for the path to reconciliation. We need to trust each other again."
Juppé was prime minister for President Jacques Chirac in 1995 when France embarked on the final series of Pacific nuclear tests – the last test was triggered on January 27, 1996.
He left Tahiti at the weekend after a week in the French Pacific territory.
Juppé, mayor of Bordeaux, was on a mission for Les Republicains (former President Nicolas Sarkozy's political party) primaries to be held in November.
He hopes to be become candidate to run for the presidential election next year.
Juppé came to French Polynesia to measure his popularity – he met officials of the territory and several mayors.
'The truth'
A day before leaving Tahiti, Juppé went to a meeting with antinuclear organisations.
After two hours of talking (journalists were not invited), Juppé declared: "Considering nuclear tests as safe isn't right. It is not the truth – nuclear tests had, and still have, an impact on the environment which is worrying. They also had an impact on people's health."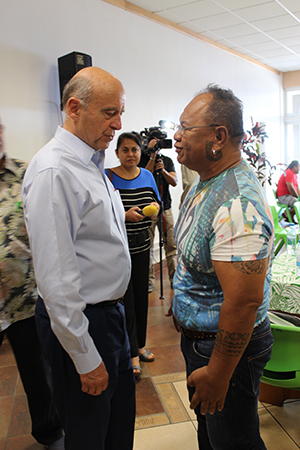 Juppé also announced to the antinuclear groups that, if he would be elected in 2017, he would modify an article of the so-called "Loi Morin" (Morin Law) of 2010, which outlined the conditions for compensation for nuclear testing victims.
His modification would remove the heavily criticised "insignificant risk" clause, which could lead to a larger population being potentially eligible for compensation.
Only 19 people have received compensation – seven from French Polynesia – out of 1043 claims filed under the law.
Before leaving Tahiti, Juppé also advised the antinuclear organisations not to press the issue at the United Nations Decoloniisation Committee hearings in October.
Leaders of the Tahitian antinuclear organisations were puzzled.
"I'm waiting to see what is going to happen when he is going to be elected, if he becomes president," said Roland Oldham, president of Moruroa e Tatou.
"The French government needs to be honest towards Polynesian people and to show its real will to compensate them."
Alain Juppé still has a long way to go before 2017. But people here in Tahiti will not forget his words.