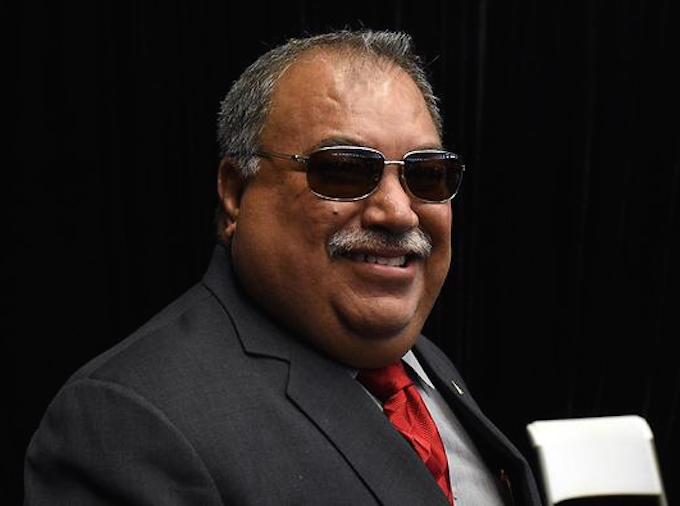 Nauru's newly re-elected justice minister has accused Australian media of "bias" that "failed dismally" to destabilise the government of President Baron Waqa.
The Nauru Justice Minister has accused the "ABC and others" of supporting "ringleaders of riots against the government" and opposition MPs who lost their seats in the election.
Since last weekend's election, the Australian Federal Police has confirmed it is still investigating allegations of bribery of Nauruan MPs by an Australian company.
The Waqa government was returned to office at a general election that was declared "free and fair" by Commonwealth and Pacific election observer missions.
Head of the Commonwealth observer mission, former Kiribati president Anote Tong, questioned why no foreign media were permitted access to the country to cover the poll, including SBS World News.
Nauru has no independent media and the government operates a state television and radio service.
In a statement, the Nauru government said: "(Justice minister) David Adeang said certain media outlets like the ABC, Fairfax, The Guardian and Radio New Zealand have "unethically attempted to influence our domestic politics by spreading lies, promoting Opposition MPs and refusing to report the huge progress Nauru has made over the past three years under the Waqa government".
'Failed dismally'
"However he said their campaign to destabilise the government has failed dismally, with the defeat of their favoured candidates leaving them humiliated.
"We understand that we receive more scrutiny because the agenda of these organisations is really against the Australian Government's offshore processing policy, but we are sick of the lies and the lack of respect of our sovereignty," the statement said, quoting Adeang directly.
"They (the media) now must accept the will of the Nauruan people in a democratic vote, respect our country, our Government and the fact that we are a sovereign country not beholden to them, and start reporting the truth," Adeang said.
Nauru charges a non-refundable $8000 journalist visa application fee and only two media organisations, The Australian and Channel 9's A Current Affair, have been granted access in the last two years.
Australia is Nauru's major aid donor and operates the controversial refugee and asylum seeker detention centre on the tiny Pacific island nation of about 10,000 people.
On election day, one of the former opposition MPs, Roland Kun, slipped out of the country on a New Zealand passport after his Nauruan one was cancelled for alleged involvement in the anti-government protests last year.
Kun told Radio New Zealand International he was barred from leaving because he was a potential witness in a long-running Australian Federal Police investigation into Australian phosphate dealer Getax and allegedly bribery of Nauruan government MPs.
Willing witness
"I will be availing myself to the Australian Federal Police if that investigation continues. I still want to be presenting evidence and I am more than willing to be a witness in that matter," Kun said.
The AFP in a statement to SBS said: "The AFP can confirm it is conducting an investigation into Getax. As this investigation is ongoing, it would not be appropriate to comment any further".
Details of the AFP investigation, know as Operation Zurzach, have been revealed by the Australian media, including the ABC and Fairfax, through freedom of information (FOI) requests.
A Nauru government spokesman last year told the ABC the bribery allegations were "offensive to our nation".
"They are of no interest to the people of Australia as they are domestic issues of Nauru.
Getax have consistently denied any wrongdoing.
Stefan Armbruster is Brisbane-based Pacific affairs reporter for SBS News. This article is republished with permission.